Description


G-Startup Worldwide GLOBAL FINALS - Investors Only
EIGHT STARTUPS FROM AROUND THE WORLD WILL PITCH TOP VC'S FOR A $300,000 INVESTMENT
G-Startup Worldwide Global Finals is an exclusive gathering of leading investors and high quality, early stage startups. The event will feature seven innovative, seed stage startups chosen from thousands of applications at G-Startup Worldwide competitions held in Tel Aviv, Beijing, Jakarta, Tokyo, Bangalore, Taipei, Sao Paulo and Silicon Valley. These startups will pitch to some of the world's best VC's for a $250,000 investment and a host of other prizes. Also pitching will be 15 Silicon Valley startups vying for a $50,000 investment prize and the last coveted spot in the Global Finals. Each participating startup has already been reviewed and selected by at least 15 active investors. The event will also feature rare fireside chats and a panel discussions with prominent venture capitalists.
The event is strictly limited to 200 select investors, competing startups, and press.
Investors - VC's, CVC's, Angels, LP's, Accelerators, Corp Dev - Register on Eventbrite
Press - Leading media, investing and technology writers - PRESS APPLICATION


JUDGES AND SPEAKERS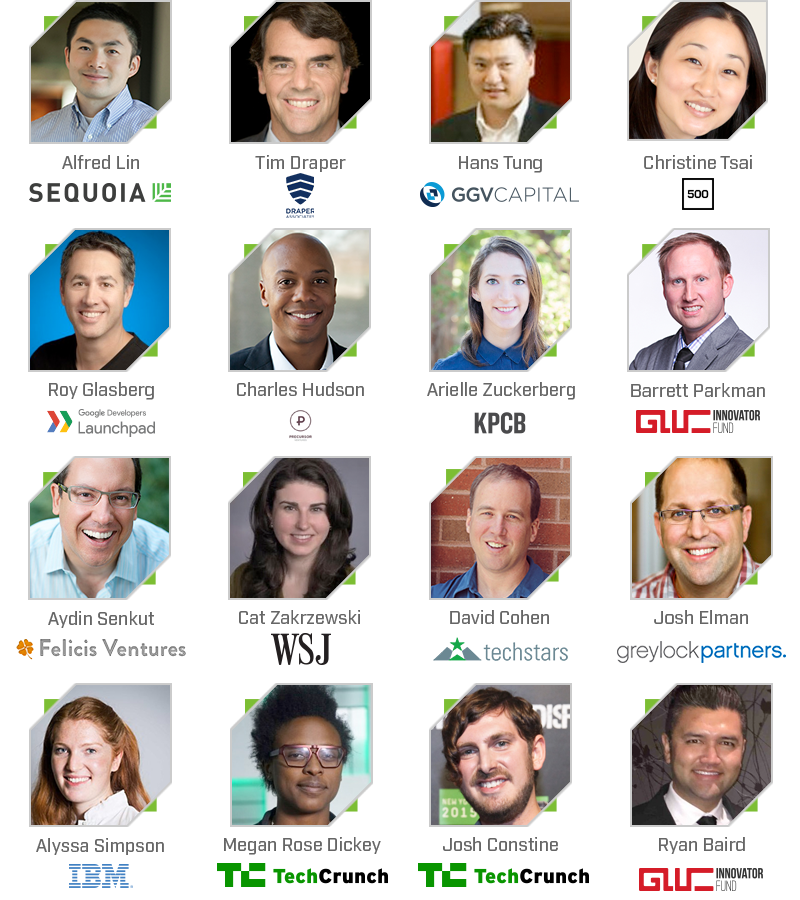 Alfred Lin, Partner, Sequoia Capital
Tim Draper, Founder, Draper Associates
Hans Tung, Managing Partner, GGV Capital
Christine Tsai, Founding Partner, 500 Startups
Aydin Senkut, Managing Director and Founder, Felicis Ventures
Barrett Parkman, Founding Partner, GWC Innovator Fund
Charles Hudson, Managing Partner, Precursor Ventures
Roy Geva Glasberg, Global Lead, Google Launchpad Accelerator
David Cohen, Managing Partner, TechStars
Josh Elman, Partner, Greylock Partners
Arielle Zuckerberg, Partner, Kleiner Perkins Caufield & Byers
Alyssa Simpson, Product Management Leader, IBM
Josh Constine, Editor-At-Large, TechCrunch
Megan Rose Dickey, Reporter, TechCrunch
Cat Zakrzewski, VC Reporter, The Wall Street Journal
Ryan Baird, Startup Manager, GWC Innovator Fund
SELECT REGISTERED ATTENDEES (see bottom for all attendees):
Kai-fu Lee, Founder, Innovation Works
Anu Hariharan, Partner, Y Combinator
Vijay Reddy, Partner, Intel Capital
Ming Zeng, Chief Strategy Officer, Alibaba
Saurabh Gupta, Managing Partner, DST Global
Lei Zhang, Founder, Chairman & CEO, Hillhouse Capital
Paul Asel, Managing Partner, Nokia Growth Partners
Meera Kaul, Chairperson, The Meera Kaul Foundation
Ryan Walsh, Partner, Floodgate
Alex Pack, Partner, Angellist
Cyril Ebersweiler, Founder & Managing Director, HAX
Nick Adams, Managing Director, AME Cloud Ventures
Rick Yang, Partner, NEA
McPherson Moore, Partner, Andreessen Horrowitz
Edith Yeung, Partner, 500 Startups
David Weiden, Partner, Khosla Ventures
PRESS CONFIRMED: Wall Street Journal, Huffington Post, Techcrunch, Forbes, Venturebeat, SF Chronicle, Inc, Fast Company, InformationWeek

ATTENDEES WILL:
-Meet top tier VC's investing both in Silicon Valley and globally. Attendees include partners from DST, Sequoia, AME Cloud Ventures, KPCB, Nokia Growth Ventures, DFJ, Samsung Ventures, Intel Capital, Tandem Capital, 500 Startups and SOS Ventures.
-Gain insights from leading VC's on the rapidly changing fund raising environment, where the smart money is investing and how to find the signal in the noise of early stage investing.
-See the final pitches of 8 innovative startups that won our regional startup competitions in Bangalore, Taipei, Tel Aviv, Beijing, Tokyo, Jakarta, Sao Paulo and Silicon Valley.
-See the pitches of 15 amazing Silicon Valley startups chosen by 25 VC's from 700 applications.
-Meet handpicked startups and ecosystem builders that are truly changing the world

AGENDA
Noon - 1PM Registration
1:00 - 2:55 G-Startup Silicon Valley Competition
Judges: Roy Geva Glasberg, Charles Huston, Arielle Zuckerberg, David Cohen, Josh Constine
2:55 – 3:10 VC Panel - Finding Signal Among the Noise in Early Stage Investing
Speakers: Roy Geva Glasberg, Charles Huston, Arielle Zuckerberg, David Cohen | Moderator: Cat Zakrzewski from The Wall Street Journal
3:10 – 3:15 G-Startup Silicon Valley Winner Announced
3:15 - 3:30 Fireside Chat - Diversity Investing: Empower Diverse Founders and Improve Returns
Speakers: Christine Tsai, Charles Huston | Moderator: Josh Constine
3:30 – 3:35 IBM - How Innovative Companies Use Cognitive APIs to Win
3:35 – 5:05 G-Startup Global Finals Introduction and Pitches
Judges: Hans Tung, Alfred Lin, Christine Tsai, Tim Draper, Aydin Senkut, Barrett Parkman
5:05 - 5:20 VC Panel – Unicorns, Cross-border Investment and Impending Doom?
Speakers: Hans Tung, Alfred Lin, Christine Tsai, Tim Draper, Aydin Senkut | Moderator: Barrett Parkman
5:20 - 5:30 Global Winner Announced
5:30 - 6:30 "Meet the Startups" Happy Hour
STARTUPS

Regional G-Startup Winners Competing to Become Global Winner and Receive a $250,000 Investment

G-Startup Worldwide Taipei Winner : SkyREC - Google Analytics for brick-and-mortar store
G-Startup Worldwide Tel Aviv Winner : Feelter - A platform to improve sales by enhancing the shopping experience with highly curated social content
G-Startup Worldwide Beijing : YiHuDaoJia - A door-to-door healthcare services platform
G-Startup Worldwide Tokyo Winner: Pulzze Systems – Produces IoT Infrastructure products to make it possible for any connected devices and systems to work with each other without coding
G-Startup Worldwide Jakarta Winner : iGrow - A marketplace that helps underemployed farmers to produce high-quality organic food and get sustainable incomes
G-Startup Worldwide Sao Paulo Winner : Easy Carros – An intelligent platform to connect car owners with best service providers
G-Startup Silicon Valley Top 15 Startups Competing for $50,000 and a Position in the Global Finals
We received 700 applications from over 60 countries for our Silicon Valley competition. Some of the strong startups have graduated from accelerators including Y Combinator, 500 Startups, Techstars, StartX and Alchemist. Our amazing Evaluation Committee of over 25 VCs from firms including Sequoia Capital, Greylock, GGV Capital, Nokia Growth Partners, GWC Innovator Fund, Precursor Ventures, 500 Startups, Darling Ventures, Translink Capital, Tandem, Techstars, Telos Ventures, GDP Ventures, Meera Kaul Foundation has ranked each startup based on their traction, product innovating, team, and industry.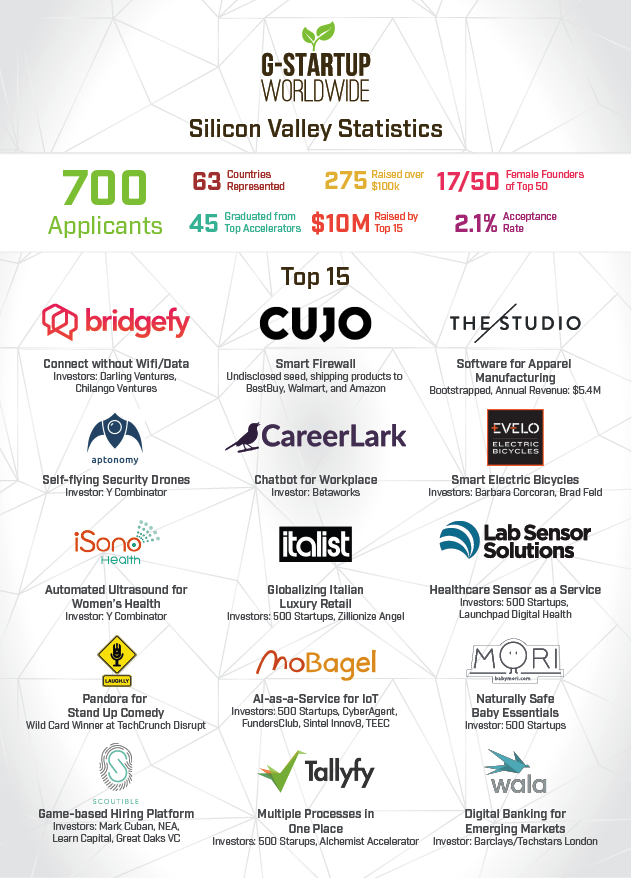 ALUMNI



PARTNERS

Want to partner with us? Email g-startupworldwide@gwc.net
Lyft: Enjoy 25% off 2 rides to/from the G-Startup Worldwide Global Finals! Use code: GSW25
Terms: Offer valid from 09/25/2016 at 12:01 a.m. through 11/03/2016 at 12:01 a.m. Valid for new and existing users; one coupon per user. Good for 25% off 2 rides, max discount of $10 per ride. Valid only for pick-ups or drop-offs at Hyatt Regency San Francisco (5 Embarcadero Center, San Francisco, CA, 94111). Subject to Lyft's Terms of Service: lyft.com/terms.

STAY UPDATED
View Pictures from Previous G-Startup Worldwide Events and Like us on Facebook


CONTACT
g-startupworldwide@gwc.net


INVITES
The event is strictly limited to 200 select investors, competing startups and press. YOU CAN VIEW OUR ATTENDEE LIST BELOW!!
Investors - VC's, CVC's, Angels, LP's, Accelerators, Corp Dev - Register on Eventbrite
Press - Leading media, investing and technology writers - PRESS APPLICATION