G. Love (Solo) show with The Ries Brothers (NOTE: Tickets are priced per pod. Not per person.)
About this Event
Come and enjoy an evening of incredible music featuring Garrett " G. Love" Dutton, and supporting artist The Ries Brothers.
Presented by Old School Square, T Presents, and House of Parnes: Garrett "G. Love" Dutton is celebrating his 27th year as a touring and recording artist. With over 15 records released, G. Love has been an influence to artists such as Jack White, Jack Johnson, The Avett Brothers, Slightly Stoopid and many more. With his signature blend of Delta Blues, Hip Hop, Funk, Rock and Roll and Jazz, G has literally created his own funky stew of American music. Expect a high-energy mashup of funky vibes and songs written from the front porch to get the world smiling and dancing to the positive message of Love and the Blues.
Supporting G. Love is The Ries Brothers (pronounced "Rees"), a duo from Clearwater, FL, who blend rock, blues, funk, and reggae into a soulful-sophisticated sound. Older brother Charlie (25) sings lead vocals while simultaneously playing drums and keyboard bass giving the band its unique and full sound. Younger brother Kevin Jordan (21) completes the band's "sonic creativity" on guitar and provides background vocals and co-writes many of their songs. The band started playing the Florida bar circuit as young teenagers where they were discovered by the band Chicago and taken out on two tours prompting them to leave school and focus on music full time.
The Brothers inimitable live performances have captured fans across the musical landscape leading to tours with G. Love & Special Sauce, Stick Figure, 311, Pepper, Galactic, Stephen Marley, a 35-date tour with Iya Terra and playing major festivals such as SunFest, California Roots, Gasparilla, Rootfire and Summer Camp.
Tuesday, November 24th, 2020. Gates will open at 7:00 PM, with music beginning at 8:00 PM.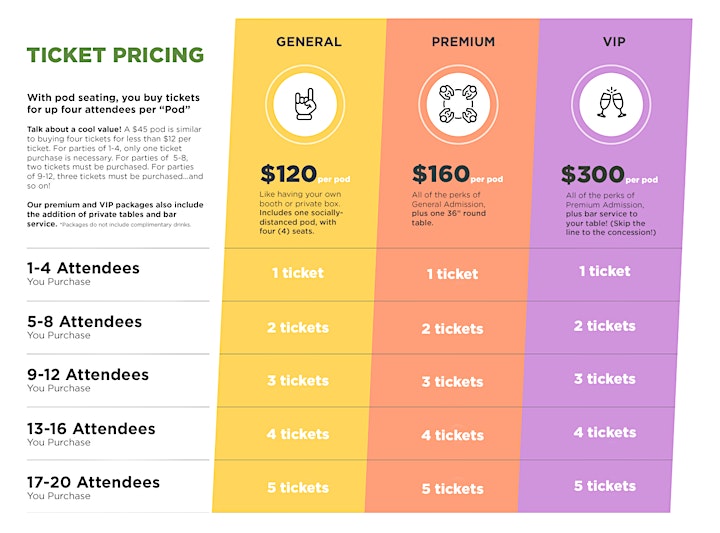 ***NOW OFFERING POD SEATING***
Think of this like having your own private box, with bundled seating for up to four (4) guests. All within a clean, socially distanced, environment!
When you purchase a "pod," you're buying tickets for four seats. A $120 pod is similar to buying four tickets for $30 per ticket. For parties of 1-4, only one ticket purchase is necessary. For parties of 5-8, two tickets must be purchased. For parties of 9-12, three tickets must be purchased. And so on... Talk about a cool value!
Our premium and VIP packages also include the addition of private tables and bar service.
***TICKETS***
General Admission – $120 per pod (Think of this like having your own booth or private box. One ticket is redeemable for admission up to four guests and includes one socially-distanced pod, with four seats.)
Premium – $160 per pod (Get closer to the stage, in a Premium section! Not only does your purchase include the amenities of "General Admission" — you'll also receive your own table to share with your friends in a section with great views of the stage. Rows 4-7 from the stage.)
VIP – $300 per pod (Spread out and experience comfort in the VIP section! Not only does your purchase include the amenities of "General Admission" — you will get cozy with your own table, bar service, and the best views of the stage. You'll be within the first three rows of the stage!)
***REFUND POLICY***
Any event that is postponed, even for a time to be determined shall not be refunded.