About this Event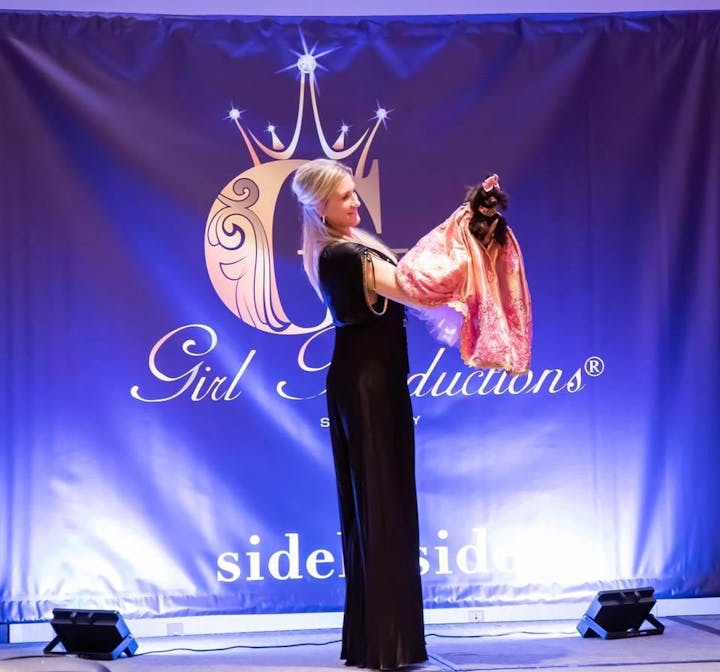 "An Evening in the Enchanted Forest" gala is sponsored by Side by Side Pets and benefits Canine Shelter Rescue and The Royal BB Girls Helping Hands Rescue. Both rescues save furbabies such as puppy mill survivor Wendi Weeums shown above. The two day event features a professionally judged couture pet fashion show on Saturday evening, November 23rd and a Fairytale Storybook Brunch and Contest on Sunday, November 24th. Judges will follow the standard G Girl Productions judging criteria for awarding points. Judging criteria will be published.
Trophies will be presented for the following categories at the Saturday event:
Her Royal Highness of the Enchanted Forest
His Royal Highness of the Enchanted Forest
King and Queen of the Fairies
Prince and Princess of the Fairies
Mr. and Miss Mythical Creature
Best Furboy and Furgirl Costume and Designer
1st and 2nd Runnerup Furboy and Furgirl Costume and Designer
Most Photogenic Furboy and Furgirl Photo Contest ($25 donation ticket may be purchased here to enter the contest. Furbabies must be dressed.)
Furmoms and Dads may dress in theme however their costumes will not be judged. Black dress is not required.
Competition will be limited to 65 furbabies, first come first serve with VIP ticket purchases.
Pre-judging for the Saturday event will be from 3:00 – 6:00 PM with time slots being awarded based on order of ticket sales.
Doors open at 6:00 PM for VIP ticket holders, dinner is served at 6:15 PM.
General Admission doors open at 7:30 PM.
To purchase tickets use the ticket link for this event and select the tickets that apply to your meal choices and number of furbabies attending. VIP tickets include both the Saturday evening and Sunday brunch events. Do not order Fairytale Storybook tickets if you have purchased the VIP ticket.
Well behaved furbabies welcome. Panties and belly bands required. Strollers preferred.
The Fairytale Storybook Sunday Brunch and Contest will be held at 12:30 PM. A cookie bar will be set up by Side by Side Pets for the furbabies.
Categories for the brunch competition will be:
Best Storybook Furmom and Furdad
Best of Show Fairytale Storybook Theme