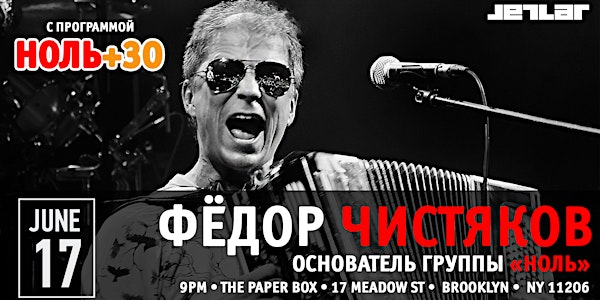 Fyodor Chistyakov (Фëдор Чистяков) Full band презентация альбома "НолЬ+30"
When and where
Location
The Paper Box 17 Meadow Street Brooklyn, NY 11206
Refund Policy
Contact the organizer to request a refund.
Description
Есть события, которые невозможно проигнорировать, не взирая на то, что с момента их свершения прошло целых тридцать лет. Именно в 1986 году был записан и издан первый альбом группы НОЛЬ «Музыка драчевых напильников». Именно в 1986 году состоялось дебютное выступление этого молодого, но очень уверенного в себе коллектива в Ленинградском рок-клубе. Так что, как не считай, по какой системе координат не отмеряй – все равно выходит, что в конце 2016 года группа отметила свой юбилей.
Юбилейные мероприятия, старт которым дали большие концерты в Петербурге и Москве, продлятся в течение весны и лета 2017 года в различных городах России, а также ближнего и дальнего зарубежья.
Музыканты группы Федора Чистякова подготовили своим поклонникам еще один подарок. Записан альбом, включающий в себя 12 песен группы НОЛЬ, перепетых и записанных с новым звучанием и в новой обработке. На сборнике представлены песни ИЗ ВСЕХ альбомов НОЛЯ, как самых ранних, так и более позднего периода. Этот сборник носит то же название, что и юбилейные концерты – «НОЛЬ+30». Так что концерты тура «НОЛЬ + 30» посвящены не только юбилею группы, но и презентации нового альбома!