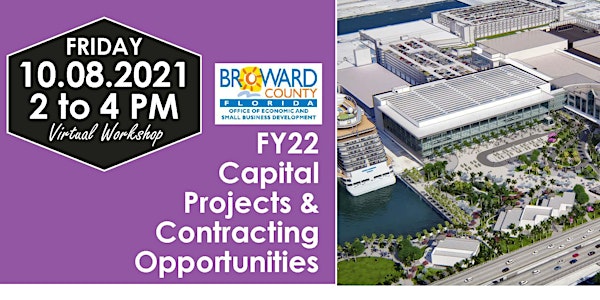 FY22 Capital Projects & Contracting Opportunities Virtual Workshop
A Broward County MUST ATTEND virtual workshop for current and future primes, certified firms and vendors
About this event
The Broward County Office of Economic and Small Business Development (OESBD) -Community Relations and Outreach (CRO) section - hosts this annual event in collaboration with various Broward County government agencies. This workshop is designed to provide details on upcoming projects and to encourage connections between the business community and County agencies.
Confirmed presenters:
County Administration | Alan Cohen
Aviation Department | Marc Gambrill
Parks and Recreation| Cheryl Cayer
Port Everglades | Israel Rozental
Public Works | Trevor Fisher
Purchasing Division | Robert "Bob" Gleason and Connie Mangan
Transportation | Arethia Douglas
MAP Municipal / OESBD | Nichole Francis
Broward County Public Schools | Robert Ballou
Pre-registration is strongly recommended. Event is subject to change.