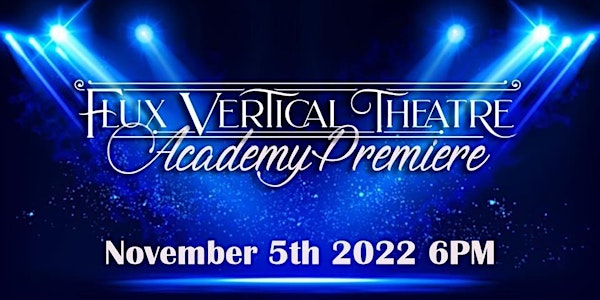 FVT Academy Premiere!
Join us for the Flux Vertical Theatre Academy Premiere!
When and where
Location
Flux Vertical Theatre 811 University Avenue Berkeley, CA 94710 United States
About this event
Join us for the Flux Vertical Theatre Academy Premiere!
We're open and it's time for a SHOW - We're so excited that we just can't wait any longer. We have a FAB cast of students, instructors & FVT Family that are ready to entertain you on our brand new stage. We can't wait to see you!
It's also a FUNdraiser! Each ticket sold will go directly to purchasing physical seats that we will use for shows that happen in the space at the FVT Theatre. Buy a ticket for your bootie & many booties to come!
**DOORS at 6pm**
**SHOW starts at 6:30pm**
**Ticket Types**
SEATED TICKETS - $30
There will be *no* assigned seating for seated tickets. So arrive early to grab a good view!
STANDING ROOM TICKETS - $20
Standing room means just that. Please do not take a seat uness you paid for one. Thanks!
Thanks to our sister studio, Sedusa, we will have chairs for this event! Sedusa has been a long time supporter and sponsor of FVT and we are ever grateful for the constant love and support they continue to give us.
**Capacity is limited due to permitting.**
All guests must be 18+
**DONATING DIGITALLY & IN PERSON**
We definitely support and encourage donating more if you feel so inclined! We are currently accepting digital donations via Venmo @fluxverticaltheatre with the note "FOR CHAIRS" in the memo. We will also have a *CHAIR DONATION JAR* at the show, so feel free to drop something in it! For now our goal is to raise enough money for 50 chairs, which will cost us $2,250 (shipping included). Our long term goal is to eventually be able to afford 100 brand spankin new chairs for future events in the space.
ADA Accessibility - Flux Vertical Theatre is 100% ADA accessible
***ALL SALES ARE FINAL* **
You, the purchaser, agree and understand that all sales are final and no refunds will be given. Thanks for your support!