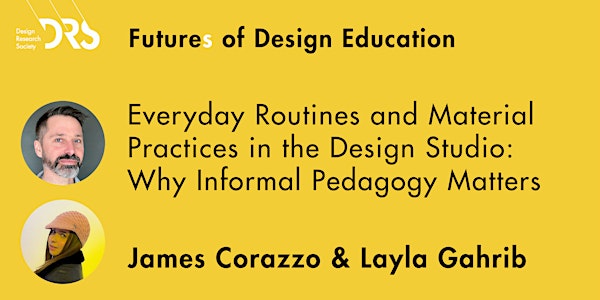 Futures of Design Ed: Why Informal Pedagogy Matters
EdSIG Futures of Design Education discussion on Everyday Routines and Material Practices in the Design Studio Save the date!
About this event
This presentation will share insights from a study of the informal pedagogy of the educational design studio. By informal pedagogy, we mean the everyday routines and time spent undertaking design work outside of formal interactions with tutors and peers in and around the studio – students working at laptops, talking, moving around to see what is going on, making tea, looking, reading, laughing, cutting out or folding.
Our study identifies five distinct functions of informal pedagogy: to organise, compare, socialise, perform and manage the design process. We will define and illustrate these functions as part of our argument that the informal dimension of learning has an essential but under-acknowledged role in contributing to the development of design students.
Following the presentation, we invite you to participate in a short collaborative workshop where we will encourage you to explore and discuss your educational context through the lens of formal and informal learning.
---

Futures of Design Education is a discussion series organised by the Design Research Society's Education SIG. The series aims to raise awareness of the plurality of possible futures represented by our members and the wider design education community.
Anyone interested in design education is welcome to join these events. If anyone has any ideas for future presenters or topics then email derek.jone@open.ac.uk
You can find recordings of all past events here.