Description
Caleb Storkey and Minter Dial will be hosting a book launch and signing event at Pearson's office at the landmark 80 Strand with views of the Thames from 6:30-9:00pm on Tuesday, September 26. Entry is free and nibbles and beverages are on the house! Books will of course be available for purchase on site. We will be doing a short talk and then be looking to engage in vivid conversations and happy networking.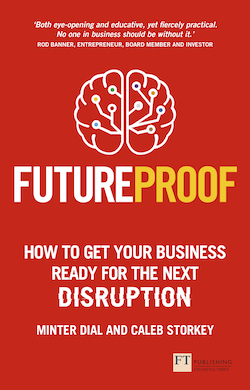 About the book: Futureproof, How to get your business ready for the next disruption
The 328-page book, published by Pearson, is co-written by Minter Dial and Caleb Storkey. It has two sections, the first focused on the crucial mindset issues in order better to deal with the new tech disruptions. The second section zeroes in on the 12 most disruptive forces. In every chapter, we explore actionable next steps on a personal and business level. See more here. It's also available for order in fine retailers, including Amazon UK.

Looking forward to seeing you there!