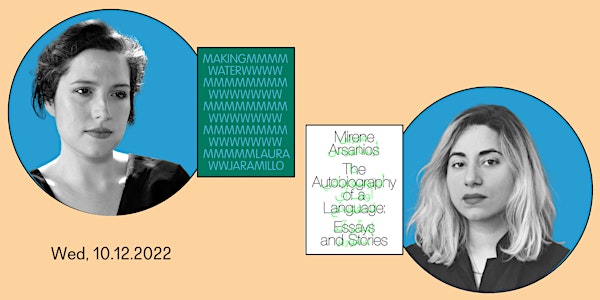 Futurepoem Book Launch: Making Water and The Autobiography of a Language
Celebrating the Release of Laura Jaramillo's Making Water and Mirene Arsanios' The Autobiography of a Language
When and where
Location
Artists Space 11 Cortlandt Alley New York, NY 10013
About this event
A book launch in celebration of two Futurepoem Fall 2022 titles: Making Water by Laura Jaramillo and The Autobiography of a Language: Essays and Stories by Mirene Arsanios. This event is generously hosted by our friends at Artists Space.
https://artistsspace.org/programs/futurepoem-mirene-arsanios-laura-jaramillo-double-book-launch
The launch will feature readings by Laura, Mirene, and guests Rami Karim, Christopher Pérez, Paige Taggart, and Sharifa Rhodes-Pitts.
Both The Autobiography of a Language: Essays and Stories and Making Water were selected from the 2019 Open Reading Period by guest editors Anne Boyer, Alissa Quart, and Wendy S. Walters.
Laura Jaramillo is a poet and critic from Queens, New York living in Durham, North Carolina. Her previous books include Material Girl (subpress). She holds a PhD in critical theory from Duke University. She co-runs the North Carolina-based reading and performance series Paradiso.
Mirene Arsanios is the author of the short story collection The City Outside the Sentence (Ashkal Alwan). She has contributed essays and short stories to e-flux journal, Vida, The Brooklyn Rail, The Rumpus, and Guernica, among others. Arsanios co-founded the collective 98weeks Research Project in Beirut and is the founding editor of Makhzin, a bilingual English/Arabic magazine for innovative writing. She teaches at Pratt Institute and holds an MFA in Writing from the Milton Avery Graduate School for the Arts at Bard College. Arsanios currently lives in New York where she was a 2016 LMCC Workspace fellow, and an ART OMI resident in fall 2017. With Rachel Valinsky, she coordinated the Friday night reading series at the Poetry Project from 2017–19.
The livestream link will be shared to registered Eventbrite users just prior to the event. Autocaptioning will be available.
In the interest of the safety of our staff and visitors, Artists Space requires visitors to be vaccinated and to wear a mask at all times and to use the available hand sanitizer upon entry.
For accessibility information or accommodations for this event, please visit the Accessibility page for Artists space. https://artistsspace.org/about/accessibility
Futurepoem events are supported in part by the National Endowment on the Arts Literary Arts Program, New York State Council on the Arts with the support of Governor Kathy Hochul and the New York State Legislature. It is also supported in part by public funds from the New York City Department of Cultural Affairs in partnership with the City Council, as well as by Literary Arts Emergency Fund (2020, 2021), Tamaas, The New York Community, The Leaves of Grass Fund, and Futurepoem's Individual Donors, Subscribers, and Readers.