Sunday Supper! Live. An interactive celebration of Black art, culture and entertainment.
About this event
Join us for the third installment Sunday Supper. Live! as FutureBandDC takes the stage.
More than just a band, they are a movement. FutureBandDC has been thrilling audiences since 2013 with their tremendous energy and proven ability to entertain audiences of all ages. Heavily influenced by the Roots with a touch of Earth, Wind, & Fire, FutureBandDC has perfected the art of melding the essence of Hip-Hop, Soul, and Gogo. The band combines the very best of many genres of music, while entertaining and captivating audiences with their sincerity and power.
The band is currently touring and promoting the release of their latest project "Believer", which was released in November 2019 and has been met with rave reviews. The band was also recently nominated 2x for Best All Male Band.
True to our name, each SSL features a different minority-owned food truck. Joining us for this edition is Big C Waffles. After you've got your plate, grab a tropical icee from this week's featured Black business: CocoCrissi.
*** HOUSEKEEPING ***
*Doors open at 4:30pm, Show Starts at 5:00pm.
* All attendees are encouraged to wear a mask while in the building.
* All seating options are reserved. If you purchasing a "Standing Room Only" ticket, please note that seating is not guaranteed.
* All reserved table/booth ticket holders will be able to place food orders from their table.
* If you have any question, concerns or comments, please let us know.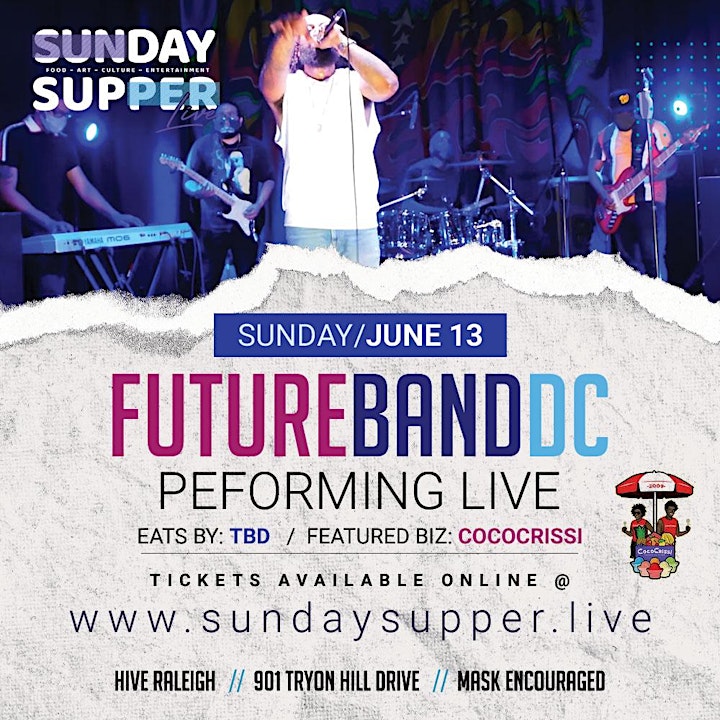 Organizer of FutureBandDC // CocoCrissi | Sunday Supper. Live!
Sunday Supper. Live! is dedicated to curating inspiring entertainment experiences that puts the talents of Black entrepreneurs, artists, creators, and dreamers on full display. We are building a creative platform to bridge communities of color and create safe cooperative spaces that will empower others to actualize their own legacies.