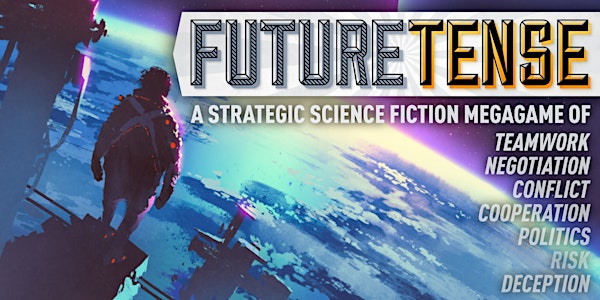 Future Tense: A Science Fiction Megagame
When and where
Location
Hex & Company 2871 Broadway New York, NY 10025
Refund Policy
Refunds up to 7 days before event
Description
FUTURE TENSE is a strategic science fiction MEGAGAME of politics and deadly subterfuge. 40 players form eight teams. Individual team members compete (or cooperate) in five interconnected game modules.
Expand your faction's territorial influence in the Map Room. Vie for control of strategic resources in the Exchange. Negotiate for commodities and privileges at the Conference. Gamble for the services of spies and informants in the Casino. Or take a seat at the High Table and change the rules of the game.
Success will require both teamwork and planning... as well as daring and deception.
---
WHAT IS A MEGAGAME?
Megagames are massive team-based tabletop games. They combine freeform play — such as roleplaying, creativity, negotiation, and bluffing — with structured elements — including board game style mechanisms, economic systems, and resource management.
The large number of players involved is what makes megagames unique. The smallest megagames accommodate 30-40 players. And the largest-ever megagames had over 300 players. Megagames are run as events, with players signing up beforehand. Depending on the game, they may play as part of a team or independently.
Megagames are run by dedicated groups of facilitators (often referred to as "Control"). In addition to organizing the event, facilitators act as game masters — adjudicating rules and roleplaying as non-player characters.
Megagames are narrative-driven experiences. Some megagames may end with 'winners' and 'losers', but almost all of them emphasize the shared story created by the players, with players finding victory or facing defeat based on their own personal objectives and their unique place in the game's story and mechanical systems.
Want to see a megagame in action? Check out this video from PAX East 2016 by The Dice Tower. To learn more about how megagames work, watch this video by Dice, Decisions, and Diplomacy.
---
ABOUT THE VENUE: HEX & COMPANY
Hex & Co. is uptown Manhattan's first board game cafe — a spacious venue with more than dozen tables, 1000+ games to play, and plenty to buy. Hex & Co. offers locally-roasted coffee and a wide range of food options, plus educational after-school programs and camps.