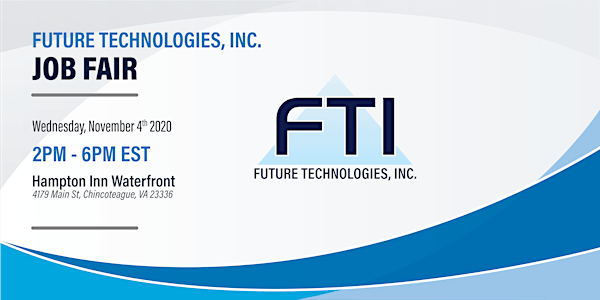 Future Technologies, Inc. Job Fair - Wallops Island, VA
Future Technologies is looking for qualified candidates for the Technical Services Support (TSS) effort.
When and where
Location
Hampton Inn Waterfront - Chincoteague, VA 4179 Main St Chincoteague, VA 23336
About this event
FTI is a proven, employee-focused provider of mission-critical information systems and technical support services to government and private sector organizations worldwide. We are committed to the well-being and long-term success of our employees. Because we take good care of our people, our people take good care of our clients.
At this event we will be discussing career opportunities in the following areas:
IT/IA Program Coordinator
Safety Specialist
Supply Coordinator
Supply Technician
Financial Analyst
IT Specialist/LINUX
IT Specialist/Network
IT Specialist/Windows
IT Specialist/Web Design
Access Control Specialist
Administrative Assistant
Budget Analyst
Data Management Specialist
Media Specialist
Product Assurance Specialist
Records Management Specialist
Safety Specialist
Emergency Coordinator
Security Specialist
System Security Engineer
Telecommunications Specialist
Technical Writer
During the event, we will be following all of the COVID-19 mandated guidelines including, but not limited to, social distancing, use of masks and sanitation stations.
An RSVP/ticket is NOT REQUIRED to attend the job fair. RSVPing will keep you up to date with new opportunities available from FTI.
To view all available career opportunities, or to learn more about FTI, visit our website: www.ftechi.com