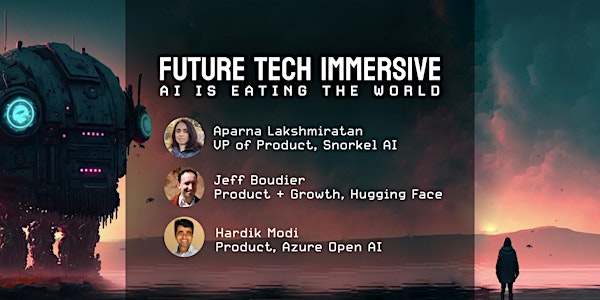 Future Tech Immersive: AI Enablement x ChatGPT Meetup + Networking
Join us for an interactive meetup in SF to explore AI enablement, 
uncover emerging trends, and network with other curious-minded humans.
When and where
Date and time
Tuesday, March 14 · 6 - 9pm PDT
Location
BuzzWorks 365 11th Street San Francisco, CA 94103 United States
About this event
Presenting our upcoming Future Tech Immersive: AI enablement x chatGPT event on March 14th, 2023 at Buzzworks @ 365 11th St, San Francisco.
We will explore opportunities to leverage generative AI foundation models and custom components to deliver next-generation products & services in the startup and enterprise space.
ABOUT THE PRESENTERS
Aparna Lakshmiratan - VP of Product @ Snorkel AI
Jeff Boudier - Product & Growth @ Hugging Face
Hardik Modi - Product, Azure Open AI @ Microsoft
SIGNUP NOW, THIS EVENT WILL SELL OUT
We are expecting 100 attendees across various industries and backgrounds. Our global community of 26,000 members includes folks from companies and startups such as Adobe, Amazon, Atlassian, Autodesk, Coinbase, Dropbox, Figma, Flexport, Google, Instacart, Intel, Nvidia, Notion, Salesforce, Slack, SpaceX, Tesla, Twitch, Twitter, Roblox, VMware and many more.
FUTURE TECH FOR ALL
Explore new technologies, uncover emerging trends, and network with other curious-minded humans.
This event features interactive showcases and dynamic conversations that help you walk away with new insights to take your work to the next level. During this networking segment, you will connect with passionate tech leaders from other companies and explore cross-industry opportunities in a casual and fun setting.
Future Tech Immersive brings together the most influential and inspiring speakers in Silicon Valley. Come experience the future and beyond.
AGENDA
6:00 PM- Networking
6:30 PM - Showcase
8:00 PM - Panel Discussion
9:00 PM - Fin
ABOUT THE FACILITATOR
Mike is a facilitator and maker at REASON, Future Tech Foundry & Escape Room in San Francisco with a mission to humanize our relationship with technology and each other. Mike works with the most innovative companies in the world to drive entrepreneurship, foster teamwork, and accelerate cultural transformation via immersive experiences at the intersection of art + human + technology.
ABOUT BUZZWORKS
SF's Premier Craft Spirits Beercade w/40 taps, 200+ Bottles/Cans & FULL BAR, 30 screens of sports on 2 levels! PLUS - 10 Pinball games, 2 Pool tables, & Foosball. BuzzWorks opened its doors on July 18th, 2016 after 2+ years of development. The brainchild of SF infamous entertainment pioneer Vlad Cood, this venue is a completely ORIGINAL build-out and conversion from and old Industrial factory to a brand new public assembly establishment... the first of such in the SOMA since the 1984 cabaret moratorium was enacted, with the very first original entertainment & liquor license in 34 years in SOMA!
SUPPORT THE VENUE
Buzzworks has kindly offered us their space for this event. Please support them by ordering a beverage.
***As alcoholic drinks are served at this venue, all attendees must be 21+.***
WHO SHOULD ATTEND
Tech professionals in engineering, product, design, sales, marketing, data science, entrepreneurs, business owners, freelancers, makers, and anyone else with a passion for future tech. Be ready to introduce yourself and make awesome connections with people across all industries. Feel free to bring your LinkedIn QR code.
SPONSORSHIP OPPORTUNITIES:
We are always looking to promote companies and startups doing cool stuff. Do you want to sponsor this or future events? Contact Us at hello@tryreason.com