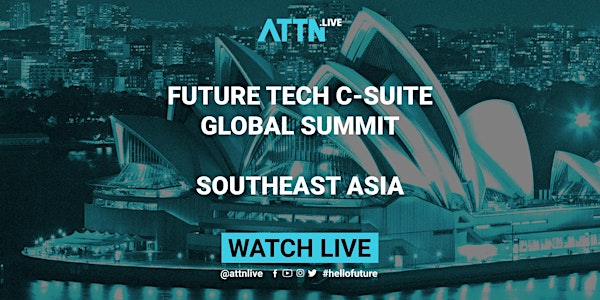 Future Tech C-suite Global Summit (Sydney, Southeast Asia)
When and where
Location
Physical Event In Puerto Rico Watch Live From Southeast Asia Sydney, NSW
Description
UPDATE: The Future Tech C-suite Global Summit is being postponed until Friday, May 15th, 2020. The physical event is going to be in Puerto Rico rather than San Francisco. The summit will still be live-streamed for free.
The reason for the delay: We will be able to create a more excellent experience for our global live-streamed audience that signs up to join us from all over North, Central and South America as well as the Middle East, Europe, Asia, and Africa. We will also be able to better exceed expectations for the speakers, investors, founders, and media executives attending.
Everyone that registers for a ticket by Oct 11th will be invited to participate in a ten minute one-on-one live streamed interview with Ian Utile (CEO of attn.live). The purpose is to meet you, discover how to exceed your expectations for the event, and promote your organization to our future tech network.
We also want to encourage you to join us at the following future tech events between now and mid-May:
Previous Blockchain events you might enjoy: Future Of Blockchain, Blockchain 2043, NFT.NYC, Consensus NYC, Blockchain Summit
Previous Future Tech events you might enjoy: Future Of Tech, Future Of Shasta, Future Of The Bay, Webcasting Summit, Puerto Rico Summit, Attention Summit
Previous Voice Tech events you might enjoy: Future Of Voice, Voice Of The Car Summit, VOICE Summit