Future of Work: Sustainability and ESG Related Careers
About this event
The world is moving towards a Net Zero future and green jobs have been emerging around the globe to address this transition. Are you ready to seize the green opportunity?
Join us for an interactive discussion and Q&A with Indonesian professionals overseas working in the fields of Sustainability and ESG!
Going Global Series (GGS) focuses on market-relevant career insights and personal experiences to encourage Indonesians overseas and back home to go global in terms of their professional career directions. GGS aims to inspire more Indonesians to kick start their journeys becoming next global leaders as part of GIPA's drive to further Indonesia's human capital development from abroad.
Speaker Details
T. Arcky Meraxa , PhD | Head of Americas Region and Professional Development Center of Excellence at GIPA
Arcky is responsible for covering GIPA's outreach in the Americas region and for spearheading a center of excellence on professional development. Within his capacity at the CoE, Arcky develops programs targeted for Indonesian students and professionals to enhance their career trajectory. These programs are rolled out at various professional hubs across the globe and best practices are shared across the network. Arcky also co-founded and leads the Indonesian Professionals Association in New York since 2017. Arcky has a doctorate degree in Economic Geography and International Business and he has previously taught at the State University of New York US and Singapore campus for business and international trade programs. Arcky currently works as the Director of Strategic Initiatives and Model Governance within the risk function of American Express, New York.
Ryan Hakim | Senior Fundamental Analyst at Brookfield Renewable, NY
Ryan Hakim is an experienced fundamental analyst of the US wholesale electricity market with experience in regulatory economics, cost-benefit analysis, asset valuation, and electricity markets analysis. He is currently with Brookfield Renewable, one of the world's largest owners, operators and developers of renewable power, with $52 billion of power assets under management, as a Senior Power Fundamental Analyst. Previously, he was a Senior Consultant at London Economics International LLC and Research Associate at ICF. He also interned in Roubini Global Economics and Central Bank of Indonesia in the past. He has a Master's degree in International Finance and Economic Policy from Columbia University and a Bachelor's degree in Economics and Politics from SOAS University of London.
Jessica Darmawan | ESG Associate at Nomura, HK
Jessica Darmawan is dedicated to generating positive environmental, social, and economic impacts of diverse operating contexts and communities. She is currently with Nomura, a global financial services group with an integrated network spanning over 30 countries, as an ESG Associate for the Asia ex-Japan region. She previously worked with Temasek as an Associate in their Sustainability & Stewardship Group as well as with PWC as a Senior Associate in their Sustainability & Climate Change Consulting practice. She also supported the World Resources Institute and Environment America in the past. She pursued a MBA from HKUST Business School with a merit scholarship as well as a Bachelor's degree in International Relations from American University. She was selected as one of the 24 most promising social entrepreneurs from around the world to participate in University of Pennsylvania's Global Social Impact House Fellowship.
Dr James Gifford, PhD | Head of Impact Advisory at Credit Suisse
James Gifford is a seasoned professional in the field of sustainable and responsible investments with various experiences in academia, professional and governmental organizations. He is currently with Credit Suisse, a leading global wealth manager, as their Head of Sustainable & Impact Advisory, previously he was with UBS as their Head of Impact Investing. James also has experienced working in various universities around the world. He was a Senior Fellow in the Centre for Sustainable Finance and Private Wealth in University of Zurich, Senior Fellow in the Initiative for Responsible Investment in Harvard Kennedy School, Member of the Sustainable Investment Advisory Board in Brown Advisory and a Honorary Research Fellow in the University of St Andrews. He also served as the Founding Executive Director in the United Nations-backed Principles for Responsible Investment. He has a PhD in Economics from the University of Sydney and a Master's in Environmental Management From the University of New South Wales.
Event Details
Date: Sunday, July 25, 2021
Time: 8 PM JKT | 2PM LDN | 9AM NYC | 9 PM SG/HK
Joining instructions will be sent before the event through email.
Global Indonesia Professionals' Association (GIPA) aims to serve as the partner for Indonesia's economic diplomacy efforts by working with our affiliated Professionals Hubs to develop talented Indonesian professionals and executives across G20 and ASEAN countries. To that end, we are inaugurating a new webinar series focused on bringing firsthand knowledge and experience to students and young professionals.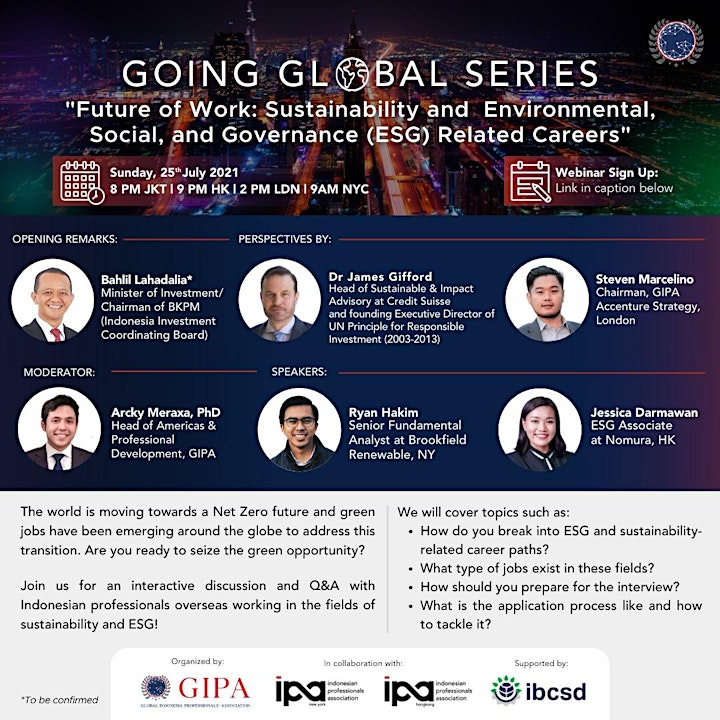 Organizer of Future of Work: Sustainability and ESG Related Careers