Future of Voice as an OS: Google Assistant Home • Amazon Alexa • Apple Siri
Description
Future of Voice as an OS • Friday, November 16, 2018 • Docusign HQ (San Francisco, California)
The "Future of Voice" event brings together trailblazers to share successful use cases for voice technology and how it will become the next OS. When people use Voice OS, in the near future, it will create a frictionless experience between people and technology.

Above is the view from and below is the room where the event will be held. The event will be captured with four different 4K cameras and a team of media professionals will be producing an amazing experience for the online viewers.

Live streamed • multiple product demos • networking opportunities. Attendees and viewers of this event are investors, corporate executives, entrepreneurs, students, and VIPs from the media/press. They are all interested in the future of voice as an OS and seeing new tech demos.
EVENT AGENDA:
1:00 PM Event Begins
1:15 PM Keynote Fireside Chat w/ Alex Farr, the CEO at WMVAI
1:35 PM Q&A with keynote speaker (taking questions from both the live and digital audience)
1:55 PM Botmock Tech Demo
1:58 PM Garrett Viggers, Co-Founder at Limelight Health
2:09 PM Gabriel Viggers and Griffen Poyadue, Voice OS Experts
2:20 PM Ted Hahs, Brand Evangelist at Transform Our World
2:25 PM Annelise DeJong, Data Engineer at WMVAI
2:29 PM Dabble Labs Tech Demo
2:35 PM Shahan Khoshafian, Principal at Reflective Ventures
2:44 PM Maura Sparks, Co-founder developing SMARTY
2:49 PM Ryan Opfer, CEO at Recorded Word
2:53 PM DocuSign Tech Demo
2:57 PM Eric McCall, Lead Consultant, Blue Belly Consulting Group
3:02 PM Tania Dsouza, Creative Technology Director at BVK
3:07 PM Michael Wei, Former Director AI at Samsung (USA)
3:16 PM Trint Tech Demo
3:18 PM Kristi Ebong, SVP Strategy & GM Healthcare Providers, Orbita
3:23 PM Colin Mahin, Program Manager at the NASDAQ Entrepreneurial Center
3:28 PM John Wiese, CTO at WMVAI
3:33 PM Lindsay Versaw, Operations Administrator at Recorded Word
3:38 PM Microsoft's Coptivity Tech Demo
3:41 PM Closing Keynote with Eric Egland, Global Enterprise Innovation at Microsoft
4:01 PM Q&A with Keynote Speaker (taking questions from both live and digital audience)
4:21 PM Ian Utile's Closing Message
4:28 PM Miracle Messages Promo
4:30 PM Networking 30 Minutes (for the live audience)
5:00 PM Event Concludes
If you are interested in what our #RUNtheFUTURE events are like, you can take a look at the live stream video from the Future Of Tech or Future Of Blockchain events. Please contact jace@efex.events if you are interested in sponsoring the event.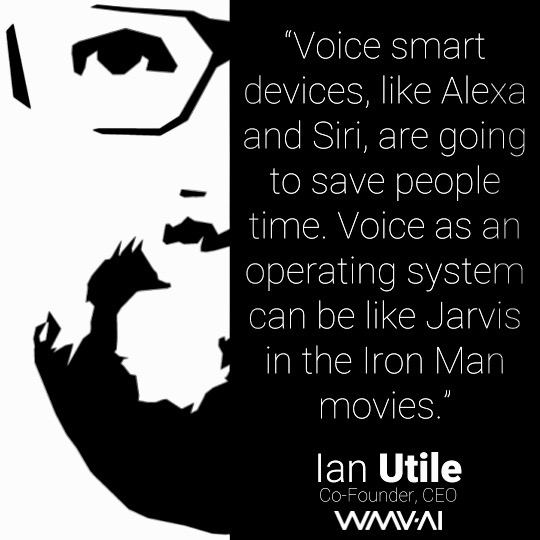 Host and Moderator: Ian Utile
Entrepreneur in Residence @ Runway
Co-Founder @ Kukui, 100XR, and WMVAI

Ian's ancestors have raised their families in the Bay Area since his forefather, Lieutenant Moraga, founded the San Francisco Presidio in 1776 and the City of San Jose in 1777. Ian likes to think of Moraga as the first great entrepreneur of the Silicon Valley and this heritage motivates him to create a meaningful legacy.
EVENT SPONSORS:
ALTERNATE EVENT PAGES FOR THE GLOBAL LIVE STREAMING AUDIENCE:




































* Please be advised the event will be live streamed and there will be a video team capturing the event. By registering for the event, you are agreeing & granting permission to the rights of your image, likeness, and sound of voice as recorded on audio or videotape without payment or any other consideration. You understand that your image may be edited, copied, exhibited, published or distributed and waive the right to inspect or approve the finished product wherein your likeness appears. Additionally, you waive any right to royalties or other compensation arising or related to the use of your image or recording. You also understand that this material may be used in diverse educational settings within an unrestricted geographic area.
** Please be advised that by registering for this event, you agree to be contacted by the host/moderator (Ian Utile) or someone on his event team.
*** If you choose the Pioneer Ticket and wish to empower our team to securely stream through your page, you need to fill out this Google form for us: http://bit.ly/fopioneer If you choose the Media / Press Pass, you need to fill out this Google form: http://bit.ly/fopress If you would like to benefit from the personal branding and corporate promotion, you need to fill out his Google form: http://bit.ly/fopromo If you would like to volunteer to help put on this event, you need to fill out this Google form: http://bit.ly/fovolunteer2018