Description

Future of Television (Oct. 5) is now part of NYME with over 4,000 attendees participating over two days.
Future of Television is a 1-day event that is part of New York Media Festival's (NYME) 2-day event series. The Future of Television is the leading event for senior representatives from television broadcasters, MCNs, digital studios, cable networks, digital distribution networks, brands, advertising firms, VCs, social networks, technology providers, analysts and press. Unlike some other industry events, Future of Television focuses on bringing together the people who really matter to meet in a lively yet intimate environment that allows access and privacy to build and grow relationships and partnerships.
---
Check Out Our Agenda Highlights for Future of Television @ NYME 2018
VIEW FROM THE TOP: THE FUTURE OF TELEVISION
This panel of top decision-makers in the television, online video, advertising and technology industries discuss where America's favorite medium is heading in terms of content and new digital distribution models and platforms. How do you engage, empower, connect and monetize audiences across platforms? How do the networks maintain their unparalleled national reach while at the same time capturing more desirable demographics and better measurable advertising results?
ADVANCED ADVERTISING: THE PROMISE & OPPORTUNITY
Advertisers today are increasingly demanding targeting, tracking and measurement across platforms–TV, PC, mobile, and out-of-home– and expecting demonstrable ROI on their ad spends that goes beyond awareness to consumer engagement and even direct sales. This panel will discuss the suite of benefits that brands are coming to expect from dynamic targeting, precise real-time metrics, contextual creative delivery and seamless sponsorship integration. How do analytics compare across systems without a common currency? Who owns the data and how is it packaged? How is media buying changing?
THE FUTURE OF CONTENT MARKETING
As brands continue to transition away from traditional advertising to digital marketing strategies, effective content has become essential to building and maintaining a loyal consumer base. Today, more than ever, brands need to produce engaging, shareable content to connect with consumers and stay at the top of their industry. This panel will provide examples of how brands are creating engaging content and building social community and the impact on customer relationships and brand loyalty.
THE FUTURE OF NEXT GEN OTT AND MONETIZATION
This panel of experts in Over-the-Top (OTT) video monetization will discuss monetization strategies and techniques. What's working and what not? What are the best strategies for monetizing video content in the OTT ecosystem.
INFLUENCER MARKETING: ALIGNING BRANDS WITH SOCIAL INFLUENCERS
This panel of executives and representatives working with digital influencers with significant followings will discuss how they work with brands, including different strategies such as sponsored posts versus contests versus public appearances. How do brands judge the success of these campaigns in terms of engagement – likes, comments, revines, etc.? What is the future of influencer marketing?
---
Our 2017 Featured Speakers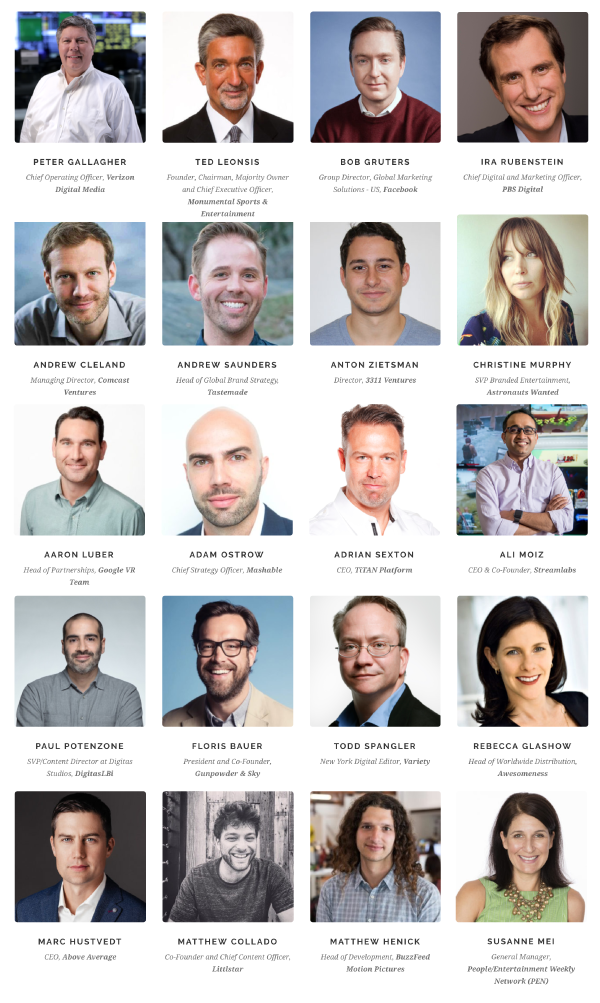 Our Confirmed List of NYME Speakers
Aaron Ford, Director Digital Marketing, The Orchard
Aaron Luber, AR/VR Partnerships, Daydream/Tango, Google
Adam Ostrow, Chief Strategy Officer, Mashable
Amy Sorokas, Director Strategic Partnerships, Brand Strategy, Microsoft
Anne Frisbie, SVP and GM Global Alliances, InMobi
Anton Zietsman, Director, 3311 Ventures
Benji Rogers, Chief Strategy Officer, Pledge Music
Bruce Flohr, Chief Strategy Officer/ Executive Vice President, Red Light Management
Christine Murphy, SVP Branded Entertainment, Astronauts Wanted
David Jorba, President, Virzt Americas
David Liu, Creative Director, Virtual Reality, Viacom NEXT
David Porter, CEO & Founder, 8tracks
Dick Wingate, Principal, DEV Advisors
Gabrielle Heyman, Head of Global Brand Partners, Zynga
Harold Goldberg, Founder, NY Videogame Critics Circle
Ira Rubenstein, Chief Digital & Marketing Officer, PBS
Jill Braff, (former) GM, Ellen Digital Ventures
Jon Goldman, Managing Partner, Skybound Entertainment
Joost van Dreunen, CEO & Co-Founder, SuperData Research
Juan Pablo Santillan, CEO, Vantage.tv
Julie Shumaker, VP, Business Development, Unity Technologies
Karen Allen, President, Karen Allen Consulting
Kavi Halemane, GM / Digital Programming, iHeart Media
Kevin Carson, VP, Global Artist and Industry Relations, Smule
Kym Nelson, SVP Client Strategy - West, Twitch
Lars Murray, SVP Music Industry Group, Pandora
Lucie Watson, Head of Music, Platoon
Mia Goldwyn, Chief Content Officer, StyleHaul
Ned Sherman, Counsel/Director, Manatt Digital / Founder, Digital Media Wire
Nicole St Jean, VP Content, 8i
Paul Brewer, Vice President of Global Sponsorships, ESL
Phil Ranta, COO, Studio71
Philip Alberstat, Co-Founder / COO, Contend
Rebecca Glashow, Head of Worldwide Distribution, AwesomenessTV
Rick Howe, THEiTVDOCTOR
Rob Ruffler, Senior Director, Virtual Reality, Viacom NEXT
Stephen White, CEO, Dubset Media
Susan Borst, Deputy Director, Mobile, IAB
Ted Leonsis, Founder, Chairman and CEO, Monumental Sports & Entertainment
Travis Boatman, Co-Founder, CEO, Carbonated
Virginie Berger, CEO, Armonia
Zeeshan Zaidi, SVP/GM OnTour with Ticketmaster, Ticketmaster
& more to come!
Interested in Speaking at NYME?
We are always looking for speakers with fresh and innovated takes on our topics and subjects. If you are interested in being a speaker at the NYME 2017, please submit your application here.
---
Sponsorship and Exhibit Tables
For sponsorship and exhibit information at any of our events, please contact: Tinzar Sherman, CEO at tinzar@digitalmediawire.com.
---
FAQs
Do I have to bring my printed ticket to the event?
No. However you may be asked to show a government issued ID or drivers license to verify identity.
What is your return policy?
Refunds are subject to a $100 processing fee, which will be subtracted from your refund total. We must receive your written request for a refund by September 4, 2018. Cancellation requests received after September 4, 2018 are non-refundable.
Is my registration/ticket transferrable?
You may transfer your registration to another person. Please provide written authorization to info@digitalmediawire.com. Confirmed and paid attendees who do not attend or who cancel after the deadline are liable for the entire fee.
Where can I contact the organizer with any questions?
For questions, please call us at 310-855-0033 or email info@digitalmediawire.com.