The Future of Television is the leading event for executives in the digital entertainment, streaming, TV and movie industries.
About this event

Future of Television - November 10-12, 2020
FOTV is moving online! Don't miss three days of programming dedicated to the rise of streaming, digital video creation, monetization and distribution, connected entertainment, and so much more.
The Future of Television is the leading event for senior representatives from television broadcasters, digital studios, cable networks, digital distribution networks, brands, advertising firms, VCs, social networks, technology providers, analysts and press.
 The 2020 Agenda Includes:
The Future of the Post-Pandemic Television Business
Keynote Conversation with Kevin Mayer
Is the Future of Sports Programming Digital?
The Streaming Revolution: Is Streaming the Future of Television?
The Live Streaming Explosion: Fad or Future?
Brands and Marketers: The Power of Direct and Digital
The Evolution of Influencer Marketing
Keynote Conversations
And more!
Please note: Registered attendees will have access to recorded sessions after the conference is completed on 11/12.
2020 Speakers Include:
David Bloom, Senior Contributor, Forbes
Bill Bost, President, Skydance Television
Chris Bower, SVP, Brand Partnerships, Fullscreen
Dawn Chmielewski, Senior Editor Media, Entertainment and Technology, Forbes
Christopher Dean, VP and GM of Media & Entertainment, Salesforce Industries, Salesforce
Colin Dixon, Founder and Chief Analyst, nScreenMedia
Ari Evans, Founder & Chief Executive Officer, Maestro
Jenna Fidellow, SVP, Director of Client Services, Havas Media
Jeff Gagne, SVP, Strategic Investments, Havas Media
Mark Garner, Executive Vice President, Global Content Sales and Business Development, A+E Networks
Rob Gelick, Executive Vice President and General Manager of Streaming Services & Chief Product Officer, ViacomCBS Digital
Alison Hoffman, President, Domestic Networks, Starz
Rob Holmes, VP of Programming, Roku
Ariel Horn, Co-CEO, VENN
Natalie Jarvey, Digital Media Editor, The Hollywood Reporter
Aki Mandhar, General Manager UK, The Athletic
Kevin Mayer, Former CEO, TikTok, COO, ByteDance
Kevin McGurn, President of Sales and Distribution, VEVO
Janet Carol Norton, Partner, Board Member and Co-Head of Television Production Department, ICM Partners
Thai Randolph, President and COO, Kevin Hart's Laugh Out Loud Network
Phil Ranta, Chief Operating Officer, Wormhole Labs
Mark Rotblat, Chief Revenue Officer, Tubi
Jade Sherman, Partner, A3 Artists Agency
Ned Sherman, Partner, Manatt, Phelps & Phillips
Jeff Shultz, EVP and Chief Business Officer, Pluto TV
Joan E. Solsman, Senior Reporter, CNET
Ged Tarpey, Head of U.S. Media & Entertainment Client Solutions, Twitter
James Van Stone, President, Business Operations, Monumental Sports and Entertainment
Mike Vorhaus, CEO, Vorhaus Advisors
Joanne Waage, General Manager, Crunchyroll
Andrew Wallenstein, President and Chief Media Analyst, Variety
Zack Weiner, Co-founder and President, Overtime
Brent Weinstein, Chief Innovation Officer, United Talent Agency
Max Willens, Senior Reporter, Digiday
Sara Wilson, Founder, SW Projects & host of The Digital Campfire Download
Liyia Wu, Founder & CEO, ShopShops
Arif Zahir, Content Creator and the new voice of Cleveland Brown on Family Guy
We are always looking for speakers with fresh and innovative takes on our topics and subjects. If you are interested in being a speaker at Future of Television 2020, please submit your application here.
Check Out Our Agenda Highlights from Future of Television 2019:
Keynote Conversation with Kelly Day of Viacom & Anthony Ha of TechCrunch
VIEW FROM THE TOP: The Future of the Television Business
Keynote Conversation with Laura Molen and Mark Marshall of NBCU
Today's Video Mix: OTT, Cable, and Linear Television
Investing and M&A in Video Innovation and Technologies
VIEW FROM THE TOP: TV & Industry Dealmakers Roundtable
The Power of Data: AI for Media & Entertainment
Esports: The Opportunity for Brands, Agencies, and Marketers
VIEW FROM THE TOP: The Future of Streaming Roundtable
OTT & Direct to Consumer (DTC) Roundtable
Original Video Content Leaders Roundtable
Niche OTT Services: Formulas for Success
Sponsorship
For sponsorship at any of our events, please contact: Tinzar Sherman, CEO of Digital Media Wire, at tsherman@digitalmediawire.com.
FAQs
What is your return policy?
Refunds are subject to a $100 processing fee, which will be subtracted from your refund total. We must receive your written request for a refund by October 10, 2020. Cancellation requests received after October 10, 2020 are non-refundable.
Is my registration/ticket transferrable?
You may transfer your registration to another person. Please provide written authorization to comments@digitalmediawire.com. Confirmed and paid attendees who do not attend or who cancel after the deadline are liable for the entire fee.
Where can I contact the organizer with any questions?
For questions, please email comments@digitalmediawire.com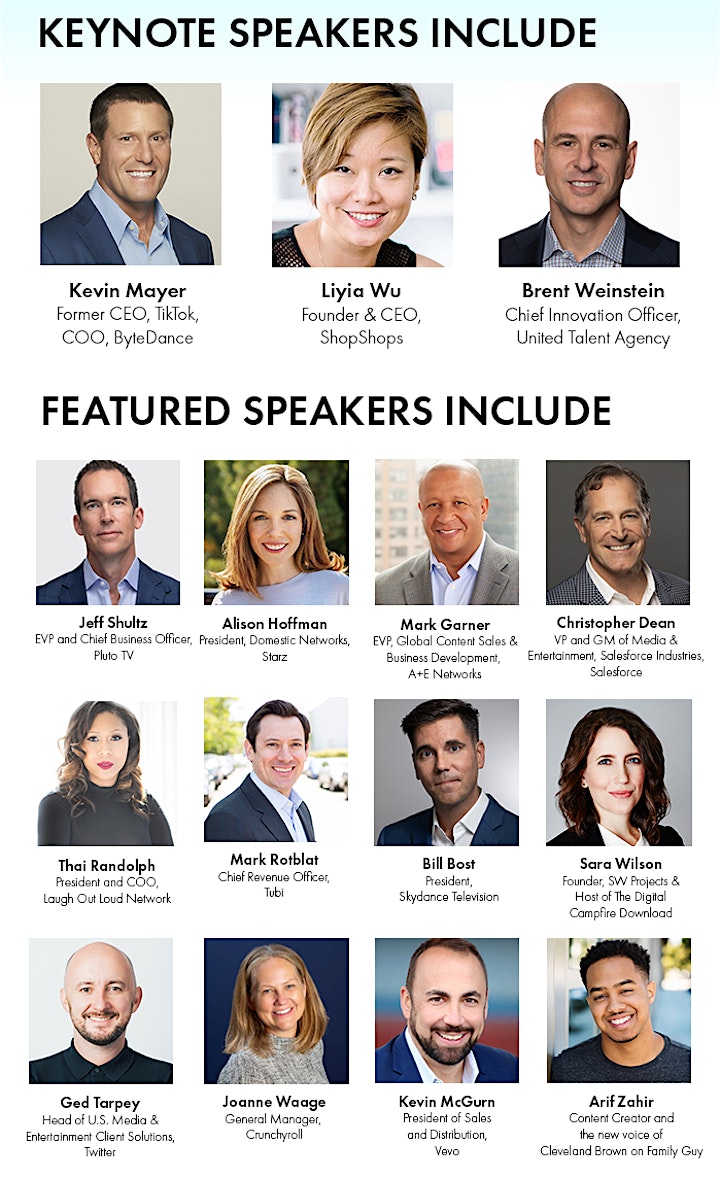 Organizer of Future of Television 2020

Digital Media Wire, Inc. is a media company that provides strategic consulting and manages marketing campaigns for digital media brands, and owns and produces industry conferences. DMW has one of the largest and most engaged and senior-level communities in the digital media industry.
www.dmwmedia.com