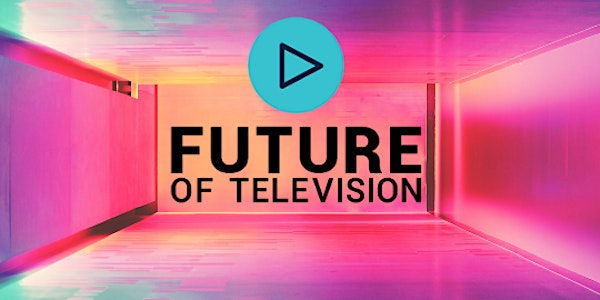 Future of Television 2019
When and where
Location
Museum of Jewish Heritage 36 Battery Place New York, NY 10280
Description

Future of Television - September 24, 2019
A 1-day event, the Future of Television is the leading event for senior representatives from television broadcasters, digital studios, cable networks, digital distribution networks, brands, advertising firms, VCs, social networks, technology providers, analysts and press. Unlike some other industry events, the Future of Television focuses on bringing together the people who really matter to meet in a lively yet intimate environment that allows access and privacy to build and grow relationships and partnerships.
---
Check Out Our Agenda Highlights for Future of Television 2019
Keynote Conversation with Kelly Day of Viacom & Anthony Ha of TechCrunch
VIEW FROM THE TOP: The Future of the Television Business
Keynote Conversation with Laura Molen and Mark Marshall of NBCU
Today's Video Mix: OTT, Cable, and Linear Television
Investing and M&A in Video Innovation and Technologies
VIEW FROM THE TOP: TV & Industry Dealmakers Roundtable
The Power of Data: AI for Media & Entertainment
Esports: The Opportunity for Brands, Agencies, and Marketers
VIEW FROM THE TOP: The Future of Streaming Roundtable
OTT & Direct to Consumer (DTC) Roundtable
Original Video Content Leaders Roundtable
Niche OTT Services: Formulas for Success
---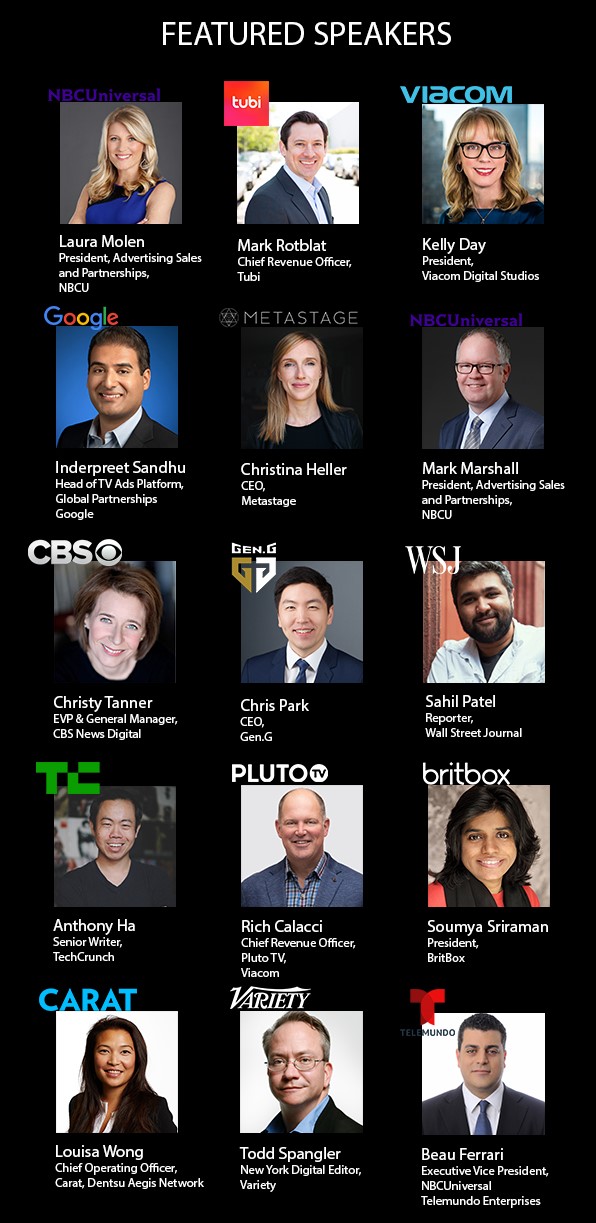 Confirmed Speakers
Ilyssa Adler, Senior Counsel, Business & Legal Affairs, Film & Television, Ubisoft
Rob Aksman, Chief Strategy Officer, BrightLine
Amber Allen, CEO, Double A Labs
Kevin Arrix, SVP, Dish Media
Marc Beckwitt, Executive Vice President, Business Development, Pure Flix
David Berkowitz, Serial Marketer
Eric Berman, Head of Partnerships & Business Development, Crunchyroll
David Bloom, Consultant and Columnist, Tubefilter
Hale Boggs, Partner, O'Melveny & Myers
Paul Brewer, SVP Brand Partnerships, ESL
Rich Calacci, Chief Revenue Officer, Pluto TV, Viacom
Rishi Chadha, Head of Gaming Content Partnerships, Twitter
Alex Carusillo, Principal, OCA Ventures
Ajay Chander, Vice President, Research, Fujitsu Labs of America
Ted Chervin, Managing Director, ICM Partners
Lynda Clarizio, Media Measurement Advisor and Former President, Nielsen US Media
Jean Ellen Cowgill, General Manager, TicToc by Bloomberg, Bloomberg Media
Shay David, President & GM, Media & Telecom, Kaltura
Kelly Day, President, Viacom Digital Studios
Chris Defendis, Vice President of Domestic Distribution, WarnerMedia
Colin Dixon, Founder & Chief Analyst, nScreenMedia
Beau Ferrari, Executive Vice President, NBCUniversal Telemundo Enterprises
Bob Friedman, CEO, Bungalow Media + Entertainment
Sharmi Gandhi, Senior Vice President, Strategy & Business Operations, Endeavor Streaming
Mike Gold, Co-founder & CEO, Autotoon, Inc.; Entrepreneur in Residence, NYU Future Reality Lab
Mike Gordon, CEO, DLVR
Ian Greenblatt, Managing Director, Technology, Media, & Telecommunications Intelligence, J.D. Power
Anthony Ha, Senior Writer, TechCrunch
Christina Heller, CEO, Metastage
Carol Hinnant, EVP, National Networks, Comscore
Rick Howe, The iTV Doctor, Interactive TV Today
Jonathan Hurd, Director, Altman Vilandrie & Co.
Ryan Jamboretz, Chief Development Officer, Amobee
Marc Juris, President and General Manager, WE tv
Todd Klein, Partner, Revolution Growth
Christian Kurz, SVP, Global Consumer Insights, Viacom
Mike Lee, Agent, Video Games, United Talent Agency
David Leibowitz, Managing Partner, CH Potomac
Aron Levitz, General Manager, Wattpad Studios, Wattpad
Sophie Liao, General Partner, Oyster Ventures
Albert Lieberman, Executive Director, Entertainment, Media & Technology Program, NYU Stern School of Business
Mark Marshall, President, Advertising Sales and Partnerships, NBCUniversal
Joel Meares, Editor-in-Chief, Rotten Tomatoes
Laura Molen, President, Advertising Sales and Partnerships, NBCUniversal
Teal Newland, Senior Vice President, Marketing and New Platforms, Conde Nast Entertainment (CNE)
Chris Park, CEO, Gen.G
Sahil Patel, Reporter, The Wall Street Journal
Chris Reynolds, SVP, Localization Product & Services, Deluxe Entertainment
Piper Rosenshein, Vice President, Subscription Video Services (SVOD), A+E Networks
Melissa Rosenthal, Executive Vice President, Cheddar
Mark Rotblat, Chief Revenue Officer, Tubi
Blake Sabatinelli, CEO, Newsy
Nick Sallon, Head of US News Partnerships, Twitter
Daniel Schnapp, Partner, Sheppard Mullin
Savannah Sellers, Co-Host, NBC News' "Stay Tuned" Correspondent, NBC News and MSNBC
Ned Sherman, Partner & Leader, Digital & Technology Transactions, Manatt
Amy Siegel, Managing Partner, O'Melveny & Myers
Colby Smith, SVP, Content & Partnerships, ABC News
Matt Smith, Executive Director, Comcast Technology Solutions
Joan E. Solsman, Senior Reporter, Tech and Media, CNET
Todd Spangler, New York Digital Editor, Variety
Soumya Sriraman, President, BritBox
Paul Sweeting, CEO, Concurrent Media; Editor & Co-Chair, RightsTech
Christy Tanner, Executive Vice President & General Manager, CBS News Digital
Julina Tatlock, Founder and CEO, 30 Ninjas
Sam Toles, Chief Content Officer, Bleacher Report
Zane Vella, VP Product - Interactivity and Advertising, Comcast
Mike Vorhaus, CEO, Vorhaus Advisors
Louisa Wong, Chief Operating Officer, Carat, Dentsu Aegis Network
Pamela Young, Executive Director, Valassis Digital
...and more!
We are always looking for speakers with fresh and innovative takes on our topics and subjects. If you are interested in being a speaker at Future of Televison 2019, please submit your application here.
Past Participants Include: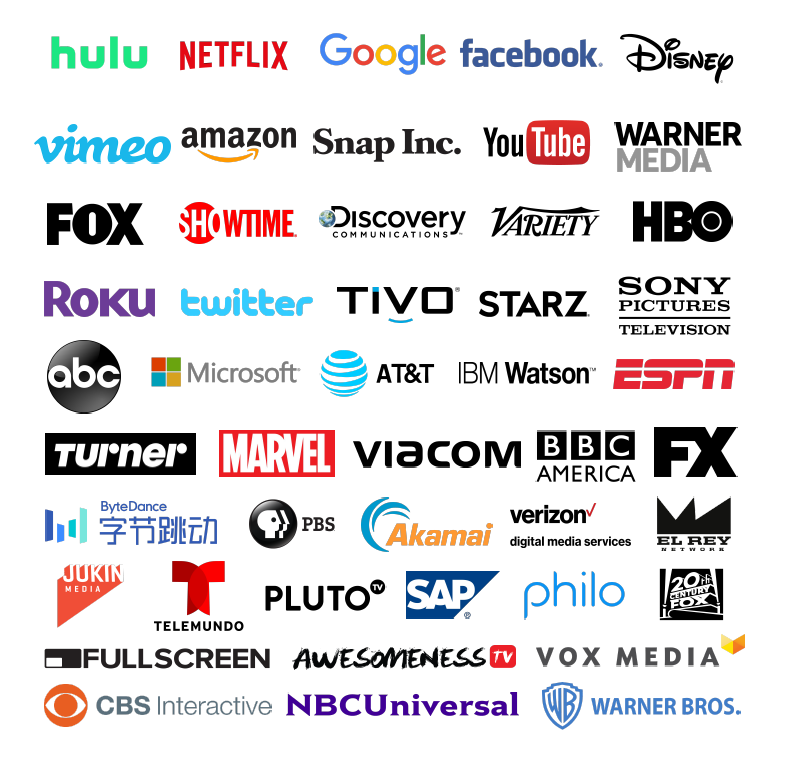 Sponsorship and Exhibit Tables
For sponsorship and exhibit information at any of our events, please contact: Tinzar Sherman, CEO of Digital Media Wire, at tinzar@digitalmediawire.com.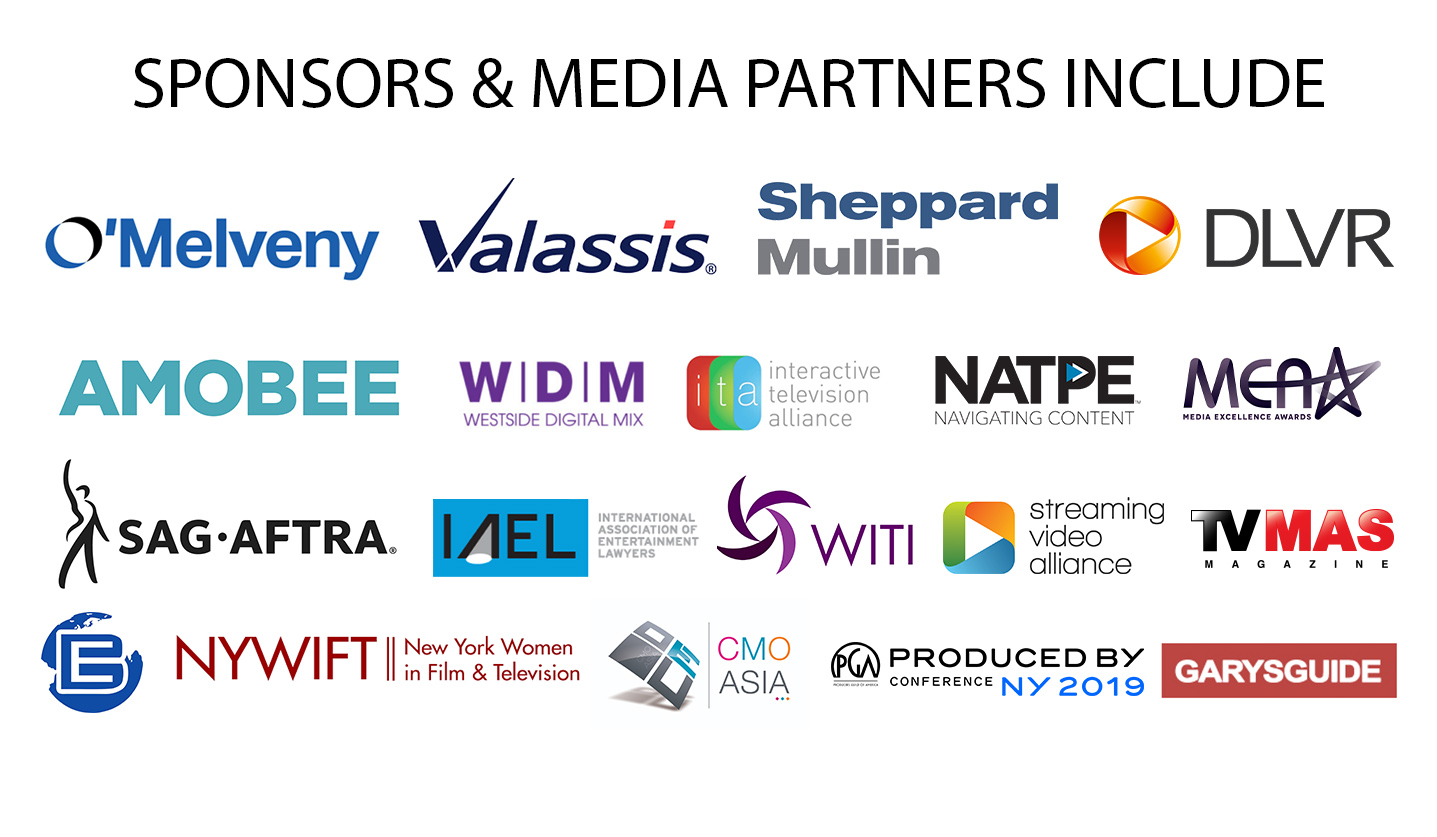 ---
FAQs
Do I have to bring my printed ticket to the event?
No. However you may be asked to show a government issued ID or drivers license to verify identity.
What is your return policy?
Refunds are subject to a $100 processing fee, which will be subtracted from your refund total. We must receive your written request for a refund by August 24, 2019. Cancellation requests received after August 24, 2019 are non-refundable.
Is my registration/ticket transferrable?
You may transfer your registration to another person. Please provide written authorization to info@digitalmediawire.com. Confirmed and paid attendees who do not attend or who cancel after the deadline are liable for the entire fee.
Where can I contact the organizer with any questions?
For questions, please call us at 310-855-0033 or email info@digitalmediawire.com.