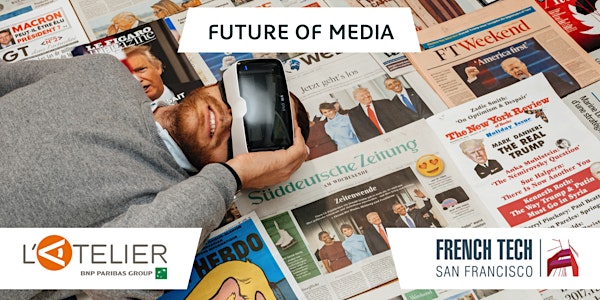 Future of Media: How innovations are changing the game's rules
When and where
Location
L'Atelier BNP Paribas North America 2415 3rd street suite 231 San Francisco, California 94107
Refund Policy
Contact the organizer to request a refund.
Description
What is the Future of Media?
What is the journalist role in the facebook & snapchat era? In the post-truth era? How to fight fake news?
What are the innovations of the newsroom today? Will they help to fight fake news? Will they help to find a sustainable business for the Media industry? How important is live video? Will VR be the future of Journalism?
Let's tackle these questions to think together about the future of Media.
Entrepreneurs, Innovators & journalists will explain their vision and engage the conversation with you.


=> If you are a journalist, a PR professional, a media/innovation passionate, this event is for you!
Agenda
6.00 - 6.30 : Registration
6.30 - 6.45 pm: Introduction keynote about the Future of Media/news by L'Atelier BNP Paribas
6.45 - 7.15 pm: Discussion with Journalists about the Future of Journalism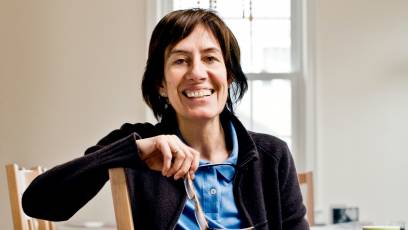 Corine Lesnes, Journalist, Le Monde (French newspaper) correspondent in San Francisco
Corine Lesnes started her career as a journalist in Paris. She joined Le Monde in 1986. Then became a correspondent in Washington for 8 years, in New York for 4 years and is in California since 2014. She wrote several books on the United States, including one on Obama's mandate. She became the first woman head of the Washington office and the first Le Monde journalist to create a blog (in 2004!). Since then she has been following all the digital evolution of media.
7.15 pm - 7.45 pm: Panel with Media Innovation experts and Q&A
Ben Werdmuller,
Matter
(Media startup VC),
Director of Investments (San Francisco)
Ben is an entrepreneur and software engineer who specializes in building social apps for the web. He has a passion for open source development and respectful social technology. In 2014, he co-founded the social learning tool Known, which was part of Matter's third accelerator program. Prior to that, he was a co-founder of Elgg, an open source social networking platform whose users included Harvard and Stanford Universities, NASA, and The World Bank. He was also CTO at Latakoo, an enterprise video software solution used by media organizations including NBC News. Before joining Matter, he worked on the technical team at Medium.
Deniz Ergürel, Founder & CEO of Haptical, #VRJournalism.
He has been a technology journalist for the last 7 years and has been working on the Virtual Reality field since 2015. He founded Haptical (
https://haptic.al
) during his fellowship at the Tow-Knight CUNY Entrepreneurial Journalism Program in 2016 to bring news and information on the latest VR/AR trends for a global audience. Haptical is now the most popular virtual reality publication on Medium and is featured as one of the Top 20 influential brands on AR by Onalytica. Currently, he is building a team to work on a futuristic newspaper experience in Virtual Reality. He'll share his vision on how virtual reality technologies can change everything we knew about media and entertainment industries.
Luc Dumont, Chief Business Officer at Orah (
Live VR start-up HQ-ed in Silicon Valley)
Ora
h develops

solutions for

content

creators to easily create live 360 and VR experiences
. Its 4K Live VR camera, Orah 4i, was recently mentioned by Intel CEO Brian Krzanich, during his keynote speech at Las Vegas CES (
https://

vimeo

.com/198142592#
at=
1300)

7.30 - 8.30 pm: Wine & Cheese networking
=> If you are a media/news startup, send an email to arnaud.auger@mail.atelier.net to have a table to present & demo your solution in front of journalists, investors and media professionals during this wine & cheese session.
Several projects will be demoing :
NativeVR just finished producing a short VR experience on the gender divide in the tech industry. It is a 10 minutes long live-action fiction where the viewer gets to experience first-hand being a female coder in a start-up. Viewers can choose at any time between being a female or male character and which side of the story to follow.


Averpoint: their mission is to empower both citizens and consumers with verified information.



Gazet

, a platform to publish digests of writing and media from around the web.
----
About L'Atelier BNP Paribas
L'Atelier BNP Paribas is established in three major geographical areas that are key for innovation – the United States, China and Europe – so as to spot trends and opportunities and advise and support companies. The tracking unit provides its services through four channels: the Media section shares the results of L'AtelierBNP Paribas' monitoring work via the website, partnerships & column with other media and on the social media; the Events service organises dialogue and information exchange around current innovation topics; Digital Strategy Advisory helps to put identified innovations into context for companies and specific professions; and last but not least L'Atelier Lab brings innovative entrepreneurs into contact with major corporations so that they can work together to invent and design new digital products and services.
Event organized in partnership with FrenchTech SF


The official online hub of the FrenchTech ecosystem in San Francisco.