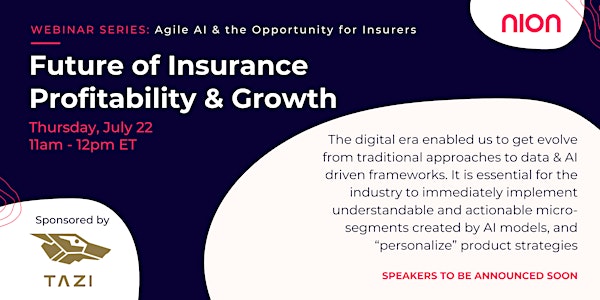 Future of Insurance: Profitability & Growth using AI
Join us on Thursday, July 22nd to learn more about how insurers can use AI for growth and profitability
About this event
AGENDA
Market Update
Strategies today: How do insurers manage profitability and growth today? Beyond traditional growth strategies, what has been the progress of growth strategies in the last 5-10 years? What are the impacts of digital transformation to profitability and growth? How do you analyze competitor behaviours today?
Data and AI driven profitability and growth: In the digital age, how do we leverage data for decision making process? How do we implement understandable and actionable micro-segmentation, to boost growth? How do we implement location-based risk assessment and pivot to appropriate risk mitigation?
Future of profitability and growth: Customer behaviours changed, demanding more personalized products. How do we leverage data and AI to optimize products and pricing? How are the role and skillsets of actuaries changing in the digital era? What's the role of data scientists?
SPEAKER PROFILES
coming soon