Description
FUTURE OF FOOD: unWasted
How mission-driven brands in the natural products industry are addressing climate change with packaging and food waste initiatives

Join us for our next Future of Food program on Nov 8! The evening will feature inspiring conversations with visionary leaders from the modern food movement as they share the evolution of their climate beneficial businesses. Speakers include Edouard Rollet (Alter Eco), Patrick Wyman (Whole Foods), Amy Kirtland (KeHE), Timothy Childs (Treasure 8), Daniel Kurzrock (ReGrained), and Reyna Bryan (Elk Packaging). We'll hear personal stories of struggle and perseverance around utilizing biodegradable and/or highly recyclable, non-petroleum-based packaging, and reducing food waste by addressing upstream and downstream by-product utilization.

To kick off the evening, we'll hear updates from the recently launched Climate Collaborative, a community of businesses joining forces to create pathways to action, to connect companies to resources, and to work together to create climate beneficial solutions.
The program will be led by Lara Dickinson, CoFounder and Executive Director of OSC2.
Featuring
Reyna Bryan, Director of Strategy, Elk Packaging
Timothy Childs, CEO, Treasure 8
Amy Kirtland, Senior Vice President Natural Channel, KeHE
Daniel Kurzrock, CoFounder & CEO, ReGrained
Edouard Rollet, CoFounder & CEO, Alter Eco
Patrick Wyman - Local Purchasing Coordinator, Whole Foods NorCal/Reno
Note: 6pm Doors & Elbow Rubbing / 7pm Program Begins
Presented in partnership with: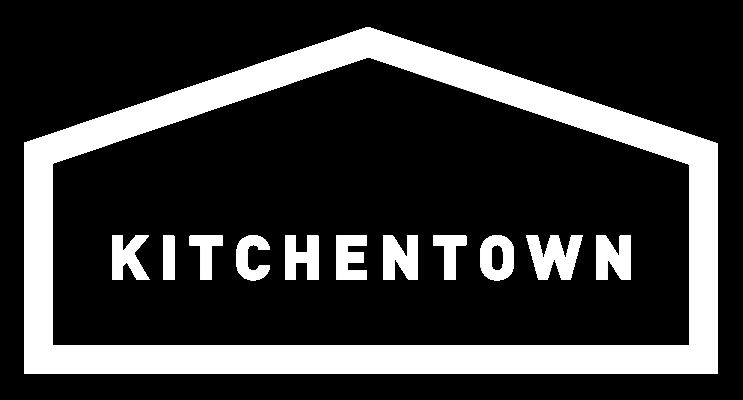 Changes in food culture are creating exciting opportunities for innovative food companies to bring a wave of new products and services to market. The emphasis is on health, nourishment, environmental sustainability, social responsibility, and culinary diversity. KITCHENTOWN offers founders of food startups production space, equipment, and the opportunity to interact with a community of like-minded peers, industry experts, and investors to help scale their businesses.
About the Speakers
Lara Dickinson, Co-Founder & Executive Director of OSC2 & Founder Pluot Consulting
Lara co-founded OSC2 (One Step Closer to an Organic Sustainable Community), to work with mission drive leaders toward regenerative food and agriculture solutions. In this capacity, she launched the Compostable Packaging Collaborative, the Climate Collaborative and Climate Day for the Natural Foods industry. She also runs Pluot Consulting where she deploys her 20 plus years of natural products experience to work on executive level marketing, sales, and strategic planning with some of the most mission driven food companies in the world.
Lara was the CEO of LightFull Foods, VP Marketing & Retail sales at Numi Organic Tea, and VP of Marketing at the Balance Bar Company leading up to it's acquisition by a major CPG company.
Lara received an MBA from Cornell, a BS in Finance from the University of Southern California and completed graduate work at Oxford. She lives in Piedmont, CA with her husband, three young children and 10 chickens
Reyna Bryan - Director of Strategy, Elk Packaging
Reyna Bryan is an entrepreneur, inventor and business strategist dedicated to the development of green business solutions. She is the Director of Strategy for Elk Packaging, a company specializing in sustainable packaging solutions for food products. Elk is a leader in commercializing fully compostable, highly functional flexible film food packaging.
Reyna has an educational background in mechanical engineering and engineering management.
She has worked across several different industries, from oil & gas, aerospace, consumer products, sheet goods, manufacturing, packaging, and management consulting. She is passionate about material management, circular economy development and breaking down value chain silos to create innovative solutions that improve the health of humans, communities and the planet.
Timothy Childs, Co-Founder and CEO of Treasure8
Timothy Childs is a parallel entrepreneur, super­taster and award­ winning innovator whose personal approach to creative disruption champions the deployment of new systems to update archaic industries.
A pioneer in the food+technology space, Timothy is co­founder and CEO of Treasure8, a San Francisco­ based food innovation and technology company on a mission to solve the nutritional challenges and environmental stresses of a growing global population. Timothy and his team develop, patent and deploy game­changing, delicious food ingredients, processes and products that are healthier for people and the planet with a keen focus on creating nutritionally dense foods from agricultural and food production remnants.
In 2006, Timothy founded TCHO Chocolate in San Francisco and was the driving and creative force behind the company's vision and strategy and including TCHO's flavor­driven approach to chocolate making and TCHOSource, an innovative project to improve farmers' livelihoods and generate prosperity throughout the cocoa value chain. Working in partnership with USAID, TCHOSource has become a model for sustainably focused programs in South America and beyond.
Timothy is a participant in the Google Innovation Lab for Food Experiences, a global collaborative network of leading thinkers and doers in the food space who apply their knowledge and passion towards imagining and shaping the future of food. He also is the founder of World Headquarters, a 73,000 ­square­ foot curated design, art, and food innovation lab on Treasure Island and home of Treasure8 and the Future Food Center.
Before he brought his Silicon Valley start­up mentality to the food industry, Timothy founded a company that developed machine­vision systems for NASA's Space Shuttle program. His background in technology is deeply rooted in the pre­web internet and early real­time computer graphics fields. Timothy was directly involved in many early-stage internet/computer graphics and virtual reality companies and co­founded the non­profit community­ building organizations VeRGe (Virtual Reality Education Foundation in 1991) and the infamous Web3D RoundUP. He continues to embrace advanced visualization tools in all his businesses.
Timothy is a founding member of the board of Illuminate the Arts—presenting organization of The Bay Lights—and a founding member of other advisory boards, such as OSC2. He is an internationally sought­after speaker and has been featured in hundreds of print, broadcast and online stories by major media outlets, including The Economist, New York Times, Los Angeles Times, Wired, Time and NPR
Amy Kirtland, Senior Vice President Natural Channel, KeHE Distributors (KeHE)
Amy has over twenty years of experience in the natural and specialty food industry. KeHE provides Natural & Organic, Specialty and Fresh products to natural food stores, chain grocery stores, independent grocery stores and other specialty product retailers throughout North America. KeHE is, one of the largest, trusted B Corp Certified and employee-owned company with over 4000 CareholdersTM in the U.S. and Canada. KeHE trucks are within 5 hours of 95% of the US population; spreading healthy eating, sustainable living, and responsible business with integrity.
KeHE is a member and Amy is a participant of the FMI Sustainability Executive Committee, The Organic Trade Association, and The Climate Collaborative. Amy was one of the founding members of the Food Waste Reduction Alliance (FWRA). Amy also serves on the Board for Food Lifeline in Seattle, WA – A Feeding America Hunger Relief Agency.
Daniel Kurzrock, Founder & CEO, ReGrained
Dan Kurzrock is the co-founder and Chief Grain Officer of ReGrained. Dan founded ReGrained out of his hobby for homebrewing beer, where he first discovered that "spent" grain could be given a delicious second life. He is now obsessed with the impact edible upcycling and closing nutrient loops can have on our food system. As Chief Grain Officer, Dan is "Mr. Outside" for ReGrained, handling all elements of growing the business. Dan holds an Economics degree from UCLA and an MBA in Sustainable Management from Presidio Graduate School.
Edouard Rollet, CoFounder & coCEO, Alter Eco Americas
Edouard Rollet heads Alter Eco Americas, PBC as co-founder and coCEO. A seasoned leader and innovator, Rollet brings more than 15 years of experience. As co-CEO, Rollet leads sourcing and supply chains strategy, financial and operational strategy, brand development and innovations. Rollet co-founded Alter Eco in the United States in 2005 with a vision to change the world and introduce delicious, nutritious and environmentally responsible products.
Prior to launching Alter Eco in the US, Rollet was a Senior Trade Attaché at the French Embassy in New York where he specialized in foreign investment, new ventures, media, marketing and mass retail. He has also consulted for the communications department of the UNICEF in Dakar, Senegal. Rollet holds an MBA from The European Institute of Business (IEA-Paris) and a MA in Mass Communications from the University of Florida.
Born in Lyon, France, Rollet moved to the US two decades ago. He enjoys traveling, the outdoors and exploring street food and restaurants around the world. Rollet resides in Mill Valley, Calif. and is married to Ilse Keijzer, founder of Alter Eco Pacific, which serves the Australian and New Zealand markets.
Patrick Wyman, Local Purchasing Coordinator, Whole Foods NorCal/Reno

Patrick Wyman has 25 years of experience in the natural foods industry, and 15 with Whole Foods Market. He started with the company in a store support role for the grocery department, moved through grocery leadership, and now oversees the Northern California region's local purchasing program and local vendor partnerships. In this role Patrick helps guide vendors through the logistics of bringing a product to market including topics like packaging, distribution, financing, and compliance with company and governmental standards. He's passionate about the environment; professionally he participates in Whole Foods Market's Green Mission leadership team, and spends plenty of time off work hiking and skiing.
Reyna Bryan

Director of Strategy

Elk Packaging

Timothy Childs

Treasure8

CoFounder and CEO

Lara Dickinson

OSC2

CoFounder & Executive Director

Amy Kirtland

KeHE

SVP Natural Channel

Daniel Kurzrock

ReGrained

CoFounder & CEO

Edouard Rollet

Alter Eco

CoFounder & CoCEO

Patrick Wyman

Whole Foods, NorCal/Reno

Local Purchasing Coordinator