Future of Farming: How Urban Agriculture Is Revitalizing Local Economies
Description
As populations grow, our urban areas are tasked with many differing goals: create jobs, grow the economy, but at the same time make the city "greener" and more sustainable for the environment and human well-being. Now more than ever, it's critical to change what we eat and how it's made. Food justice, climate change, social impact, and health concerns make food an integral part of our everyday lives.

Over the past five years, Massachusetts has become the national incubator for innovative business solutions to climate change and social community challenges. Climate Action Business Association has developed a free series of reports, Local Emerging Market Reports (LEMR) to offer a spotlight on what we see as further opportunities for leadership in the transition to an equitable, carbon-free economy. This event is part of our Local Emerging Market Series in which we focus on specific industries to encourage dialogue within local industry.

CABA and Green City Growers are teaming up for a special panel discussion on the importance of reinvestment into local food community. Boston has recently been called the next urban farming paradise. Join us to discuss how we can enable growth and investment that is both sustainable and equitable.

SCHEDULE:
5:30 - 6:00 PM Networking
6:00 - 6:30 PM Panelist Introductions
6:30 - 7:15 PM Q&A
7:15 - 7:30 PM Networking
Stay after to explore Boston Public Market!
SPEAKERS:
Greg Watson Director of Policy and Systems Design, Schumacher Center for a New Economics
Greg Watson leads the Schumacher Center's Cuba-U.S. Agroecology Network which is working to link small farmers and sustainable farm organizations in both countries to share information and provide mutual support. He served as the 19th Commissioner of Agriculture with the Commonwealth of Massachusetts under Governor Deval Patrick and also served as Commissioner (1990 to 1993) under then Governors Dukakis and Weld. 
In 2006 The Boston Globe Magazine, cited him as one of 11 "Bostonians Changing the World."
Jesse Banhazl CEO and Founder, Green City Growers
Jessie is the CEO and Founder of Green City Growers, a Somerville based urban farming company specializing in the installation and maintenance of raised bed gardens and rooftop farms. Jessie has managed GCG since inception in 2008 while establishing GCG as the leader in urban agriculture in the Northeast. Jessie was named "…arguably the queen of Boston's urban ag visionaries" by Stuff magazine.

Glynn Lloyd Executive Director of Business Equity Initiative, Eastern Bank

Glynn Lloyd is currently dedicated to committing resources to minority businesses as the Executive Director of the Business Equity Initiative at Eastern Bank. As founder and former CEO of City Fresh Foods, Glynn brings over 20 years of entrepreneurship, leadership, and business insight. He has a deep commitment to building wealth in Boston's urban communities through enterprise development that is rooted locally and is ecologically sustainable.
Jennifer Hashley Director, New Entry Sustainable Farming Project
Jennifer is a leader in local food systems work focusing on beginning farmer development. Her role at New Entry includes building community partnerships, developing new programs and services, and overseeing incubator training farm site infrastructure and a multi-year sustainable agriculture training curriculum in specialty crops and livestock production for limited resource farmers.
ABOUT GREEN CITY GROWERS: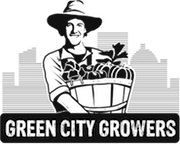 Green City Growers transforms unused space into thriving urban farms, providing their clients with immediate access to nutritious food, while revitalizing city landscapes and inspiring self-sufficiency. Green City Growers has worked with hundreds of businesses, schools, restaurants, and homeowners in throughout the Northeast. To date, Green City Growers has grown over 150,000 pounds of organic produce valued at more than half a million dollars, and worked hands-on with more than 6,000 individuals, all in under two acres of growing space!
THE KITCHEN AT BOSTON PUBLIC MARKET:

The KITCHEN at the Boston Public Market offers year-round programming that encourages a passion for regionally sourced food and appeals to a diverse audience. The Kitchen, programmed by The Trustees of Reservations, is a gathering place for community education, programming and interaction, featuring engaging workshops, programs, tours and events that are relevant and accessible to the Boston community.

Organizer of Future of Farming: How Urban Agriculture Is Revitalizing Local Economies
The Climate Action Business Association (CABA) aims to help local businesses take targeted action on climate change. We believe they can have a large impact through their business practices and interactions with employees, customers, vendors and policy makers. CABA works to help its member businesses become more sustainable, more connected, and more active in their community.