Event Information
Refund Policy
Refunds up to 7 days before event
Description
The "Future of Entrepreneurship" event will bring together world-class leaders to guide you on the journey of the next frontier for entrepreneurs. 100% of ticket revenues will be donated to the Nasdaq Entrepreneurial Center in San Francisco.
Each of the speakers will be answering the following four questions (specific to their topic/industry):
If anything was possible, what could entrepreneurship look like in the next 10 years?

What organization or person are you most inspired by that is driving us toward that vision?

What do you think is achievable for successful entrepreneurs within the next year?

What can people here at this event do to make that a reality?
We hope you can join us for all/part of the day's agenda below.
5:30pm | Doors open

6:00pm | Networking with beverages and appetizers as well as Hoverboard demos for attendees.

7:00pm | Justis Earle will begin the event by interviewing eight different speakers, one after another, for ~5 minutes each. Ian Utile will then interview six different speakers for ~10 minutes each. This will be live streamed to several dozen Facebook and YouTube pages*.

9:00pm | Post-show networking with beverages and light snacks as well as more Hoverboard demos.

10:00pm | Event ends.
NOTE: Doors close at 7:00pm
If you are interested in what this event might be like, you can take a look at the live stream video from the #FUTUREofTECH, #FUTUREofSHASTA, or #FUTUREoftheBAY events. You are also welcome to join us for our other upcoming #RUNtheFUTURE events at the Runway Incubator: Future of Blockchain on 6/26 and Future of Voice on 11/6.
Inspiring leaders that will be speaking at this event to share their hope for entrepreneurs are still being selected. Are you, or do you know someone that would be, interested in speaking or sponsoring this event? If so, please fill out this form...or pass it along http://bit.ly/focall2018
Live Streaming Emcee: Justis Earle
HANSNAP Inventor | Above the Storm Frontman
Video emcee @ Future of Tech, Future of Shasta and Future of the Bay

Host and Moderator: Ian Utile
Entrepreneur in Residence @ TOW, Bethel, Runway
Partner / Investor @ Kukui, WMVAI, 100XR, Modarri, HANSNAP
Ian believes that inspired vision and strategic risk lead to uncommon success. One of the companies that he co-founded (Kukui Corporation) is a great example of this because their revenue has grown every quarter for the last six years, while maintaining profitability, in order to thrive without investors. The Inc. 500 list recently ranked Kukui as the #1 fastest growing private company in San Jose (#76 in the US). Ian's ancestors have raised their families in the San Francisco Bay Area since his forefather, Lieutenant Moraga, founded the SF Presidio in 1776 and the City of San Jose in 1777. Ian likes to think of Moraga as the first great entrepreneur of the Silicon Valley and this heritage motivates him to create a meaningful legacy. His favorite quote is from Abraham Lincoln: "The best way to predict your future is to create it."
LIVE STREAMING & MEDIA PARTNER:
Ghost Hand Productions (GHP) is a complete, full-service production company that is uniquely positioned in the Bay Area with all of the top of the line equipment at their fingertips as well as a deep well of seasoned and talented crew and the ability to execute in the corporate and commercial sphere.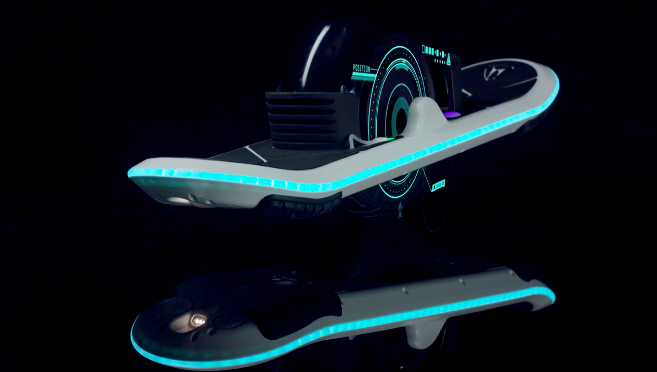 TECHNOLOGY DEMO PARTNER:
Hoverboard Technologies new GeoBlade is a single-wheeled board designed to deliver the thrill of surfing on land. Working in the heart of Silicon Valley, they have engineered the perfect balance of power and control to give a new reality to transportation.
* Please be advised the event will be live streamed and there will be a video team capturing the event. By registering for the event, you are agreeing & granting permission to the rights of your image, likeness, and sound of voice as recorded on audio or videotape without payment or any other consideration. You understand that your image may be edited, copied, exhibited, published or distributed and waive the right to inspect or approve the finished product wherein your likeness appears. Additionally, you waive any right to royalties or other compensation arising or related to the use of your image or recording. You also understand that this material may be used in diverse educational settings within an unrestricted geographic area.
** Please be advised that by registering for this event, you agree to be contacted through email by the host/moderator (Ian Utile), the event team and/or speakers.
*** If you choose the Pioneer Ticket and wish to empower our team to securely stream through your page, you need to fill out this Google form for us: http://bit.ly/fopioneer If you choose the Media / Press Pass, you need to fill out this Google form: http://bit.ly/fopress The deadline to complete this is Wednesday, August 1st :-)
Date and Time
Location
Refund Policy
Refunds up to 7 days before event