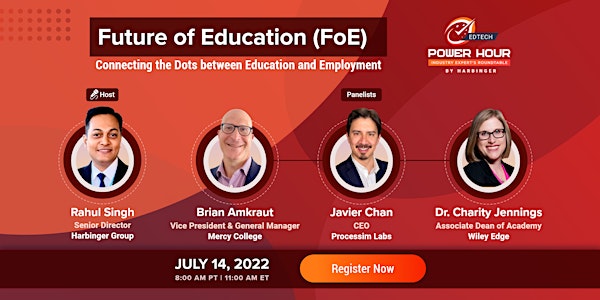 Future of Education : Connecting the Dots between Education and Employment
Future of Education (FoE): Connecting the Dots between Education and Employment
About this event
The Future of Education (FoE) is to create an integrated ecosystem of frameworks which lay out a clear pathway for employment. 'Education to Employment' would be mainly driven by market needs such as increasing unemployment rates, talent shortage across industries, skills required for the workplace of future, openness to hire for skills vs. degrees, and others.
Now is the time to hit the reset button and connect the dots between education and employment. Primarily, our integrated ecosystem of frameworks needs to be created around these four pillars:
1. Curriculum Redesign: Curriculum needs to be driven by the skills required for the future, and the market needs. It should also be flexible enough to accommodate hyper-personalized learning.
2. Hybrid Instruction Delivery Model: It would involve redesigning the existing classroom spaces and implementing technology for enablement.
3. Emphasis on Skills over Degrees: The need is to implement a digital micro-credentialing system which allows job seekers and employers to thrive in a skills-based economy. And this, in turn, will promote a culture of lifelong learning.
4. Mapping Job Seekers with Open Opportunities: This requires a more collaborative exchange of information and data-driven decision-making between employers and educational institutions.
To get an in-depth understanding of the FoE, join Harbinger's EdTech Power Hour, a one-of-its-kind virtual roundtable, on June 23 at 11 AM Eastern Time. In this episode, leaders from the industry and academia will share their unique experiences and expert insights on the topic.
The focus will be on connecting the dots between education and employment. We will also be looking at creating an integrated ecosystem of frameworks which will define the FoE.
Do join us for this discussion and share your views and expectations from the FoE.