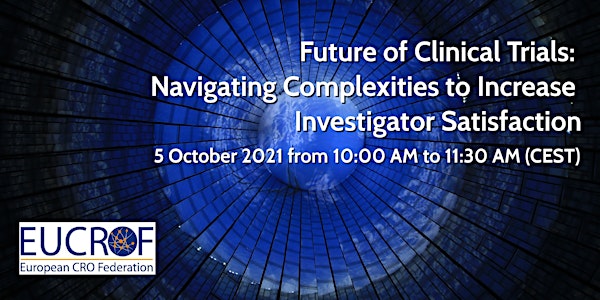 Future of Clinical Trials
This webinar on the future of clinical trials will give you the tools to navigate complexities while increasing investigator satisfaction.
When and where
Location
Webinar on GoToWebinar Netherlands
About this event
>> Webinar Topic:
Future of Clinical Trials: Navigating Complexities to Increase Investigator Satisfaction
>> Webinar Date & Time:
5 October 2021 from 10:00 AM to 11:30 AM (CEST)
>> Webinar Overview:
Since the outbreak of COVID-19, clinical trials have become even more complex and competitive. In order to ensure success and meet patient enrollment targets, sponsors not only need to attract the best investigator sites, but also need to focus firmly on the patient through new ways of working, such as utilizing new routes and adjusting study protocols, including a rise in demand for direct-to-patient delivery.
This webinar on the future of clinical trials will give you the tools to navigate complexities while increasing investigator satisfaction.
Starting with an analysis of how the shift to decentralized trials enhances investigator's accountability, we will examine how to ensure your approach brings the needed support to investigators to enroll and retain patients.
The session will then cover how to reduce trial costs while improving quality and compliance, highlighting what are the sponsors' requirements and what really matters to investigators.
Some of the topics addressed during the webinar include:- Principal Investigators' responsibilities in a decentralized trial- Ensuring investigator oversight, drug integrity and protocol compliance from the patient's home- Boosting recruitment and retention for better clinical trials- The cost of incidents- What matters to investigators and sponsors- A new era of collaboration and innovation – how to keep investigators happy – case study
The webinar will be followed by a Q&A with the audience.
>> Presenters:
Kelly Frend, Specialty Services Manager
WEMEA, World Courier
Stewart Black, Service Director
Laboratory Logistics, World Courier
Registration deadline: 4 October 2021
________________________________________
>> How to register?
1) Click on the green "REGISTER" button on Eventbrite
2) Check your order and click on the green "CHECKOUT" button
3) Fill in all the necessary information and validate your order
>> Confirmation
You will receive 2 confirmation emails :
A) One from Eventbrite with your invoice
B) One from "GoToWebinar" with all the necessary information to connect the D-Day!
>> Questions?
Should you have any questions about registration, invoices or connection, do not hesitate and contact us by email at webinar@eucrof.eu.
By registering to the webinar, you give your authorisation to the webinar organizers to use your email address and personal information to communicate with you about this event and future initiatives. To stop receiving their communications, please contact the organizers directly at info@eucrof.eu.