This conversation series will shine a light on what it looks like when a sustainable Future Meets the Present.
About this event
Future Meets Present is an idea. A sustainable future is not far off in time and space, but is actually expressing itself right now in the present.
Thanks to resources like Project Drawdown, we already know the innovations, products, services, and systems that need to exist in a sustainable future, and if we look closely we see those indicators popping up all around us. This talk series will shine a light on a few of these solutions that are helping us manage spaceship Earth 🤍 🌎🤍

This event is a zoom call that is inside of the NYC Earth Day digital fair. You'll be able to access the zoom link after ordering your ticket. Sign up HERE to experience the full event!!😍🚀✅
Program Schedule
12:30-1:30pm EST | Future-Fit Fashion Industry
In this session, we'll hear from industry experts who are working to make the fashion industry regenerative, circular, and inclusive. Providing various perspective of the industry, this panel will speak to the role of different stakeholders in creating a a future-fit fashion industry and give us a glimpse into what that looks like.
Featuring:
Libby Sommer, Director of Corporate Responsibility for Bolt Threads
Georgina Hyatt, Co-Founder of Rotaro
Courtney Chew, Founder of Ocin
Moderated by Hannah Phang, Head of Marketing & Advocacy at Futerra
2:00pm - 3:00pm EST | The Future of Our Industries
"While the problem can sometimes seem overwhelming, we can turn things around -- but we must move beyond climate talk to climate action." -- Ted Turner
We all have a responsibility to take climate action today to ensure we have a brighter tomorrow. Individuals, governmental bodies, corporations, entrepreneurs, artists - the list is endless. Everyone, no matter the industry, space, or sector, can make a difference in the quest to make a world a cleaner place for our future generations.
Moon31 and Earth Day Initiative brings together some of today's leaders from different sectors and industries - fashion, healthcare, transportation, and music - that have been setting an example and are making changes, today. Learn about the current state of their industry, what they're doing to make change, and what their vision is of the future.
Featuring:
Mark Gorton, Founder of Limewire, Tower Capital Research and current head of City Rise
Jorge Yant: CEO of Plexis Health and Quepasana Foundation
Adarsh Alphons: CEO of Wardrobe
Emily Moxon: Co-Founder and Managing Director, Brownswood Recordings
Moderated by Neal Ludevig, Founder of Moon31
3:15-4:15pm EST | Culture, Carbon, and Storage. Tackling the pillars of change.
To address the scale of the climate crisis at the speed at which is required, we will need a lot to go right. Not just in ambition from governments, but also in the form of scale ready technology solutions, and perhaps most significantly culture shifts. This panel brings together innovators from three sectors, culture, carbon capture, and energy storage to discuss what tipping points in their areas of expertise look like, and what a zero carbon world looks like from their vantage point.
Featuring:
Andre Forsythe from School for Climate
Alexandra Tavasoli from Solistra
Shivani Chotalia from NRStor
4:30pm - 5:30pm EST | Climate Journey: Knowing who we are to make a difference
This talk will explore the climate journeys of two 12+ year sustainability professionals who are navigating how to best put their skills to use in the fight against climate change. From what first sparked our passion for climate solutions, to understanding what drives us, to navigating how to find common ground around solutions, this conversation will reframe the climate crisis into an opportunity to take action with courage and pragmatism.
Featuring:
Cynthia Leung, Founder of Soluminos and former SunPower Development Manager
Andreas Karelas, Founder and Executive Director of RE-volv and author of Climate Courage
!!7pm - 8pm EST After Party 🌎🎉 !!
For the first time, we're experimenting with an online/offline experience. Attendees of the fair can navigate to the Starrett-Lehigh Building and tune into a TWITCH live stream of a DJ set on the physical building in Manhattan 😍 Don't worry, we'll email you the link as well 😃
Join Future Meets Present Founder and DJ, Amer Jandali in this year's Earth Day themed house music, sunset, super sick, rooftop DJ set 🤍🚀 🤍🚀 🤍🚀 🤍🚀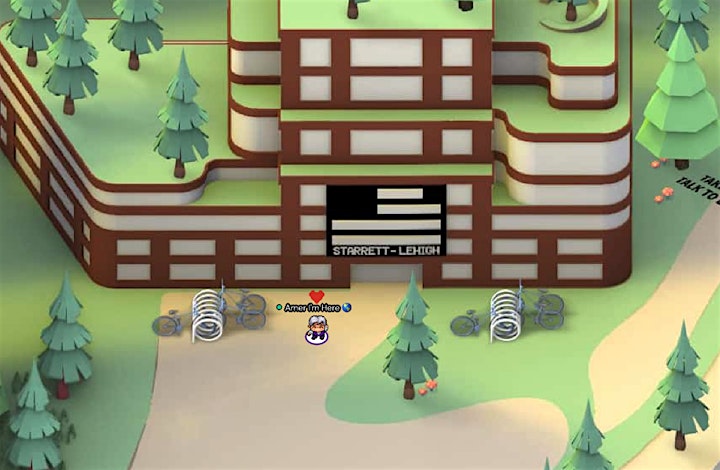 Organizer of Future Meets Present Stage @Earth Day
Future Meets Present is a social design company that's based on a vision. At FMP we see a sustainable future (rooftop gardens, electric cars, and solar panels) not somewhere off in time and space, but rather expressing itself right now in the present. Our work is entirely in service of this vision and it takes the form of product, system, and community design.