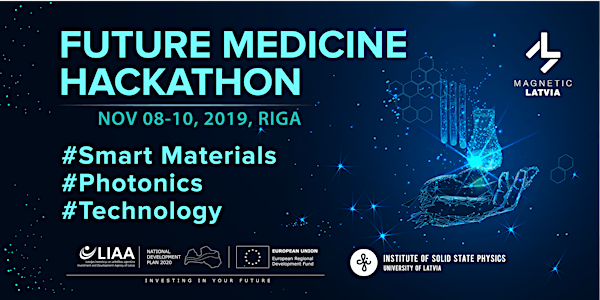 Future Medicine + Smart Materials, Photonics and Technology
Location
Institute of Solid State Physics, University of Latvia
8 Ķengaraga iela
1063 Rīga
Latvia
Innovative solutions with applications in medicine, improving the quality of human life or in biotechnology will be sought
About this event
We invite you to participate in the Future Medicine Technology Hackathon, which will be held November 08 -10, 2019 in Riga.
Innovative solutions with applications in medicine, improving the quality of human life or in biotechnology will be sought during the hackathon. Hackathon is organized by Investment and Development Agency of Latvia in cooperation with the Institute of Solid State Physics UL. During the three days, participants will form interdisciplinary teams, develop ideas with the support of an international mentoring team, and will present ideas to the jury, investors, scientists and stakeholders at the end of the event. The best ideas will receive valuable prizes from supporters.We invite participants with ideas at a very early stage, as well as those who already have a prototype. We will also be looking forward if you are from an existing company and have a finished product but need upgrading with higher technology. We welcome any ideas related to medicine, biotechnology or improving the quality of human life, but especially from the following areas:
- Personalized and precision medicine
- Biomarkers in oncology, infectious diseases and preventive medicine
- Cell research in different environments
- Biosensors, lab-on-a-chip, organ-on-a-chip devices
- Diagnostic equipment
- IT solutions for personalized medicine
Those who have no idea yet will have the opportunity to join one of the teams with their expertise (medicine, pharmacy, physics, biology, materials science, chemistry, business development, design, engineering, programming, marketing, etc.).
Join and you will meet a wide range of interesting people, you will be able to hear inspiring ideas, engage in discussions and participate in the creative process. This Hackathon will bring together members of the innovative business ecosystem of tomorrow's medical industries, offering an exciting three-day program.