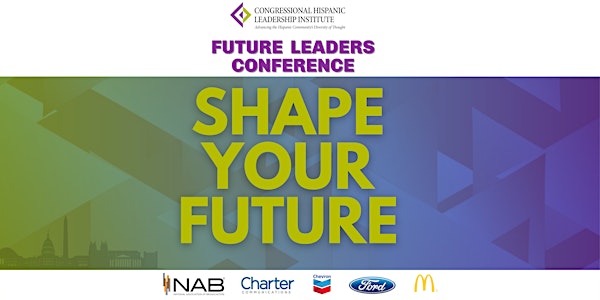 Future Leaders Conference & Wendy Martinez Award
The Congressional Hispanic Leadership Institute (CHLI) will host its Future Leaders Conference on Thursday, July 28th 2022
About this event
Each summer, CHLI's Future Leaders Conference (FLC) brings together Congressional speakers and distinguished corporate executives, Capitol Hill staff, and leaders in public service. The conference for young professionals and college students provides leadership development and networking opportunities.
This year's theme, "Shape Your Future" captures the hope and possibilities students have in truly crafting the lives and careers of their choice.
The conference will conclude with the presentation of the Wendy Martinez CHLI Alumni Community Engagement Award to an alumnus in recognition of their ambassadorship of CHLI's mission, purpose, and focus.
Zoom session begins promptly at 9:15 am EST.
Please see below for some information about the venue:
National Association of Broadcasters
Office location
The NAB office is located in the 1M building at 1 M Street SE, Washington, DC 20003. The building is on the corner of South Capitol Street and M Street. The entrance to the main lobby is located on M Street. Upon entering the building and receiving your visitor pass at the front desk, the security guard will direct you to the NAB reception area on the 10th floor to meet your host.
Parking and/or public transportation instructions
Colonial Parking operates the parking garage of the 1M building. The parking garage entrance is on Van Street on the east side of the building, across from The Bullpen. If the parking garage is full, there are a few other parking garages and surface lots within a block radius. Paid street parking may also be available. The closest Metro stop (Navy Yard stop on the green line) is located a block and a half away.  
COVID-19 guidelines
Only fully vaccinated individuals are allowed to visit the NAB office. The CDC defines fully vaccinated as at least 14 days after the completion of the second dose in a two-dose vaccination series or the first dose in a one-dose vaccination series. If you are not fully vaccinated, please request a virtual meeting with your NAB contact.
If you are not fully vaccinated, please inquire about a virtual meeting. Please be prepared to show either a hard copy or a photo of your COVID-19 vaccination card to the security guard.
At present, face masks are optional.