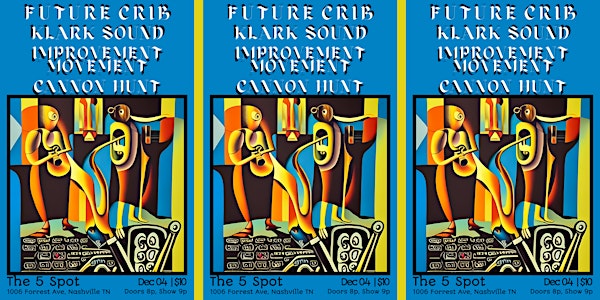 Future Crib|Klark Sound|Improvement Movement|Cannon Hunt @ The 5 Spot
Join us for an evening with Nashville's Future Crib and Cannon Hunt, Atlanta's Klark Sound and Improvement Movement at The 5 Spot. 21+
When and where
Location
The 5 Spot 1006 Forrest Avenue Nashville, TN 37206
Refund Policy
Contact the organizer to request a refund.
Eventbrite's fee is nonrefundable.
About this event
FUTURE CRIB
Hey we're Future Crib from Nashville! We've been around since 2017 - making records, touring the US and Canada with many friends. We'd love to be yours! Catch us on the road in 2023.
Insta: @futurecrib
Spotify: https://tinyurl.com/mr3d88e2
KLARK SOUND
Klark Sound is a six-piece high energy folk prog band based in Atlanta, Georgia. In 2018, Klark Hamilton's project Stranger Sounding changed to Klark Sound and has independently released two albums, one EP and several singles. Their live performances are full of intense harmony, rhythmically diverse melodies and techniques that you could only hear from them. Show dates and updates about releases can be found on their website, www.klark.life
Insta: @klark_sound
Spotify: https://tinyurl.com/fu37k6b5
IMPROVEMENT MOVEMENT
Improvement Movement is a three-to-four-piece psychedelic band based in Atlanta, Georgia comprised of both solo performers and visual artists. The group exists as an outlet for multi-media experimentation and song-sharing amongst the band's community. The debut album "Don't Delay, Join Today" (set for release July 29, 2022) is a dizzying blend of eclectic sounds and apocalyptic lyrics packaged with propaganda fit for a multi-level marketing scheme. The video content that I.M. generates is as integral to the project as the music itself. Live performances include this media integration, with an ever evolving visual accompaniment to the music.
Insta: @myimprovementmovement
Spotify: https://tinyurl.com/ycksapzn
CANNON HUNT
"It sounds like if John Mayer & Blake Mills had a gen x baby songwriter boy but then they're both dead and the boy is playing in bars 50 years later" - Sawyer Norman
Insta: @cannonhunt
Spotify: https://tinyurl.com/msuhhzcf