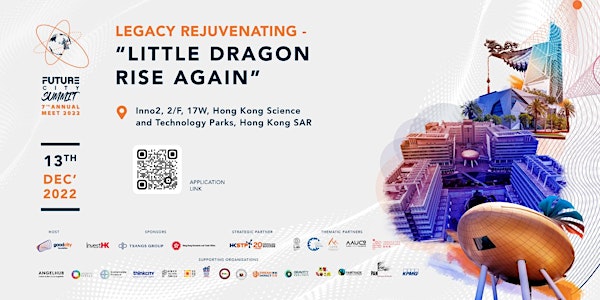 Future City Summit Annual Meet 2022
Future City Summit 2022 is back in town to explore the key elements that shape the united city branding of Hong Kong, at HK Science Park.
When and where
Location
Hong Kong Science & Technology Parks Corporation Inno2, 2/F, 17W Hong Kong Science and Technology Parks Hong Kong, NT Hong Kong
About this event
7 hours 45 minutes

Mobile eTicket
[Future City Summit Annual Meet 2022 @HKSTP]
In the 7th Annual Meet of the Future City Summit, with the main theme being "Legacy Rejuvenating - Little Dragon Rise Again", we strive to reassess the future linkage of city branding to the core-competitiveness of Hong Kong.
The city seeks for a common ground to reassemble all passionate and critical minds to reinvigorate the socio-economic vibrancy and its connectivity to the world. While the city is determined to repurpose towards advanced manufacturing upon its strong global financial foundation, a stronger spirit of socio-economic coherency shall fill up a neutral platform and a brand name.
The key session "Our City Festival Sandbox" is an open workshop for all stakeholders and voices to share, debate and brainstorm constructively towards a brand that truly reconnects us in Hong Kong to the world again.
Official Website of Future City Summit: http://futurecitysummit.org/
Official Website of Good City Foundation: https://goodcityfoundation.org/
[Highlighted Key Sessions] :
1. Opening Keynotes (morning) -
Patrick Tsang, Chairman of Tsangs Group
Stephen Phillips, Director-General of Investment in the Invest Hong Kong
2. Panel Discussion - City Economic Dialogue (morning)
Michael Cheuk-Hon Chan, MPH, Curator - Hong Kong Hub of Global Shapers Community
Gan Yi Reng, Manager of Urban Mechanics of the Think City Malaysia
Danting Liu, MPH, Health Policy Researcher of Our Hong Kong Foundation
Luke Tam, Co-Founder & Community Engagement Director of the Kaifong Tour
Dorothy Lam, Co-Founder and Chief Catalyst of the Dream Impact
3. Panel Discussion - Impact Investment Landscape Dialogue (morning)
Jo Chan, Vice President of Investor Relations of the AngelHub
Stephanie Ko, Director of LQ Pacific Partners
Cintia Nunes, Director of The Mills Fabrica
Francesco Stadler, Director of Impact Funds & Ventures of the Sustainable Finance Initiative (SFi)
4. Fireside Chat 1 - on Intergenerational Contract, Future of Work and Society (afternoon)
Agnes Wun, Agnes Wun, Co-founder & CEO of the Neufast Limited
Vincent Siu, Co-Founder and Managing Partner, Press Start Hong Kong
Patrick Tu, CEO & Co-founder, Dayta AI
Mattis Tsang, Managing Director, Aerosim (HK) Ltd.
5. Fireside Chat 2 - on Meanings of "Festival", Intergenerational Society and Spirit to Breakthrough (afternoon)
Richard Hsu, Founder of PAN-Asia Network
Joe Sidek, Managing Director, Joe Sidek Productions; Director of George Town Festival
6. Our Festival Sandbox (afternoon key session) (afternoon) -
The delegates and guests would be grouped for thematic facilitated group discussions based on the Pre-Summit Survey completed before the attendance to the Future City Summit (check here) with our Thematic Partners. All insights and key takeaways of the discussion could be consolidated into a summary for proceeding and constructing the next flagship event project of the Good City Foundation with international brands in the next year.
#fcs #fcs2022 #goodcityfoundation #hongkong