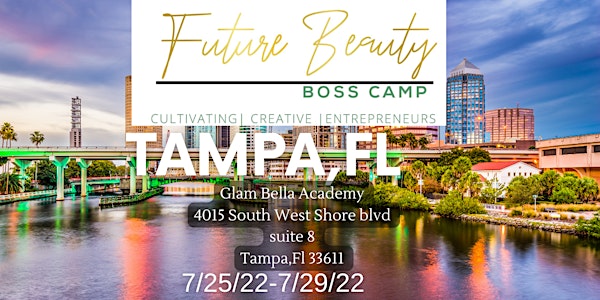 Future Beauty Boss Summer Camp Tampa
This camp is for five days Mon-Fri 10:00am-5:00 pm. Students are provided lunch daily.
When and where
Location
Glam Bella Academy 4015 South West Shore Boulevard Tampa, FL 33611
About this event
****Camp Cost: You tell us what your family can afford for camp based on our sliding scale. The goal is to make camp accessible to every child who wants to attend. If you need scholarship assistance, our only requirement is that your camper writes a thank you note to our generous donors who help offset the cost of camp.
This camp is for five days Mon-Fri 10:00am-5:00 pm. Students are provided lunch daily. Each day of camp, the students are introduced to various entrepreneurs, primarily in the beauty industry. Campers will learn multiple skills such as braiding, nails, eyelashes, facials, and makeup application. We introduce campers to business branding, social media etiquette for entrepreneurs and building self-esteem for a fearless leader. Campers are provided kits for all hands-on courses. Maximum of 10 campers
Campers Age:12-18
**Class content may change without notice
Monday7/25: Acrylic Nails
Tuesday7/26: Beauty By Blossom|Wigs
Wednesday 7/27: Kokodabarber|Barbering
Thursday 7/28: Wax N Vibes| Fieldtrip
Friday 7/29: City Girl Florals| Floral Arrangements
Camper Kits may include and are not limited to Sewing machine sewing materials vanity lights table mirror strip lashes cluster lashes lash adhesive facial cleanser facial scrub facial toner facial bowels makeup brushes eyeshadow pallet mascara makeup remover blush lip gloss braiding hair combs mannequin head Two camp shirts One tote bag mini cameras ***kits may change without notice***