Future Aviators In America - Accelerated Aviation Learning Camp & Flying Da...
Description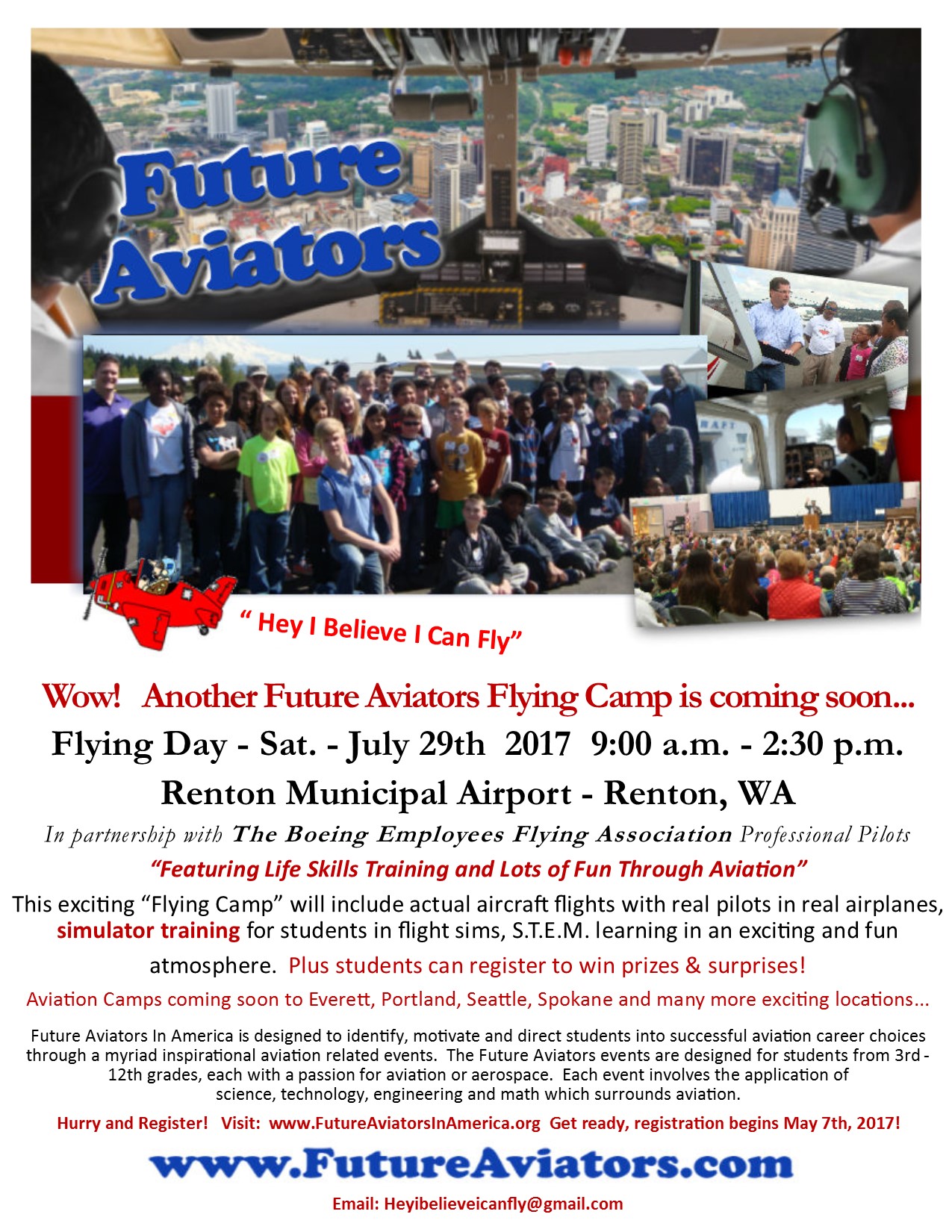 "Hey, i believe i can fly!"
HURRY... REGISTER TODAY!
Space is limited for this exciting Future Aviators One Day Camp!
Future Aviators In America - Accelerated Learning Camp and Flying Day is coming soon!
Students will have an opportunity to participate in taking a free flight with real pilots in real airplanes, learn what it takes to become an aviator, explore career opportunities in aviation and educational paths to take to all areas of aviation including the airlines! Each student will recieve vital simulator and introductory ground school training details during this exciting Future Aviators In America - One Day Accelerated Learning Camp & Flying Day!
Students will learn how to operate aircraft safely and have lots of fun at the Future Aviators In America Aviation Accelerated Learning Camp and Flying Day, coming Saturday, July 29, 2017, 9:00am - 2:30pm at the Rentong Municipal Airport KRNT, Renton, WA.
This camp is designed for students between 3rd - 12th grades with a passion to learn more about aviation and want to learn how to have fun learning to fly aircraft. Students are separated into age appropriate teams during the events, with supervision provided by the Future Aviator's Flight Team Leaders. This aviation camp includes: pilot pre-ground school sessions, supplies, hands-on aircraft tours, (and weather permiting), students will take flight with our Future Aviators voluteer pilots provided by the Boeing Empoyees Flying Associaiton on the day of the Future Aviators camp. All students will also fly in a professional "Red Bird" simulator for preparation for their actual flight.
Each registered student is required to complete a Flight Team Questionaire which must be signed by the student's parent or guardian to be able to participate in the camp or the Future Aviators Free Fight once online registration is completed.
Also, email and ask about upcoming discounts and opportunities for future "exclusive" for Future Aviators In America events available only to students holding the exclusive annual Future Aviators In America student membership as a register Future Aviators "Fly Guy" or "Fly Girl". Email your to request on how to join the fun and how to obtain an exclusive Future Aviators In America - "Fly Guy" or "Fly Girl" annual membership.
Email: Future.AviatorsInAmerica@gmail.com
The Flight Team @ Future Aviators In America
By providing my payment information for submission, you acknowledge and agree with the terms and conditions above.

Additional registration information:
Though the Future Aviators Flying Day event has never cancelled a flight for students on camp day ever, please understand that Future Aviator's free flight are conditional and are subject to cancellation due to weather, pilot, ATC, temporary flight restrictions, aircraft maintenance, or any other unforeseen pre-flight conditions that may warrant flight cancellation in the judgement of the Future Aviator's Pilots In Command / and or Future Aviators Program Director. In the event of free flight cancellations, students will continue to receive aviation based S.T.E.M. training as part of their camp experience!
Terms and conditions are subject to change without notice. Flights are provided free for students on a selection basis. Northco Development Inc. staff strives to allow participation for as many students as possible for all events sponsored by Northco Development Inc., as space for each event allows, on a first come first serve basis.
You can help disadvantaged students to learn to fly by your generosity. Registrants, individuals, businesses and corporations are encouraged to make donations to the Future Aviators In America non-profit programs to enhance and promote our many exciting events and training opportunities for youth. Donations of usable aircraft, aviation maintenance or fuel, donated aircraft flight time, aviation equipment and monetary gifts help to enhance our Future Aviators Flight Team members to promote aviation career opportunities and S.T.E.M. Learning for all students. Visit our web site to make a monetary donation at www.FutureAivatorsInAmerica.org or email us with detials of your desire to donate aviation related aircraft, equipment or or supplies to: Future.Aviators@yahoo.com
Thank You for your generosity.
The Future Aviators Flight Team
"Hey, i believe i can fly!"