About this Event
Peoria, Illinois will be host to the only 2020 United States site for global startup competition Future Agro Challenge from April 13th to 15th.
Designed as a snapshot of the agrifood innovation ecosystem from across the Midwest, Future Agro Challenge Midwest (facmidwest.com) will welcome agripreneurs, corporations, investors, and industry experts from across 9 states to the River City.
Future Agro Challenge's mission is to find real, sustainable solutions to the complex global food puzzle challenging food insecurity, biodiversity, and climate change by bringing together a passionate and innovative ecosystem of agripreneurs, farmers, investors, corporates, researchers, and industry experts.
The organization's vision is to build dialogue and be a convener to find the best revolutionary and feasible solutions beyond borders for the global food puzzle at national, regional, and global level that can be held up high for the world to see there are other ways.
To register your startup HERE
Sponsor this event HERE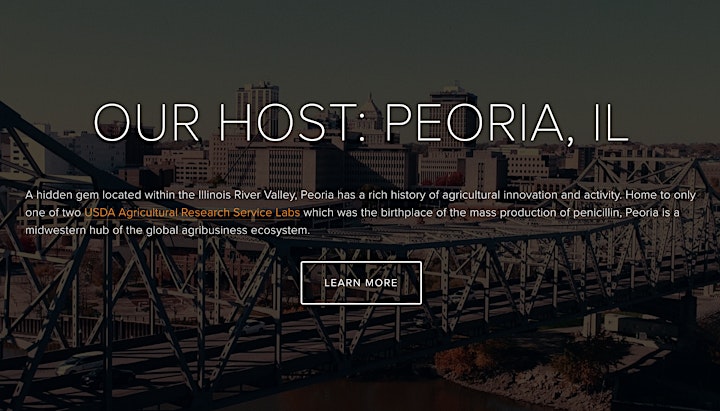 Preliminary Agenda
Monday, April 13th
12:00PM to 7:00PM Registration and Vendor Fair Setup
6:30PM to 10PM VIP Sponsor Reception and Dinner
Tuesday, April 14th
8:00AM to 11:00AM Registration and Vendor Fair Setup
11:00AM to 12:30PM Vendor Fair Open
12:30PM to 1:30PM Opening Ceremony / Kickoff
1:30PM to 3:00PM Pitch Session #1
3:00PM to 3:30PM Break & Vendor Fair
3:30PM to 5:00PM Pitch Session #2
5:00PM to 7:30PM Cocktail Hour, Networking & Vendor Fair
Wednesday, April 15th
8:00AM to 9:30AM Breakfast and Vendor Fair
9:30AM to 11:00AM Pitch Session #3
11:00AM to 12:00PM Lunch & Vendor Fair
12:00PM to 1:30PM Workshops
1:30PM to 4:00PM Peoria Agricultural Tour
4:00PM to 5:30PM Break & Prep for Awards
5:30PM to 7:30PM Dinner & Final Pitches
7:30PM to 8:00PM Closing Keynote and Awards
8:00PM to 9:30PM Vendor Fair & Close-Out