Fuse Mastermind Round Table - Tuesday, March 26, 2019
Description
Smoke Rise Country Club
4900 Chedworth Dr. - Stone Mountain, GA 30087
Join us at Smoke Rise Country Club for the Fuse Mastermind Round Table on Tuesday, March 26th. Breakfast will be served.
IS COMPANY CULTURE REALLY THAT IMPORTANT?
Some may think that 'Workplace Culture' may just be overrated, and that steering the proverbial boat to a place of congenial balance is just an utopic dream… Or is it?
On Tuesday, March 26, 2019, Emily Housley, a business consultant at CSR, will entertain the subject of culture…it importance, and its deep effect on the journey of any company. She will be coaching the attendees on crafting our own firm's mission, vision and values, and then, how to embed them into our firm's HR operations, financial management, business development ,and marketing. The meeting will take place at Smoke Rise Country Club and breakfast will be served.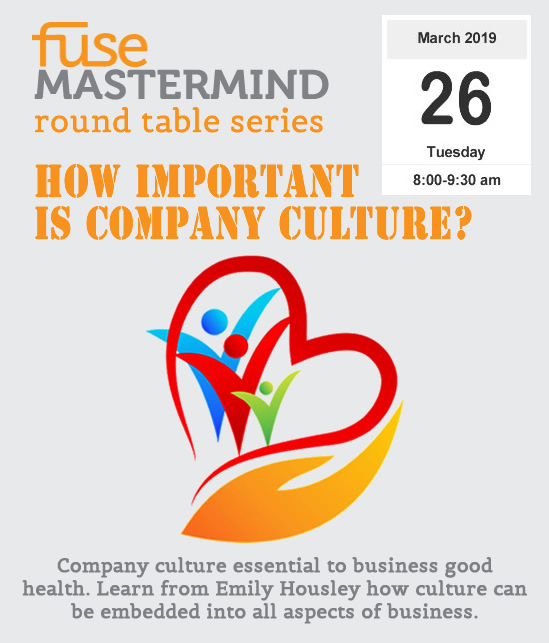 Fuse Networking is a business building community comprised of Metro Atlanta professionals who value the power of networking, and understand the importance of learning from one another through discussion and sharing of business experiences.
The "Fuse Mastermind Breakfast Round Table Networking Series," are monthly membership-based, subject-driven 90-minute discussion and idea workshop meeting, geared to address business issues affecting all professionals regardless of industry.
FREE to attend with membership. $20 for non-members (Limited to two visits. Must be paid in advance.) Check in begins at 7:45. Breakfast is included.
Seating is limited so early RSVP is required and appreciated.