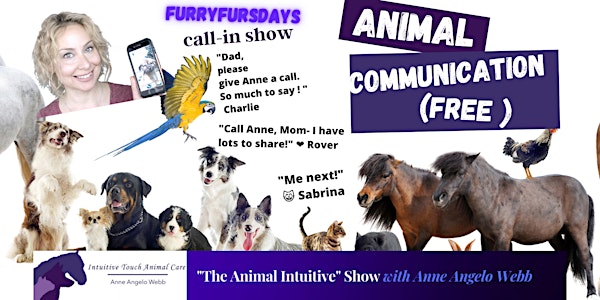 #FurryFursdays Live Online Weekly Animal Communication YouTube Call-In Show
#FurryFursdays Weekly Animal Communication Call-In Show & Lessons ! YouTube Show
About this event
Have The Animal Intuitive™ Speak With Your Pet or Rescue/Foster Organization Animal (Free)! FurryFursdays - Thursday @ 7:30 PM EST 🐕⬇️
IMPORTANT STEP 💥 Subscribe & hit the 🔔 for show reminders https://bit.ly/3gHzqIf
🐾Email Anne@IntuitiveTouchAnimalCare.com prior to the show with your name, pet's name, age & photo to make sure your pet will be featured.
OR first come first serve for mini-live animal communication consultations. Also, if you mention in the pre-show chat box that you would like to have me speak with your pet, I can line you up to come on.
🐾You will need to have earbuds/earphones plugged into your phone or computer (you will be using a link URL to call in) to avoid audio issues.
🐾Anne, do I have to appear? No, but you can if you want to. You can point your phone at your pet, pre-send a pet photo to my email or just set down your phone so the camera isn't filming anything.
🐾I do not diagnose or treat illness. I can ask your pet how they are feeling from their own personal perspective.
🐾Due to the complexity of locating missing animals, I cannot help to locate pets during call-in shows. If you are looking for a lost or missing animal, please contact me directly or have a look at the FAQ section of my website for lost and missing pets (please scroll down to FAQ section)
https://bit.ly/2Vt8ia3
The Animal Intuitive, Anne Angelo Webb:
🐾 Website - https:/intuitivetouchanimalcare.com/
🐾 Animal Communication Consultations (distance available)
🐾 Classes
🐾 Animal Massage & Acupressure, Nationally Board Certified (NBCAAM)
🐾 Energy Work, Essential Oils
🐾 CBDs
🐾 Children's Music
🐾 Talks and Appearances
FREE STUFF! ⤵️
🧘🏽Free Meditation for Animal Communication - https://bit.ly/3hED31J
🌱Free Essential Oils E-Book: Insider Secrets For Using Essential Oils With Animals scroll down to the bottom of the home page - https://bit.ly/3hED31J
🎵Meesha's Songs Album - Free streaming
Intro music "Walkin' Down The Street" and outro "Rub My Belly" are from the Meesha's Songs Album. Downloadable MP3 is also available: https://bit.ly/37kVwNA
🐾CBD's I Use With Pets - https://bit.ly/2H9jd1J (this is my distributor link on my website)
Social Media
🐾 @theanimalintuitiveannewebb
🐾 https://twitter.com/TheAnimalIntuit​
🐾 https://www.facebook.com/TheAnimalInt...
🐾 Audio Podcast: https://www.TheAnimalIntuitiveShow.com/​
☯️ Animal Acupressure Classes and Materials
Tallgrass Animal Acupressure Institute
This is an affiliate link: https://www.animalacupressure.com/?re...
Use coupon code or 5% off products: ANNEWEBB
#liveanimalcommunication #AnimalCommunicator #theanimalintuitiveshow​ #animalpsychic #animalcommunicationclass​ #animalcommunication101 #petpsychic​ #petreading #howtomassageadog #acupressurefordogs #acupressureforcats #animalacupressure #learnanimalcommunication ​