Event Information
Location
Missouri River
Bismarck, ND 58504
Description
Join us on the Missouri River in your favorite vessel for the first ever scavenger hunt!
All proceeds go toward the vetting of lost, abused, and abandoned animals in the BisMan area with Furry Friends Rockin' Rescue.
July 9, 2016 starting at 12pm
Purchase your ticket for $25/person. Tickets will be available at the door for $35.
Your route will take you to five locations along the Missouri. Capture your items, play sandbar games, and earn points toward THE BIG PRIZE!
For questions, contact ffrrinc@gmail.com
STARTING POINT: Sandbar south of Expressway Bridge (near The Broken Oar). Be there no later than NOON. Here you will recieve your welcome packets. These will include instructions, route maps, rules of the day, score cards and FREE drink tickets. Stops will include (not necessarily in this order) Misty Waters Marina, The Pier, The Broken Oar, Rock Point and The Drink at Lakewood, and then ultimately back to the sandbar

Your captain will be given a route map for the day's game. Please follow the route given to you so that we don't have all our participants at the same place at the same time. We want to ensure you are given the space and attention needed for a successful game.
At each bar you will be recieve your first beverage free if you are wearing a Furry Friends T-Shirt. They can be purchased the day of the event.
Bonus events:
The Drink at Lakewood will be hosting the band Downside that Saturday evening – starting at 9 p.m.. The proceeds from the cover charge will be donated to Furry Friends Rockin' Rescue.
Rock Point will include a FREE DRINK for all participants to enjoy later that evening.
Please keep these in mind if you wish to continue your day after the Float!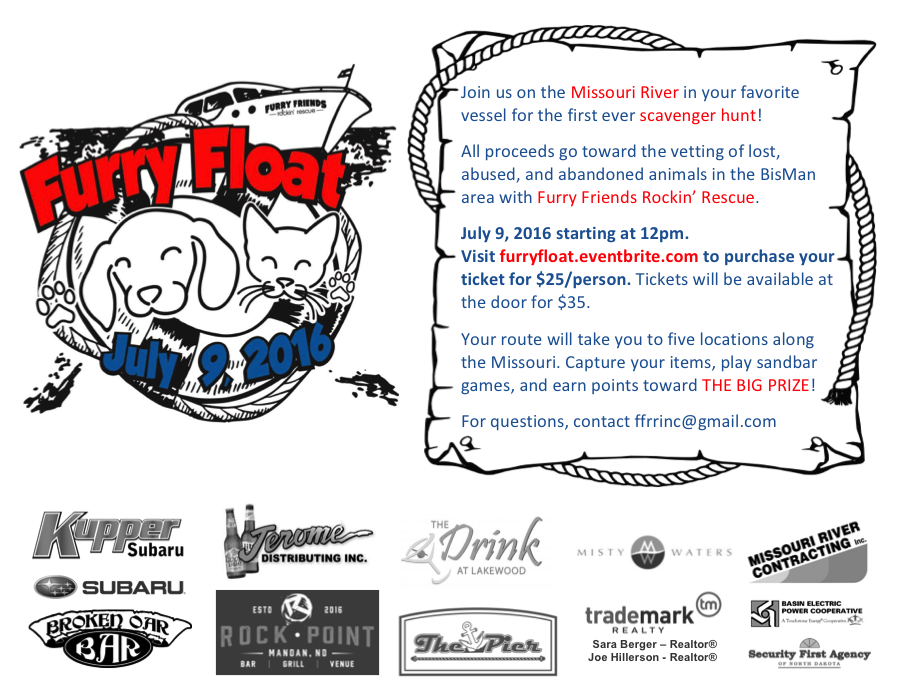 Date and Time
Location
Missouri River
Bismarck, ND 58504