FUREE Annual Fundraiser: The People's Power Dance Party
Sales Have Ended
Ticket sales have ended
Online ticket sales have ended but it's not too late to attend! Tickets will be sold at the door starting at 6:30pm the day of, so we hope you'll still join us! To reach us, contact: 718 852 2960 (office) 646 678 2546 (cell-Program Coordinator) shatia@furee.org (Program Coordinator) michael@furee.org (Organizer)
Sales Have Ended
Ticket sales have ended
Online ticket sales have ended but it's not too late to attend! Tickets will be sold at the door starting at 6:30pm the day of, so we hope you'll still join us! To reach us, contact: 718 852 2960 (office) 646 678 2546 (cell-Program Coordinator) shatia@furee.org (Program Coordinator) michael@furee.org (Organizer)
Description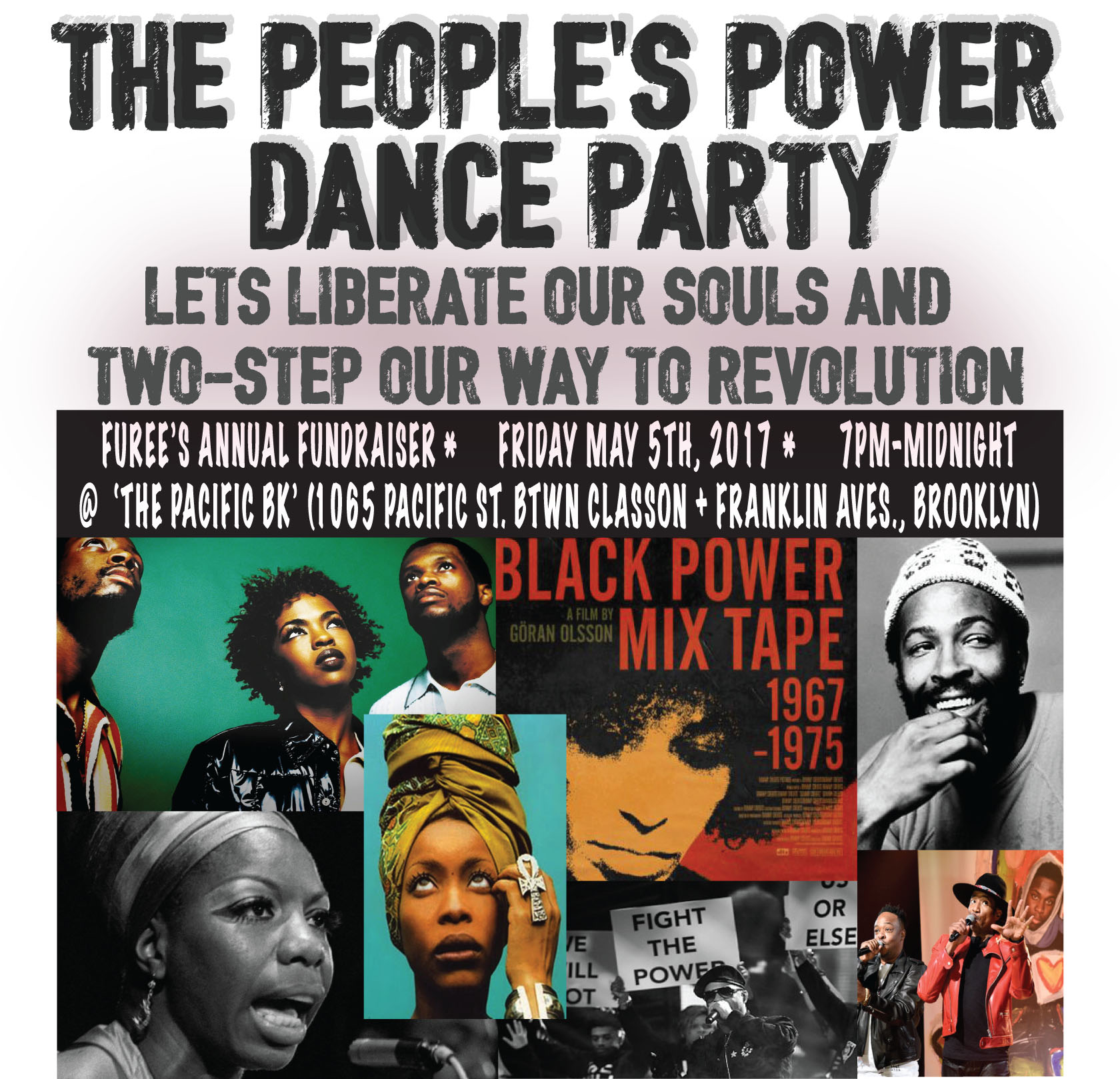 **FOR FUREE MEMBERS & COMMUNITY BASE: There is a special code to access the $30.00 ticket level reserved for our FUREE members and community base (our low-income communities most affected by the issues we address). To purchase your ticket at this level, please contact FUREE for the access code!

Want the full rundown of the event? Here's the description below and FAQ following, scroll down for the whole scoop...

FUREE's annual fundraiser parties are a way for us to raise much needed funds to continue our campaigns and programs, as well as provide an opportunity for our communities and supporters to have a direct impact in shaping FUREE's future. Dance parties are also the BEST way for all of us to come together as activists, organizers and communities to celebrate our successes in movement building over good food, generous libations and amazing music!
This year's event "The People's Power Dance Party: Let's Liberate Our Souls & Two-Step to the Revolution!" was created in the spirit of recognizing our collective strength, harnessing the power of the people against oppression and violence, and understanding the importance of going back to our roots in order to build a more unified and radical resistance against everything that stands to try and tear us down. We will NOT be moved, the Resistance is on the RIse!

And what better way to continue the building of our movement than through the liberating and renewing powers of dance and music? Our long history and legacy of radical opposition to oppression cannot be understood separately from the use of the arts, dance and music to communicate, strategize and uplift our people while under the watchful eye of our oppressors. FUREE wants to continue those traditions and we want to make sure our people have a good time doing it! So come jam with us, let your hair down and get loose! We promise this will be an event to remember, and you won't want to miss it!

In the midst of planning this event, our FUREE family received a devastating blow with the news that one of our strongest leaders and feirce comrade had transitioned out of this life and on to what waits beyond us in this world. Celina Lynch was a long-time FUREE member who served many roles through the years including treasurer of the FUREE board, acting Executive Director during our transition and merger with Fifth Avenue Committee, as well as mentor and advisor to members and staff alike. We plan to celebrate her life on the dancefloor and raise a glass in tribute to her force of energy that moved us all, while we imagine her voice yelling over the music "now don't ya'll go cryin' over me, where's the party at?!"
HAVE QUESTIONS?! SEE OUR FAQ BELOW...
Are there ID or minimum age requirements to enter the event?
FUREE's fundraisers are open to everyone of all ages, we encourage parents and guardians to bring the kiddies (honestly, they're the life of the party!). Since there will be alcohol, we are requiring that folks over 21 provide ID at the door to recieve a stamp or bracelet to show at the bar (you will not be served alcohol otherwise). In addition to the main events of the night, we'll have a designated corner for youth (from babies/toddlers on up to teens) with activities/games, kid-friendly snacks and more... We will not provide designated childcare BUT we're encouraging everyone to communally care for the kids throughout the night in the spirit of solidarity! So if you see a parent who's watching the dancefloor with longing in their eyes, by all means step in and give them a break for a bit!
What are my transportation/parking options for getting to and from the event? Is it ADA accessible? The venue is located on a street with relatively easy parking in the immediate vacinity and surrounding area. Don't expect us to valet, we're too broke to be swanky! The venue is fully accessible and easy to navigate with wheelchairs, motorized scooters etc.
How can I contact the organizer with any questions? You can reach our office at: 718 852 2960 (if we're out of the office leave a message). You can also reach us via email: shatia@furee.org or michael@furee.org, and if it's really urgent you can reach our Program Coordinator Tia on her cell at: 646 678 2546.
Are tickets available online only? Of course not! Since we know some folks don't use the internet much or not at all, we have options for purchasing tickets. You can purchase them the easiest online but you can also stop by our office (make sure to call first since we're always in and out), over the phone with a card, through the mail or even during our meetings and events (ask one of the staff, we keep receipt books handy). And there are a few payment options as well: Check, money order, cash or debit/credit card.
What's the refund policy? Of course it would break our hearts if folks who purchased tickets wanted a refund (I mean, its a fundraiser after all), but were 100% willing to issue refunds as long as they are requested at least 15 days before the event (any sooner to the event than that means you're just playing with our emotions!).
Do I have to bring my printed ticket to the event? If you purchase your ticket online then there is no need to bring it with you since we have a record of it, if you've purchased it in advance but in person then you can bring it as a back up (although we'll have a record of that too and we're quite responsible people!). If you're planning to purchase at the door, none of this is relevant to you!
Can I update my registration information? The ticket registrations will remain open to allow folks to change contact or other information if they need to. Just make sure you do so in advance (at least a week) so we all have accurate information and can cross reference things if we need to!
Is it ok if the name on my ticket or registration doesn't match the person who attends? Honestly we really don't care about the difference of who purchases versus who attends, BUT if you want to make sure our thank you's and other appreciation tokens go to the right folks, you should make sure we have the right contact information!
Does my ticket cover the entire event or just entry? When you purchase your ticket you'll see we set up different ticket levels and each of them have different things included. But all of the ticket levels include your entry, free food, your first drink free and all of the activities, performances etc. Our auction prizes are of course separate and you must bid on them to win, there will also be additional raffle tickets on sale (you can buy as many as you like), and the bar will be selling drinks for folks who want more than one (and who wouldn't?!) but the prices will be as low as we can possibly make them. Also there is no extra costs for folks who bring kids and want to take advantage of the kids corner!
What kind of food will be served? There will be a catering service handling food and they've promised us a delicious spread of Southern Soul, Latin American and Italian dishes with vegetarian options. We'll also have plenty of yummy desserts and snacks to keep you fueled and sugared up! We'll try our best to have some gluten-free and vegan treats for those who can't or don't want to eat the other goodies.
Will I be allowed in if I arrive late? Early? The event begins at 7pm and since we'll probably be running around getting things set up, we won't be letting folks in early. But as soon as the party starts the doors will be open until we end at midnight! After that we're gonna kick you out, so you don't have to go home but... you know what they say!