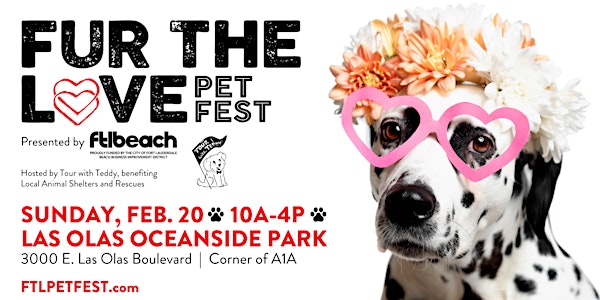 Fur The Love Pet Fest - Pupchella
Join us at the 2nd annual #FTLPetFest in celebration of Love Your Pet Day to benefit local animal rescues and shelters
When and where
Location
Las Olas Oceanside Park 3000 E. Las Olas Boulevard Fort Lauderdale, FL 33316
Refund Policy
Refunds up to 7 days before event
Eventbrite's fee is nonrefundable.
About this event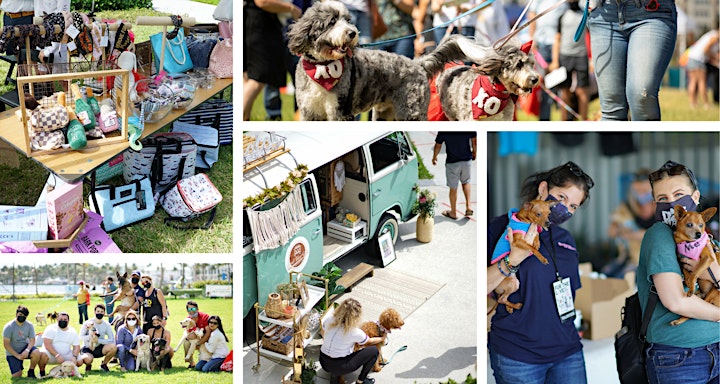 SAVE THE DATE! #FTLPetFest22 returns for its second annual celebration of Fort Lauderdale's love for their furry companions and a day of four-legged fun, hosted by Instagram Influencer, Tour with Teddy and Ana, his mom. Sun., February 20, 2022
Coinciding with National Love Your Pet Day , flower crowns and fur will fill the air during this ulti-mutt Sunday Funday experience curated for you and your best furr-iend complete with a bark worthy brunch + beachside fun at our new location, Las Olas Oceanside Park.
Each year, Fur the Love Shares the Love and spotlights the amazing two-legged's in our community committed to helping our four-legged friends. This year, event profits will benefit local animal rescues and shelters within Broward County.
⭐ THANK YOU TO OUR SPONSORS ⭐
CATS MEOW: Fort Lauderdale Beach BID: MyFtLB.com
FURIEND: Pawzitive Dog Training: letsgetyoutrainedup.com
PAWPAL: The Farmer's Dog thefarmersdog.com
PAW PAL: Good Times Roll: thegoodtimesroll.com
PAW PAL: Lorena Cora Photography lorenacora.com
PAWPAL: The Goodland goodlandhotelftlauderdale.com
⭐For Sponsor Info Email: Info@FTLPetFest.com ⭐
🎟️ TICKETS 🎟️ Children under 12, FREE
GIFTS WITH TICKET PURCHASE
100% of all Ticket Sales will benefit local animal rescues and shelters within Broward County.
$10 GA - (3) Raffle Tickets or Flower Crown / Bandana ( while supplies last )
$30 VIP - Gift Bag, Flower Crown, Bandana, (3) Raffle Tickets, Front of Line Pet Caricature Voucher [ 10am - 2pm ]
$40 FURSHIONISTA - VIP + One Pet Fashion Show Entry
FASHION SHOW PRIZES
FIRST PLACE: One (1) night stay at Kimpton The Goodland, Fort Lauderdale Beach with your pet in a Premium Guest Room. Includes, dog bed, dog bowls, treats, waste bags and toy for your pet and a complimentary welcome cocktail.
SECOND PLACE: Professional Photo Pet Photo Session
THIRD PLACE: $100 Rough House Gift Cards
🥂 VIP BARK BRUNCH TICKETS 🥂 available on site, pending availability, sponsored by Publix Greenwise at The Main Las Olas
PICNIC FOR TWO: Two Adults and Up to Two Pets, includes Brunch Board courtesy of Publix Greenwise Market, MAJA Heaven Brunch Treats for the Pup, Coffee and Picnic Blanket provided. Limit 2 Hours. $110.00, includes fees and VIP Gift Bag with (1) Flower Crown per guest, (1) Tie-Dye Bandana per Dog. $110.
VIP PICNIC FOR SIX: Six Adults and Up to Six Pets, includes a Picnic Set Up for 6 Guests + Pets, includes Brunch Board courtesy of Publix Greenwise Market, MAJA Heaven Brunch Treats for the Pup, Coffee. Your Picnic Table is Yours for the Entire Day to Lounge and includes (1) Gift Bag per guest, (1) Flower Crown per guest, (1) Tie-Dye Bandana per Dog (limit 2 pp) and (3) Raffle Tickets per guest - PLUS - Tickets for DOGA Yoga and Fashion Show Entry. LIMITED NUMBER AVAILABLE. $100 pp / $600 per table. $150 Deposit required; balance billed separately.
🐾 SCHEDULE OF ACTIVITIES 🐾
ALL DAY: AGILITY COURSE sponsored by Pawz-itive Dog Training
ALL DAY: QUICK CARICATURES: sponsored by FtLBeach BID
ALL DAY: CHILDRENS CRAFTS: Make & Take Dog Toys
10:30 am: Complimentary DOGA with Red Cheetah Yoga ( VIP )
11:00 am: BARK BRUNCH
11:20 am: Complimentary DOGA with Red Cheetah Yoga ( VIP & Public )
11:50 am: RAFFLE DRAWING #1 ( See Prize List Below )
12:00 pm FASHION SHOW & CONTEST
12:45 pm LIVE MUSIC with JJ & the FLORIDA ORANGES
2:00 pm POLICE K9 DEMONSTRATION
2:30 pm RAFFLE DRAWING #2 ( See Prize List Below )
🤳 SELFIE STATIONS 🤳 Tag Your Pic's #ftlpetfest
ROAD TRIPPIN' ROVER sponsored by Good Times Roll
SIT, STAY, PLAY: sponsored by FTLBeach BID: myftlb.com
SMOOCH A POOCH: sponsored by Stoked on Salt
#STAYINTHELOOP: sponsored by Stoked on Salt
ON BUTTERFLY WINGS: sponsored by Stoked on Salt
🥤 FOOD & DRINKS 🥤 for purchase
BAGUETTE PLUS: Fresh Baked Breakfast Savories, Sweets and Breads
BONA BONA ICE CREAM: Small Batch Ice Cream + Vegan Ice Cream for People and Pets
CARIBE VEGAN: Latin-Inspired Vegan Food
COFFEE VIBES MIAMI: Coffee
FRESH ORGANICS & MORE: Fresh Cut Fruit & Juice
JUGO BOSS: Pitaya and Acai Bowls, Cold Press Juice
MAJA HEAVEN Vegan Cupcakes & Treats for you and your Pup
TROPICAL SMOOTHIE CAFE - Complimentary Samples tropicalsmoothiecafe.com
YOYO's BURGERS  - Gourmet Burgers, Wings, Mac & Cheese
🛍️ VENDOR MARKETPLACE For People and their Pets
ALL TAILS WAG: alltailswag.com
BOWIES BITES: bowiesbites.com
CATSKILLS CLOTHING COMPANY: catskillsclothingcompany.com
CERTIFIED THERAPY DOG, INC.: certifiedtherapydog.com
CHICO'S MAFIA TOUGH DOG APPAREL: chicosmafia.com
CHILL OTTER CO.: chillotterco.com
EPIPAWS: epipaws.com
FETCH PET CARE FORT LAUDERDALE: fetchpetcare.com/fortlauderdale/
GINGER BRIE: gingerbrie.com
HEALTHY SMILES PET DENTAL healthysmiles.pet
HLSWIM CO: heatherleighswimwear.com
LET'S GET YOU TRAINED UP: letsgetyoutrainedup.com
LORENA CORA PHOTOGRAPHY: LorenaCora.com
LOVED & PAMPERED PETS: lpppets.com
LUZ FLORA: luzflora.com
NICOLE PAINTS PET PORTRAITS: nicolesandler.com
PET JUNCTION MAGAZINE: petjunction411.com
PET WANTS Fort Lauderdale: petwants.com/fortlauderdale
PETIT PUPS PAWTIQUE & MORE: petitpupspawtique.com
PETWELL CLINIC local.petwellclinic.com/pembrokepines
POOCH & PATCHES: instagram.com/poochnpatches
POSH PAWS AMENITIES: poshpawsamenities.com
RUFF HOUSE: ruffhousefl.com
SALON BARK: salonbark.com
SOFLO CORKTAILS: soflocorktails.com
STOKED ON SALT: stokedonsalt.com
THINK GOODNESS: my.thinkgoodness.com/traceyo
THREE AMIGOS HEALTHY PET SUPPLIES: tahealthydogs.com
TIDY PETS: tidypetservice.com
UNIQUEBOWTIQUE: etsy.com/shop/UniqueBOWtique954
URBANA PETS: urbanapet.com
WAG AROUND TOWN instagram.com/wagaroundtowntravelmat
YUM PUP: shopyumpup.com
⭐ THANK YOU TO OUR RAFFLE PRIZE DONORS ⭐
Catskills Clothing Company - T' Shirt & Hat of Choice, retail $40
Chico's Mafia Tough Dog Apparel - Chico Apparel
Chill Otter Co. - Gift Basket
Fetch Pet Care Fort Lauderdale - 2 Florida Panthers Tickets in the Corona Beach House, value $250
Ginger Brie - Piece of Jewelry
Healthy Smiles Pet Dental - (1) Complimentary Cleaning
Heather Leigh Swimwear - Bikini of Choice
Luz Florals - D.I.Y. Succulent Terrarium
Nicole Paints Pet Portraits - 8x8 Pet Portrait
Pet Wants Fort Lauderdale - Dog Treats Basket
PetWellClinic Pembroke Pines - Complimentary Exam
Petworking - Pet Gift Basket
Ponciano Enterprises - Free Training Session
Pooch Perks - Pooch Perks Box
rAv Communications / LOOP - Ocean Sole Flip Flop Art Dog
Sobe Vegan - $50 Gift Card
Wag Around Town - TravelMat & Matching Leash/ Toy
Urbana Pets LLC - Harness & Matching Leash
Yum Pup - 4, 1lb Bags of Assorted Dog Treats
*CITY OF FORT LAUDERDALE PARK RULES FOR DOGS
All Dogs Must:- be on max 6' leash at all times; strollers welcomed
- have current rabies vaccination and license. (tag on collar)
- not create a nuisance, ex. excessive barking or aggressive behavior
Owner or Handler Must
- be responsible for their pet; aggressive dogs may be removed
- dispose of fecal matter deposited by their dog; bags will be available
___________________________________________________________________________
MEET OUR HOSTS: TEDDY & ANA
Ana and Teddy are the dynamic mom and pup duo behind the wildly popular and entertaining Instagram Page, Tour with Teddy, and 'Living A Fairytail' blog. In June 2020, after celebrity and entertainment reporter, Perez Hilton heralded Teddy as the newest "it" pup, Teddy's popularity rose, and the fun way for Ana to share her and Teddy's South Florida adventures became a full-time job. As a product ambassador, model, and host of the Tour with Teddy series on MyFtLB.com, the friendly and inquisitive Maltese also lends a paw whenever he can to help fellow furry friends in need.
___________________________________________________________________________
*CITY OF FORT LAUDERDALE PARK RULES FOR DOGS
All Dogs Must:
be on max 6' leash at all times; strollers welcomed
have current rabies vaccination and license. (tag on collar)
not create a nuisance, ex. excessive barking or aggressive behavior
Owner or Handler Must
be responsible for their pet; aggressive dogs may be removed
dispose of fecal matter deposited by their dog; bags will be available