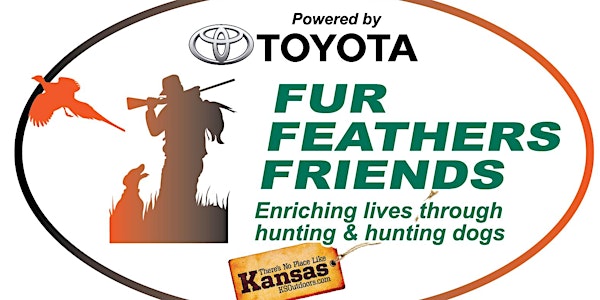 FUR FEATHERS FRIENDS ... powered by Toyota ... destination Kansas!
Location
Ravenwood Lodge
10147 Southwest 61st Street
Topeka, KS 66610
Refund policy
Refunds up to 30 days before event
Description
THANK YOU! WE HAVE HAD A CANCELLATION AND MAY HAVE AN OPENING. PLEASE EMAIL ME AT SCOTTLINDEN@EARTHLINK.NET FOR DETAILS.

If you are attending and already have tickets, please read below ... and book your sporting clays round by clicking on the "Tickets" box to your right. If you missed out, please click on "Tickets" and add your name to the waiting list. If a ticket becomes available we will notify you of the day/time and await your instructions.
You are always welcome to join us for fellowship and dog games, all or part of either day.
THURSDAY, NOV. 8 and now, Wed. Nov. 7 we will honor our military heroes past and present ... by sharing a field and the magic of our hunting dogs. We'll hunt - and host - active-duty and retired military guests during a fun-filled day of dog work, flushing pheasants, and fellowship at Ravenwood Lodge.
Bring your hunting dog and join a hero in the field. Invite a military guest who has hunted in the past - thanks to Toyota they'll hunt free. We'll share our gratitude in a way only we can - through our dogs and the magic they work in the field.
We return to Kansas' Ravenwood Lodge near Topeka for two full days of fellowship with fans of Wingshooting USA and those who have served or are serving our country: all branches, retired and active-duty, Guard and Reserve are welcome. And thanks to Toyota, military guests hunt free.
DATES: Hunts take place Wednesday, Nov. 7 and Thursday, Nov. 8, sporting clays and check-in open Wednesday Nov. 7.
HUNTING: Each pair of Wingshooting USA fans and their well-trained dogs will be teamed with two-three military guests (consider inviting someone!) and a professional guide. No dogs? Don't worry - your guide or our friends from NAVHDA will have plenty. Hunts will be two hours long and start throughout the day, beginning at 8 a.m. Each hunter will have four pheasants planted. Come early or stay after your hunt for sporting clays, lunch, camaraderie, and some fun dog games!
CLAYS: A 50-target round of sporting clays is also part of every package for paid participants and military guests.
Thank you North American Versatile Hunting Dog Association! NAVHDA members are assisting with the dog games and demonstrations as well as standing by to handle their fantastic dogs should any group need more. They have also helped with recruiting participants. Learn more here.
LODGING: The nearby Clubhouse Inn offers a Ravenwood rate of $79 including free hot breakfast, manager's reception/cocktails and other amenities. Contact Selena McNaul at 785-273-8888 or email smcnaul@clubhouseinn.com.

MEALS: Lunch will be served on both days and is included in your hunt package whether paid or military guest.
PRICES: $165.00 (plus service fee) includes 2-hour, 4-bird hunt, lunch, guide, and 50 rounds sporting clays (plus service fee). You may book more than one hunt. Shoot your clays round Wed. or Thurs. 10 a.m. or 2 p.m. Sign up for your hunt time and sporting clays day/time in the ticket section below! (Bring your own ammo.) Military guests free - see ticket section (includes birds, meal, ammo, bird processing/packaging and clays).

REFUNDS: Attendees can receive refunds up to 30 days before start date of 8 a.m. Nov. 7. Should you cancel after that time, your purchase will be donated to covering costs of military guests' birds, meals, processing, ammo, etc.
FAQs
Does Ravenwood have hunting available for the rest of the week and weekend? Yes, contact them for reservations: 800-656-2454. Kansas pheasant opens Saturday, Nov. 10. Ravenwood is open for your hunting from Sept. 1 through the end of April.

Can I come for the day or part of a day? Yes. Simply choose from the ticket options the things you want to do. Even if you're not hunting, come on down and visit with us and share your gratitude with our military guests.

Are my purchases tax-deductible? No. This is just an event, not a non-profit organization yet.
I'm a vet (or an NCO, or officer, or the commander-in-chief) who can afford to pay for my hunt ... can I "sponsor" or invite another military guest? Not just yes, HELL YES. Simply sign them up in the ticket area below once you've signed up yourself. Please give everyone a chance - sign up ONE MILITARY GUEST.

What if I don't have a dog? We'll have plenty! You will always be hunting with a guide with dogs, and sometimes with a vet or active-duty military member who has a dog. NAVHDA members will also be on hand with their dogs. (Do everyone, including your dog, a favor and leave the um, well, er, "less experienced" dog at home or a crate).

Do you need volunteer help for the event? Yes. Please contact Scott to make arrangements, at scottlindenoutdoors@gmail.com.
I can't attend – can I support the cause anyway? Yes, scroll down on the tickets list and find "DONATE" where you can send any amount. Your generous contribution will offset out-of-pocket costs for birds, processing, ammo, meals, etc. for our military guests.

If I want to hunt all day, how do I register? Go to "Ticket type," click and pay for any hunt times you like. Remember, you also get a round of sporting clays and can shoot that on Thursday or Wednesday.

I'm going to bring a friend – how do we sign up for any of the choices? One of you can buy two tickets ... click on "2" among the choices for "Quantity." Both tickets will be in your name.

How do I share this event with my friends on social media? On the event page, scroll down to "SHARE WITH FRIENDS" and click on one of the icons.
How far from Topeka is Ravenwood Lodge? 18 miles.
Do I need a license? Yes, you will need a controlled shooting area permit, $27.50, or non-resident license if you wish to hunt more after our event. Please purchase in advance of your visit. Available online at https://www.ks.wildlifelicense.com/index_hf.php
How much is a non-resident Kansas bird hunting license? $97.50. More license info: https://www.ks.wildlifelicense.com/index_hf.php
Do we tip our guides? Yes. The amount is up to you and your hunting partner (our military guests will not be expected to tip, so as they say, "do the math").
Will I be on Scott's TV show? There is a good chance we will make an episode for broadcast on national television. By attending, you are granting permission for the producers to use your image in any media in existence or developed in the future, for any purpose.
How do I find public and private land open to hunters? Go here for maps and to order the Kansas hunting atlas: http://ksoutdoors.com/Hunting/Where-to-Hunt
Are there ammo restrictions for hunting or sporting clays? Yes. 6-shot or smaller, no 3-inch shells. Please see the Ravenwood Lodge website for all hunting/shooting details and other useful information: http://www.ravenwoodlodge.com/