FunnyBizz Conference: Where Business Meets Humor to Craft Better Content

Thursday, June 5, 2014 from 9:00 AM to 5:00 PM (PDT)
Event Details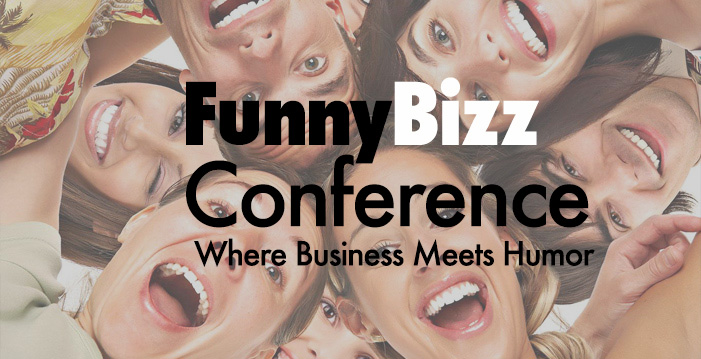 Join us for a full day conference unlike any other. Instead of the same boring routine, you'll be engrossed in interesting talks by top presenters, known for their engaging, entertaining, and enlightening presentations.
Closing the gap between funny and business to craft better business content and drive sales in 2014. Finally, a tech conference with a sense of humor.
"Today's generation has been socialized to receive info via humor. They want infotainment, not information. Clients don't watch "20/20" or "Nightline" for news; they watch Colbert and Jon Stewart. They want data delivered with a punch line."
Ever wonder how Silicon Valley's top startups use comedy, imporv and stroytelling principles to create great content, stand out from the noise and ultimately sell more?
There is a movement beginning. The lines of business, entertainment and comedy are becoming ever more intertwined. Viral media, social spread and engaging content is king. Attention spans are shorter than ever. Consumers want infotainment, not information. Standing out from the noise is a necessity. To make a more memorable impact, craft a more compelling and entertaining story, and tap into the creativity of their workforce and community, leading companies are using humor.
Peter McGraw // University of Colorado Boulder & Author of The Humor Code
Pete McGraw gives audiences insight and understanding into why we find certain things humorous. McGraw has developed his own personal humor theory to let people decipher why we find some things funny and why we don't. His keynotes aren't only humor-filled themselves, but they're engaging and interesting as well. His talks have been featured on TEDx.
McGraw is a professor at the University of Colorado Boulder. He focuses his studies on the interdisciplinary fields of emotion and behavioral decision theory. He received his PH.D from the Ohio State University.
His most recent work has been the Humor Code Project. McGraw is constantly blogging about the project on Wired, Huffington Post and Psychology Today. The Pete McGraw keynotes will make you laugh, smile and reflect on different experiences from your life.
---
Venetia Pristavec // Creative Lead of Airbnb
As the 7th employee of Airbnb.com, Venetia has spent over four years building the brand & cultural foundation of a company gone global. She is a strategist currently providing creative services to early stage companies specializing in brand, community, media, culture & storytelling.
---
Michael Margolis // CEO and Founder Get Storied
His work and ideas have been featured in Fast Company, Brandweek, Inc, Mashable, Lifehacker, and lots of other places. His latest book Believe Me: A Storytelling Manifesto for Change-Makers and Innovators helped to redefine the potential and relevance of business storytelling. In 2010 and 2012, Michael produced the Reinvention Summit: Storytelling's Biggest Online Conference, as a way to celebrate storytelling insights from across many disciplines. He is a frequent speaker at conferences including TEDx, SXSW, and CultureCon.
---
Chris Lindland // Founder and CEO Betabrand
Chris Lindland, CEO of San Francisco-based Betabrand, has built a thriving company by designing clothing around urban trends, humor and stereotypes. Betabrand is home to Web hits like Cordarounds, Executive Hoodies, Bike to Work Pants, Disco Hoodies, Sons of Britches, Sock Insurance, and many, many, many more.
---
Emily Castor // Director of Community Relations at Lyft
Community is Emily's oxygen and Lyft is built on a healthy portion of humor. She turns users into evangelists and transforms Like into Love. Stories, conversations, and relationships are her stock in trade. She believes that products become great when they transcend their basic functions and deliver emotional impact, helping people create meaning.
---
Richard Cox // Founder People Rocket, instructor London Business School, Lecturer Stanford GSB
Rich teaches on teams at Stanford University's Graduate School of Business and Institute of Design (d.school), London Business School, Stand & Deliver Group, and Lime Design Associates. He coaches executives and speakers for The Clinton Global Initiative, the Istanbul 2020 Olympic Bid Committee, TEDx conferences, and in leading Fortune 50 companies and investment firms.
---
Jason Miller // Leading Global Content Marketing for LinkedIn
Jason is Senior Manager of Content Marketing at LinkedIn. Previously, he was Senior Manager of Social Media at Marketo and focused on optimizing social media for lead generation and driving revenue. He is a regular contributor to leading marketing blogs such as Social Media Examiner, Social Media Today, and Marketing Profs and incorporates a lot of humor along the way.
---
Bill Grundfest // Founder of the Comedy Cellar
Bill Grundfest, Founder of the Comedy Cellar, Golden Globe winner and three time Emmy nominee, recently spoke to an audience of entrepreneurial students as part of UC Santa Barbara's Distinguished Lecture Series.
Mr. Grundfest has a nose for comedic talent, discovering and the launching the career of many notable comedians, including Steven Wright, Bill Maher, Ray Romano and Jon Stewart. He was also instrumental in Richard Pryor's comeback campaign.
---
Jodie Ellis // Optimizely's Head of Experimental Marketing
Jodie hails from the Land of Enchantment, commonly referred to as New Mexico, but has made San Francisco his home for many moons. As Optimizely's Head of Experimental Marketing, Jodie aims to boldly go where SaaS marketing doesn't—and perhaps even shouldn't.
---
David Spark // Tech Journalist and Founder Spark Media Solutions
David Spark is a veteran tech journalist and founder of Spark Media Solutions, a brand journalism firm that helps its clients be seen as leading voices in their field through brand-quality media production. The company has worked with clients such as Dice, Microsoft, Yammer, IGT, Sprint, Alcatel-Lucent, Tripwire, Riverbed, Zoho, and Indycar Racing.
---
William Hall // A founder of BATS Improv and Fratelli Bologna
William Hall is a founder of BATS Improv and a comedy group turned consulting company Fratelli Bologna. He brings the power of engagement and leadership to companies and individuals using theater skills.
William has worked with companies to shift their culture toward story and the innovation to make that change. And, he also woks with other companies to find ways to lead and thrive through a rapidly changing environment. He has worked as a performance coach with executives from all over the world to lead from the front of the room. Has coached at the Stanford Graduate School of Business. He has guest lectured at University of Texas and the University of Florida.
He has taught improvisation to students at the University of Tokyo, Businessmen in Bangalore and professional actors in Poland. He has spoken at the World Economic Forum, trained performers at Disneyland and was a soldier that blew up at the end of Raiders of the Lost Ark.
---
Sammy Wegent // Founder of Speechless 
Sammy is the past winner of the Battle of the Bay Comedy Competition and still holds the very subjective title of "The Funniest Person in the Bay Area." Corporate comedy clients include Google, Virgin America, IDEO, NBC/Universal, Clickatell, Holiday Inn Express, Spalding, Vibrant Media, Table For Six, Davita Pharmacy Group, The Princeton Review, and Jasper Wireless.
---
Pamela Hawley // Founder and CEO of UniversalGiving 
Pamela Hawley is the founder and CEO of UniversalGiving™ (www.UniversalGiving.org), an award-winning nonprofit helping people to donate and volunteer with top performing, vetted organizations all over the world. 100% goes direct to the cause! All organizations are vetted with a proprietary Quality Model™. UniversalGiving Corporate helps manage global CSR for companies, including the strategy, operations and NGO Vetting. Key clients include Cisco, Gap, BHP Billiton, Fluor, RSF Social Finance and Symantec.
Pamela is a winner of the Jefferson Award (the Nobel Prize in Community Service), and has been invited to three Social Innovation events at the White House. UniversalGiving has been featured on the homepage of BusinessWeek, Oprah.com, CBS, The Wall Street Journal, andThe New York Times. Pamela was a finalist for Ernst and Young's Entrepreneur of the Year Award and is an Expert Blogger for Fast Company and CSRWire. She also writes Living and Giving, a daily blog with the mission of "Inspiring Leaders to Live with Excellence and Love."
Pamela is also a Nationwide Improviser with over 100 performances in New York, San Francisco and Los Angeles to her name.
---
Tim Lee // Scientist Turned Comedian 
Tim wasn't supposed to be a comedian. A biologist by training, he graduated magna cum laude from UC San Diego with honors in biology. He went on to complete his PhD at UC Davis. He spent years developing simulation and analytical models of population dynamics before he discovered that this bored him to tears. When he tried comedy for the first time the tears stopped.
Tim has become an underground sensation with over 4 million views on his YouTube videos. Piggybacking that success, Tim took the show on the road selling out shows from New York to Sydney. Audiences hungry for comedy that is smart and funny flocked to the show. Lee's comedy uses scientific phenomena and tools to explain everything from the hair that collects on a bar of soap to how his standards drop rapidly with abstinence.
Tim has performed for universities across the country, TEDx, companies such as Johnson and Johnson, Genentech and Microsoft and at venues like the Venetian, the Punch Line and the Improv.
---
Dhaya Lakshminarayanan // Reformed VC, Consultant, Hilarious 
Dhaya Lakshminarayanan is a comedian, storyteller, television host & entrepreneur. She has sold-out shows in Atlanta, Boston, Los Angeles, New York, San Francisco, and Silicon Valley at such venues as at the San Jose Improv, San Francisco's Punchline and historic Purple Onion, the Los Angeles Comedy Store, and New York's Gotham Comedy Club. She is a favorite at comedy festivals such as Sketchfest San Francisco, The Boston Comedy Festival, and Bridgetown Comedy Festival (Portland, Oregon). She has performed at Universities including Stanford University, Massacusetts Institute of Technology, University of San Francisco, and University of California at Santa Cruz. She has performed internationally, including in Singapore, winning the "Ultimate Comedy Challenge" sponsored by Comedy Central Asia.
She hosted the Emmy Award winning series "High School Quiz Show" which premiered on the Public Broadcasting System (PBS) station WGBH in 2010. She was a featured Storyteller on the PBS station, KQED, for the Black History Month series, on the RISK! Live podcast, and is a regular contributor to NPR's "Snap Judgment" a storytelling program, which Ira Glass called, "Amazing. Like a cousin of 'This American Life' that grew up in a wildly different neighborhood…" Dhaya is the winner of the grand prize in the first-ever corporate sponsored comedic storytelling competition based on travel horror stories, sponsored by ON24. She hosts the Moth Story Slam, a monthly event, in San Francisco, CA.
Dhaya is a sought-after consultant & speaker on branding, human interface, and relationship management. She brings humor and storytelling to all her endeavors. A sample list of her clients includes Wells Fargo, Seven Figures Management, Yelp, Columbia University, individual entrepreneurs, and political candidates. She has been an invited speaker at over a hundred panels and conferences. She was hired by the Entrepreneurs Organization to speak about Entrepreneurship, Leadership & Innovation in Delhi, Chennai, Hyderabad, Calcutta, and Kathmandu. Dhaya also speaks about women's and Asian American leadership. She has spoken at the Kappa Alpha Theta national conference, Chevron Corporation's Asian American Awareness month, Invent your Future, and the American Association of University Women.
8:00am - Registration, Breakfast Bites, & Networking
Introduction
9:00am - Welcoming remarks by conference organizers
Stage I. Storytelling & Humor
9:10am - The importance of the story: 3 pearls of entrepreneurial storytelling by Michael Margolis
9:35am - Stand out from the noise with humor. What makes things funny by Peter McGraw
10:05am - Stop the spin. Weave instead.Telling your story with humor.Especially in the business world by Dhaya Lakshminarayanan 
10:30am - Coffee Break by Paramo Coffee Company
Stage II. Engagement
10:45am - How storytelling builds authentic brands for early stage companies by Venetia Pristavec
11:10am - Lyft: How they have used humor in building their brand by Emily Castor
11:35am - Optimizely: Experimental humorous marketing by Jodie Ellis
12:00pm - Is it powerpoint that's boring or your content? A hilarious example by Tim Lee
12:15pm - Lunch (provided) & Networking
Stage III. Delivering your Message
1:30pm - How to create 22 minutes of great content every damn week by Bill Grundfest
2:00pm - Tactics for a badass social media campaign by Jason Miller
2:25pm - Creating humorous viral and man on the street videos by David Spark
2:50pm - How to build sales on viral mass media covered humor by Chris Lindland
3:20pm - Coffee Break by Paramo Coffee Company
Stage IV. The Improv Impact
3:40pm - Improv principles for business leadership by Richard Cox & William Hall 
4:10pm - Improv in Social Media, Marketing and Life by Pamela Hawley
4:35pm - Speechlesslive with Sammy Wegent and guest presenters
5:00pm - Closing remarks
5:00pm - 6:00pm - Happy Hour "Networking"
Join us for a full day conference unlike any other. Instead of the same boring routine, you'll be engrossed in interesting talks by top presenters, known for their engaging, entertaining, and enlightening presentations.
Transferrable bands: Can't attend the entire conference? Buy one ticket, attend the morning, then trade wristbands with a colleague so they can attend the afternoon. That's awesome! Most conferences don't do that!? Thankfully, we are not most conferences.
---
Parking and Transportation
---
SF Muni bus lines 14, 22, 33, 49, and the J CHURCH light rail are all within walking distance of The Chapel.
The closest BART station is 16th & Mission – it's an approximately 10 minute walk from The Chapel.
There is no parking provided onsite, but there are parking garages located in the neighborhood. One is the Mission & Bartlett Garage at 90 Bartlett St. (between 21st and 22nd Streets). Another is the Hoff Street Garage at 42 Hoff (between 16th and 17th Streets). There is also some street parking available, with meter enforcement ending at 6:00 pm.
---
Top 10 reasons reasons you need to be @FunnyBizzSF
---
What you will learn:
How top start-ups build loyal communities using storytelling and humor to craft better content.
How to inspire, connect, and motivate your audience with the right message.
How storytelling builds authentic brands for early stage companies from the inside out.
What makes things funny in business content and how we can use humor to ultimately sell more.
How to generate sales using viral media and humorous messaging.
How story telling will improve your community management and engagement.
How to increase productivity, inspire engagement and build a creative culture through Improv.
How to craft and deliver better sales presentations and not just communicate, but inspire.
What ingredients make a speech consistently funny and copy-writing hilarious.
How to make cost effective and humorous "man on the street" viral videos.
Startup CEOs and founders looking to transform their key messages and pitches into a compelling story.

Content and Social Media Managers looking to produce better content. 

Marketing, PR, Advertising and Communications professionals looking to add humor to their messaging and company voice.

Brand Managers looking to create a loveable brand that stands out from the noise.

Sales and business development professionals who want to make their presentations and pitches more entertaining.

Community builders who want to make their communities more fun and engaging.

Entrepreneurs looking to gain a competitive advantage.
---
Special Thanks to our sponsors
---
Have questions about FunnyBizz Conference: Where Business Meets Humor to Craft Better Content?
Contact FunnyBizz
When & Where

The Chapel
777 Valencia St.
San Francisco, CA 94110


Thursday, June 5, 2014 from 9:00 AM to 5:00 PM (PDT)
Add to my calendar
Organizer
Where Business Meets Humor. Join the Movement