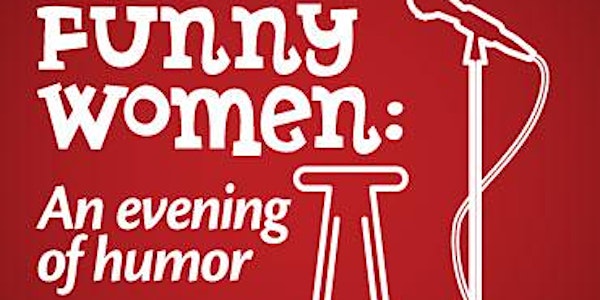 Funny Women: An evening of humor
When and where
Location
Goddard Riverside The Bernie Wohl Center 647 Columbus Avenue New York, NY 10025
Refund Policy
Contact the organizer to request a refund.
Description
W.H.A.M. (Women History Artist Month) presents:
Funny Women: An evening of humor
Keep the laughs coming...This stand-up comedy event is presented by film and TV writer/producer Caytha Jentis and hosted by Sandi Marx.
CAYTHA JENTIS is an award winning independent filmmaker. Her most recent project is "The Other F Word," a comedic series on Amazon about four women friends coming of age in mid-life. The cast includes Steve Guttenberg and Judy Gold. Jentis has also written four features, produced three and directed two. Her features include "Bad Parents" starring Janeane Garofalo, Cheri Oteri, Christopher Titus, Michael Boatman and Kristen Johnston (Cinedigm), "And Then Came Love" starring Vanessa Williams and Eartha Kitt (Warner Bros) and "The One" starring Jon Prescott (TLA Releasing). A former literary agent, she has also has an extensive background in sales including a stint at the Bergen Record in internet ad sales. Jentis was recently selected as one of Good Housekeeping magazine's 50 over 50. She earned an M.F.A. from UCLA in screenwriting and a B.S. in TV/film from Syracuse University. She is a member of the Producers Guild, Writer's Guild and NYWIFT.
Sandi Marx is a retired talent agent who is now a motivational speaker and spends most of her nights storytelling all over the country. She is a seven-time Moth StorySLAM champion. She performed her one-woman show You'll Be Sorry at The Tank in Brooklyn, NY. She proudly hosted an evening of music at City Winery, raising money for the Women's March. She can be heard on several podcasts including RISK! and Hot Mic with Dan Savage. She is a fixture on the New York storytelling scene.
And featuring:
CYNTHIA KAPLAN
Cynthia Kaplan is an comedian, actress, and the author of two acclaimed collections of comic essays,
Why I'm Like This: True Stories
and
Leave the Building Quickly
. She has been published in newspapers, magazines, and humor anthologies, and has written for and appeared in theater, film and television. Kaplan has performed comedy and music with her band, The Cynthia Kaplan Ordeal, in clubs all over the U.S. and songs from the Ordeal's first album, Fangry, have won multiple prizes in international song contests. She has never been on Law & Order.
ALLISON KLEMP
Alison has lived many places but claims Colorado as home, because that's where she tried hallucinogens and stand up for the first time (not simultaneously – that would happen years later in NYC). She hones her writing skills by trolling dudes on Tinder, and is hoping to release a dick pic calendar in the near future. Alison is a producer of the Cinder Block Comedy Festival, and produces/hosts The Naked Show in NYC.
PAMELA WEILER GRAYSON
Pam's musical, Urban Momfare (composer/lyricist/co-book writer), premiered at The New York Fringe Festival in August, 2014, where it won a Best Musical award, garnered four stars and a Critics Pick from Time Out, and also played at the Fringe Encore Series. Pam's short play, How Does That Make You Feel? won Best Play at Manhattan Repertory Theatre's July 2016 10 Minute Play Contest. She is the co-writer and lyricist for the short musical Burning Up, a finalist at Theatre Now New York's 2016 Sound Bites Festival. The film version of Burning Up was a featured selection at the Katra and the DAMN Film Series. She is also the co-writer, with Alice Jankell, of Cicadas, The Musical, featured on season 2 of the top-rated Amazon streaming web series, "The Other F Word." Pam's songs have been performed at The Metropolitan Room, The Laurie Beechman Theatre, The Duplex, and Don't Tell Mama. She has written for The New York Times andThe New York Observer, among others. Dramatists Guild member. Education: Brown University, Fordham Law School, The BMI Musical Theatre Workshop.
www.pamelaweilergrayson.com
SARAH FEARON
Sarah Fearon is a native New Yorker, a Friar, who has working as a producer, writer and performer. Her original plays TED TALks NYC and Air Rights were featured in the Players Theater festival, as well as Origins Theater festival and Ireland's Electric Picnic Festival. Some of her film credits include The Departed, The Comedian and Reversal of Fortune. Sarah is a board member and salon presenter of The Irish American Writers & Artists, a graduate of Performing Arts High School and New York University and now she is studying a little ukulele. She has a real estate character named Snazzy Peabody you can see some of this legend in her own mind at SARAHFEARON.com, and if you need an apartment Sarah Faron is a top agent at Corcoran
SARAH.FEARON@corcoran.com
CASSANDRA Kubinski
Singer/songwriter Cassandra Kubinski's last album releases HOLIDAY MAGIC and ONWARD hit #46 and #97 on the Billboard Heatseekers chart, respectively, and received nationwide airplay on AC, Holiday, and Jazz stations. Especially known for her Autism anthem "Not So Different", later re-recorded as a collaboration with the Goo Goo Dolls and Mary Ramsey of 10,000 Maniacs, Kubinski often weaves a philanthropic influence into her music. You've heard her songs on Lifetime's "Dance Moms" (13 song placements), ABC, NBC, Bravo, MTV and more, and you've heard her voice on commercials for Snickers (2015 Emmy nominated Brady Bunch spot), Plenti, Homegoods, Kohls, Maybelline, and more. She's opened for The Goo Goo Dolls, 10,000 Maniacs, Anna Nalick, Nelson, and Dickie Betts, and performs at colleges like UCONN, URI, and Nichols. She also serves on the Board of Women In Music, The Institute of Audio Research Advisory Committee, and is a proud yogi and chocoholic. Originally from Enfield, CT, Cassandra began her career as the 20th anniversary "Annie" at the Goodspeed Opera House in 1996.
ROBIN LAKIN

Robin has been a NY based stand up comedian/actress for over 25 years. Playing clubs all over the country, she has also been seen in over fifty commercials nationwide! She has appeared in many festivals including Ladies of Laughter, San Diego Comedy Festival, Stand Up 360, inaugural season of the Westchester Comedy Festival and many more. You can catch her on TV sporadically on the Wendy Willams Show as one of her men on the street! She has recently opened for Julia Scotti and Eddie Clarke at Catch a Rising Star. Robin holds a Medical Degree from Albert Einstein College of Medicine.
Lori Hammel is a NYC based Broadway actor hailed for her "breakthrough" performances which have taken her on tour around the world.

Film work includes Puzzle (Sundance 2018), the Coen brother's feature Burn After Reading and the lead in Coney Island Queen (Cannes Shorts Corner). TV includes Master of None, 30 Rock, The Colbert Show and The Other F Word. She played recurring political pundit Leslie Hillerman on the Onion News series In The Know. Lori created and starred in Margo Rose Reports as the clueless yet relentless NY2 reporter, Margo Rose Ferderer. She is the recipient of an Excellence in Acting Award at the New York International Fringe Festival (2015) and a graduate of the PIT improv comedy program.

Look for Lori playing opposite Keegan-Michael Key in a national commercial this spring.

www.lorihammel.com