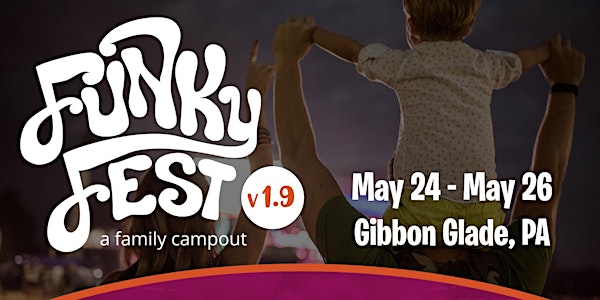 FUNKyFEST v1.9 - a Family Campout
When and where
Location
"the GLADES" Festival and Campgrounds 150 - 154 Mason-Dixon Road Gibbon Glade, Pa 15440
Refund Policy
Refunds up to 30 days before event
Description
HABATAT Family & Lazy Ass Productions
in association with Soundbar and WrittenHour Productions
FUNKy FEST [v1.9] a Family Campout
AND MANY, MANY, MANY MORE!!!
**
LIVE PAINTING
by KATE MARIE ANN (and more)***
LIVE DJ's & Music from the "SoapBox" stage in between sets
***
NIGHTLY FIRE SHOWS
***
4 regional FUNKyFEST PRE-PARTIES
(TUNE IN, Like and Follow the page, spread the word...!!!)
Late night fire-side open jam
interested
Vendors
or
Volunteers
please fill out the
below application
,
- Disruptive Behavior Will Not Be Tolerated
- Be Responsible For Your Trash
- Be Safe, Respectful, and Have Fun!
- Leash and Clean Up After Your Pet
- No Illegal Activity Of Any Kind
- Security and First Aid Will Be Present At All Times
- Please keep the grounds both safe and clean. HABATAT Family, Fattoria di Ottoviani Resort, its Staff, Volunteers, Vendors, nor Performers will be held accountable for your actions. Again, AT YOUR OWN RISK!
- Day Parking is available by request for a small fee, otherwise, overnight camping is included and encouraged with your ticket purchase. Event camping is open field and stage adjacent, including areas for both family and quiet camping. We also have a designated 100% sober camping area available for those who wish to abstain from the byob atmosphere overnight. All camping is with your tent or vehicle. There are no reserved sites. All space is first come first serve. RV's are NOT extra this year however we ask that you pre-register for parking convenience. Sorry, no power or water hookups available. Small quiet generators are welcome, and Porto-Johns will be on site. Fire rings will be available, just ask when you check in at the gate! We will also have firewood available for purchase. No offsite firewood will be permitted.
Kids 18 & Under are welcome to attend with a parent present. Under 18 must be accompanied by an adult at all times. Each kid will be issued a wristband with their contact info in case of an emergency. In case of scuffs and bruises, we will have a medical staff on the grounds. It is up to you to supervise your kid at all times.
If you must bring your pet, they are allowed at an extra fee of $10 per pet. However, we recommend you leave them behind. A festival experience is not for every pet. The staff reserves the right to refuse any pet. You will be required to leash and clean up after your pet. We will also not tolerate aggressive pets, or irresponsible pet owners, and reserve the right to remove you, and your pet, from the event at any time.
- All patrons must abide by all local, state, and federal laws. NO ALCOHOL OR DRUG SALES tolerated anywhere on the festival grounds. Anyone caught selling or distributing illicit substances will immediately have their wristband cut and be ejected from the festival. Further legal repercussions are likely.
-This is a Family Friendly Event for All Ages! No Disrespectful Behavior will be Tolerated.
- No Fireworks, No Weapons, No Bad Attitudes, B.Y.O.B., Please Recycle, and Do Not Litter!
- All kids ages 18 and under MUST be accompanied by a parent or legal guardian.
- Friendly Pets are permitted at $10 per pet, but MUST BE CLEANED UP AFTER AND KEPT ON A LEASH AT ALL TIMES!
- No unauthorized vending. If you're not a registered vendor you may not sell or distribute anything on the festival grounds.
Fattoria di Ottoviana Resort
150 - 154 Mason-Dixon Road