Two nights of socially distanced live music featuring an all star rock-funk collaboration, not to be missed!
About this event
Due to a very last minute and unexpected decision from Eagle County, we have been forced to cancel this event. All tickets have been refunded. Email support@bonfireblockparty.com with any questions.
DOORS OPEN at 4:00 PM | Music starts at 5:30PM
When we made the difficult decision to cancel the Bonfire Block Party, we promised to make every effort to bring some form of live music to Eagle this summer. We are pleased to announce, we have done just that! Join us at the Eagle County Fairgrounds as we celebrate summer with local food trucks, Bonfire beer and craft cocktails, and world class music in an incredibly intimate setting.
Social distancing measures will be in place, and in compliance with county regulations, we are limited to 500 total tickets each night. That's right, you get to enjoy this incredible lineup without the usual crowds. Read on for all the details, and GET STOKED!
Note: Only 500 tickets are available each night, divided into four socially distanced groups of no more than 175 people, in compliance with Eagle County Public Health Orders.
Special thanks to our nonprofit partner, The Cycle Effect
TICKETS
You can buy tickets right from this page! First, please select the date of the show you want to attend (either Friday 7/17 or Saturday 7/18)
The venue is divided into 4 sections for social distancing, indicated by the colors RED, SILVER, GREEN and ORANGE. The tickets you select will determine your section. If you want to sit with your friends, you MUST buy your tickets in the same section.
Two sections (RED and GREEN) are on the floor of the arena, and two sections (ORANGE and SILVER) are in the grandstands. The floor sections are the closest to the stage, and floor ticket holders are encouraged to bring folding chairs, sunscreen, sunglasses and suitable shoes for the dirt floor. Grandstand sections include bleacher seating, are slightly further back from the band, and are protected by a roof (sunscreen and sunglasses still recommended, however!)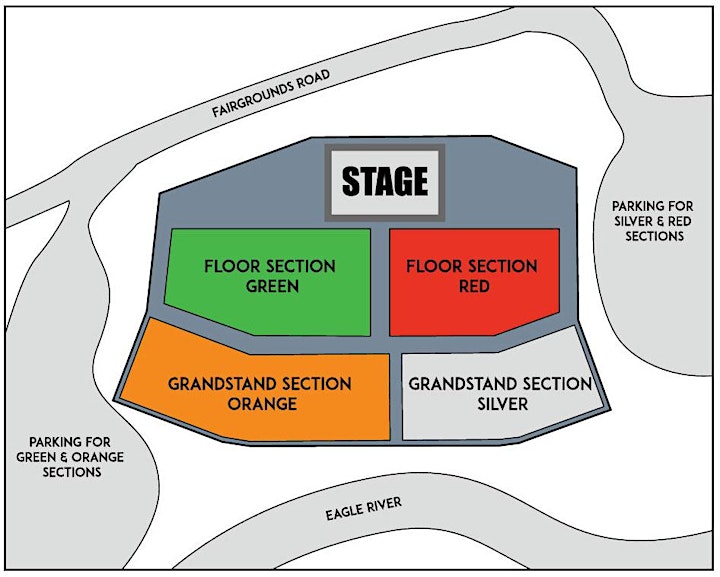 SAFETY MEASURES
In cooperation with Eagle County, we ask all attendees to observe the following protocols:
Face masks are required for entry. Please wear your mask when entering the venue, and any time you walk through common areas (ie: visiting the restrooms, bars, or food trucks). You may remove your mask once you are inside your designated section, if you wish.
Please observe social distancing. For a successful event, we need your help with this! Each seating section is plenty big enough for each person to remain 6 feet or more away from other individuals or groups. We understand you may wish to attend with a group of friends or family, but please keep your distance from other groups. And above all, please respect your neighbors!
Do not linger in common areas. If you visit the bar, food trucks, or restrooms, please return to your section without delay when you are finished. Food and beverage may only be consumed in your designated seating sections, NOT in the common areas.
Sanitize, please! Sanitizer stations are located throughout the venue. In addition, touch points will be regularly cleaned throughout the event, for your safety.
FAQs
Can I bring my kid? This is an all ages show, however, every person, of any age, MUST have a ticket. This includes infants. We know, it seems crazy, but the county regulations stipulate that every breathing human counts towards our total capacity. Even babies.
What time does music start? What time does it end? Gates open at 4:00PM, and music starts at 5:30PM. Music concludes by approximately 9:00PM.
I already bought tickets to the Bonfire Block Party - do those tickets work for this event? Nope, sorry. This event is produced by the Block Party team, but is a separate event, with separate tickets.
What items can I bring inside the venue? If you have floor seats (RED and GREEN sections) then we encourage you to bring a folding chair if you want to sit down, and sunscreen for protection against those golden rays. Seat cushions are allowed for grandstand seats (ORANGE and SILVER sections).
What items are prohibited? NO backpacks or large bags (small purses are ok), no outside food or drink (factory sealed plastic water bottles are ok), no animals, umbrellas, A/V recording equipment, or weapons. If you have specific questions, please email support@bonfireblockparty.com.
What's the refund policy? Please do not attend this event if you are sick. If you have symptoms, please email support@bonfireblockparty.com to request a refund.
What if it rains? This show will go on, rain or shine! If you selected a floor seat, please dress accordingly, including footwear appropriate for dirt. We can't allow umbrellas, but rain ponchos are just fine!
Can I smoke? No smoking of any kind is allowed inside the venue, however, you will find a small designated smoking area near each of the main venue entrances.
Can I leave and come back? NO. Re-entry is not allowed.
Where can I park? Parking is available at the fairgrounds. A parking attendant will meet you on Fairgrounds Road as you approach the venue, and will then direct you to the appropriate parking area, depending on the type of tickets you have.
Can I sit with my friends? The ONLY way to ensure you can be with your friends is to purchase tickets in the same section. The different sections may NOT commingle.
Is there camping? Sorry, we are unable to provide camping options at the fairgrounds for this event. For more info on public campgrounds in Eagle County visit https://eagleoutside.com/stay/camping/
Is this event ADA accessible? Yes! Please select a ticket in the grandstand section, and email us (support@bonfireblockparty.com) for special arrangements.
Will there be food and drink options on site? Yes! Two local food trucks will be on site, as well as wine, spirits, and beer from Bonfire Brewing.
I have more questions. Great! We can't wait to hear from you at support@bonfireblockparty.com.