Description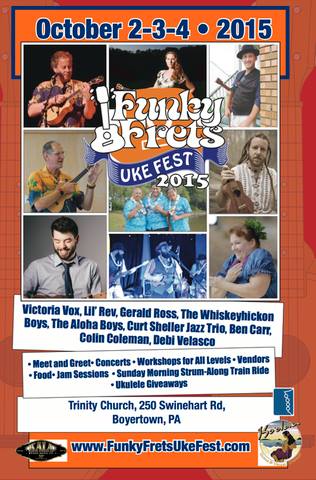 Funky Frets Music Store of Boyertown, PA, USA is hosting their 1st Annual Uke Fest. October 2, 3 & 4, 2015.
For full details visit the festival website at: www.FunkyFretsUkeFest.com
The 2015 Funky Frets Uke Fest will have concerts, workshops and an open mic. Also, a FREE Strum-A-Long train ride on Sunday for the first 150 people registered.
Friday, October 2nd- 6:00pm Check-in and artist meet & greet. 7:00pm concert to kick off our event featuring the Whiskeyhickon Boys, Ben Carr, Colin Coleman and Curt Sheller.
Saturday, October 3rd- Educational Uke workshops conducted by Victoria Vox, Gerald Ross, Lil Rev', Curt Sheller, Glen Hirabayashi, Ben Carr and Colin Coleman and don't miss Debi Velasco's Hula Class and Lei Making workshops! Chance for you to show of your own skills with an open mic session during our complimentary dinner catered by a local favorite, CD's Place.
Evening concert featuring Victoria Vox, Gerald Ross, Lil Rev', The Aloha Boys and The Curt Sheller Trio.
Sunday, October 4th- The first 150 people to register for the 2015 Funky Frets Uke Fest will be joining us for a Strum-A-Long train ride on The Colebrookdale Railroad, right in town. Stick around after the ride for Lunch and mingling with all Uke Fest participants.
*For discount lodging be sure to visit our website for special offers from local hotels.
Organizer of Funky Frets Uke Fest
Curt & Bernadette Sheller and their daughter Kelly Thompson opened Funky Frets on June 30th, 2012. Our showroom includes guitars, ukuleles, banjos, and much more! We carry over 100 ukuleles, electric and acoustic guitars, accessories, drumsticks, violin/viola strings and amps…just to name a few categories. 
Our store and events have uke enthusiasts traveling from all over the East Coast and beyond. We love meeting and chatting with each person that visits our shop. We really appreciate the support and look forward to growing our store, events and Uke Festival. 
Funky Frets of Boyertown is a first class music store and professional one-on-one private lesson studio with a monthly selection of workshops and group instruction options. We also offer lessons via Skype and FaceTime for those of you out of town, but are still looking for the benefits of lesson's with Curt Sheller.