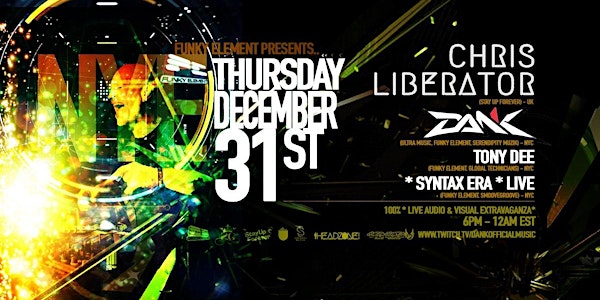 Funky Element LIVE w Chris Liberator (NYE Edition)
For the final 2020 episode of Funky Element Live we've got the legendary CHRIS LIBERATOR alongside Dank, Tony Dee and Syntax Era
Refund Policy
Contact the organizer to request a refund.
About this event
For the final 2020 episode of Funky Element Live we've got the legendary CHRIS LIBERATOR alongside NYC Rave Legend Dank, Tony Dee and Syntax Era.
Given the current pandemic climate we wanted to bring you an international lineup with an array of a superb caliber of talent in a safe setting.
We hope you join us for this years immense virtual celebration. Wishing you much Love & Respect! #DANK
Tune in at twitch.tv/dankofficialmusic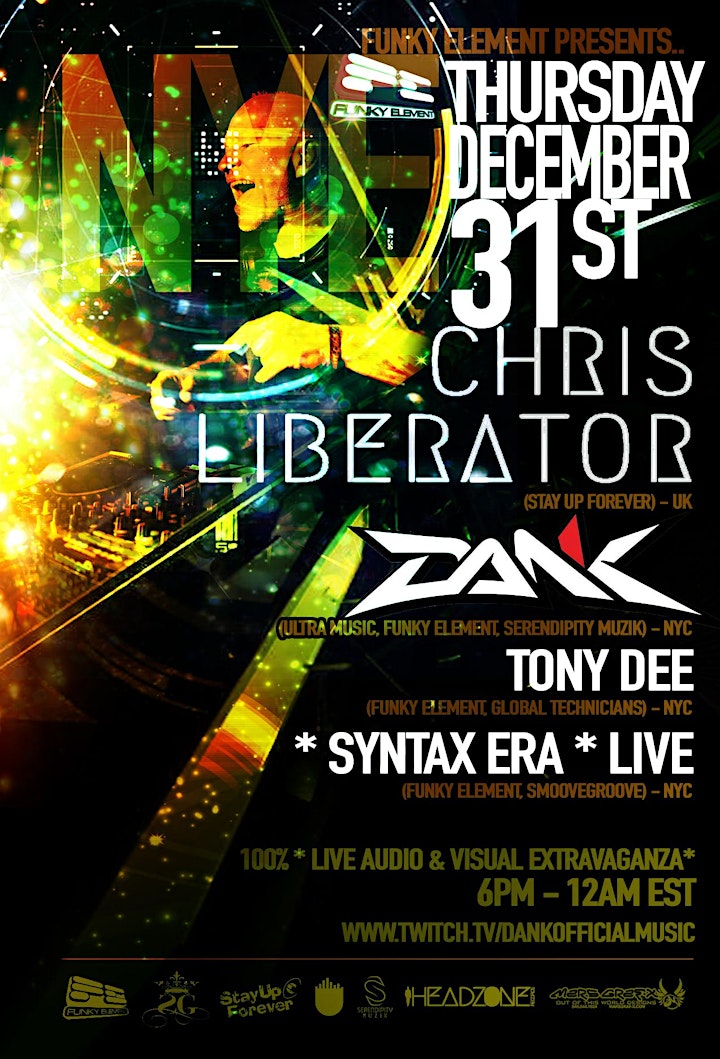 Funky Element Records proudly presents:
Funky Element Live w Chris Liberator
Featuring..
CHRIS LIBERATOR
stayupforever.com (Stay Up Forever, UK)
Chris Knowles aka Chris Liberator has been a DJ, put out hundreds of releases and remixes and has run a multitude of incredible labels for over 20 years. He's played more squat parties, underground raves, festivals, clubs and parties worldwide than most and is still completely dedicated to the music and the scene he got involved with when he started out with the other two Liberators, Julian and Aaron back in 1991.
Chris used to be a punk and was in Anarcho-punk band Hagar the Womb and other Indie combos before getting into Techno, although he still plays bass in punk band Dogshite. He's one of the worlds top DJs and producers of the "London acid" sound, with styles ranging from funky to hard to full on acid techno. He DJs across the world constantly and was the first acid techno DJ to play in Brazil, Venezuela and Poland and was instrumental in starting the movement in these countries.
His many releases have appeared on so many labels it's mind boggling. These include S.U.F., Cluster, Smitten, Choci's Chewns, Noom, Polumeric, Prolekult and Routemaster under his own name or in collaborations with Lawrie Immersion, D.A.V.E. The Drummer, D.D.R. and Geezer. His voice features on a number of exceptional releases including 'One Night In Hackney', 'I'm Bored' and 'Set Fire'.
Chris is currently working on a shed load of upcoming releases with Sterling Moss for a mass of labels within the S.U.F. collective as well as occasional projects with Lawrie Immersion, D.A.V.E. The Drummer, Guy 'Geezer' Mcaffer and Lenny Dee amongst others. He's also involved with the new techno download site 909london.com.
This fiercely anti capitalist, Amnesty International supporting, monster acid music maker, smiling DJ just doesn't know when to stop ……..…………. and so say all of us.
DANK
(Ultra Music, Funky Element, NYC)
Genres​ ​don't​ ​matter​ ​when​ ​each​ ​of​ ​your​ ​tracks​ ​belongs​ ​in​ ​a​ ​category​ ​all​ ​its​ ​own.​ ​DJ​ ​and producer ​D​​ANK​ c​​hannel's​ ​nearly​​ two​ ​decades​ ​of​ ​New​​ York​​ City​​ blood,​​ sweat​ ​and​​ tears​​ into any​ ​unforgettable​ ​anthem​ ​with​ ​his​ ​name​ ​on​ ​it. Instant​ ​appeal​ ​is​ ​the​ ​common​ ​denominator​ ​of​ ​every DANK​ ​release.​ ​His​ ​path​ ​to​ ​success​ ​in​ ​the​ ​EDM​ ​world​ ​has​ ​been​ ​paved​ ​not​ ​only​ ​by​ ​sexy​ ​hooks and​ ​melodies​ ​but​ ​also​ ​a​ ​tireless​ ​work​ ​ethic.​ ​As​ ​an​ ​official​ U​​ltra​ ​Records​​ ​artist​ ​he's​ ​remixed songs​ ​by​ ​the​ ​likes​ ​of​ Daft Punk,​ ​Rihanna​​ ​and​ A​​vicii​​ ​in​ ​addition​ ​to​ ​providing​ ​a​ ​platform​ ​for such​ ​artists​ ​as​ L​azy​ ​Rich​​ ​and​ C​​alvertron​​ ​via​ ​his​ ​own​ ​imprint, Funky​ ​Element​ ​Records.​
As​ ​simple​ ​as​ ​it​ ​may​ ​sound,​ ​what​ ​has​ ​afforded​ ​DANK​ ​so​ ​many​ ​opportunities​ ​is​ ​that​ ​he​ ​makes music​ ​from​ ​the​ ​heart​ ​and​ ​soul.​ ​Instead​ ​of​ ​chasing​ ​trends​ ​he​ ​produces​ ​in​ ​whatever​ ​style​ ​suits his​ ​fancy​ ​-​ ​and​ ​his​ ​sincerity​ ​translates​ ​through​ ​to​ ​the​ ​finished​ ​product​ ​every​ ​time.​ ​Having worked​ ​as​ ​both​ ​an​ ​entertainer​ ​and​ ​an​ ​entrepreneur​ ​-​ ​and​ ​in​ ​live​ ​music​ ​as​ ​well​ ​as​ ​the recording​ ​industry​ ​-​ ​his​ ​unique​ ​perspective​ ​also​ ​keeps​ ​him​ ​on​ ​the​ ​forefront​ ​as​ ​a​ ​music professional. If​ ​his​ ​trajectory​ ​thus​ ​far​ ​serves​ ​is​ ​any​ ​indicator,​ ​the​ ​future​ ​holds​ ​even​ ​bigger​ ​and​ ​better​ ​things for​ ​DANK.​ ​He's​ ​sitting​ ​on​ ​a​ ​wealth​ ​of​ ​new​ ​music,​ ​so​ ​it's​ ​safe​ ​to​ ​say​ ​the​ ​best​ ​is​ ​yet​ ​to​ ​come​ ​for this​ ​rising​ ​talent.
TONY DEE
(Global Technicians, Funky Element, NYC)
SYNTAX ERA *LIVE*
(Smoovegroove, Funky Element, NYC)
x x x x x x x x x x x x
Tune into twitch.tv/dankofficialmusic to watch it live
x x x x x x x x x x x x
Visuals by Flawless Entertainment
Event Optimization and Marketing by NYCRavers.com
Custom Streaming page by 2K Industries
Promotional Support from Ravers Unite NYC + Sounds So Sweet ❤