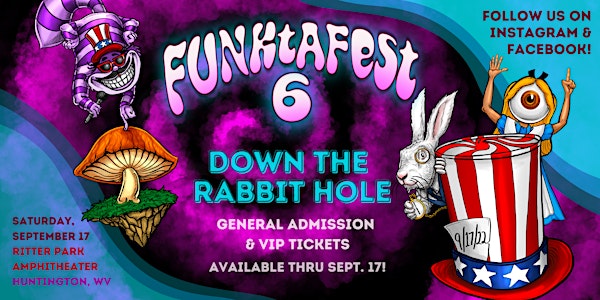 Funktafest 6
Funktafest 6 - WV's funkiest, family-friendly music & arts festival will be Saturday, September 17, 2022 at The Ritter in Huntington, WV.
When and where
Location
Ritter Park Amphitheater Caldwell Road Huntington, WV 25701
About this event
Down the rabbit hole we go once again...
West Virginia's funkiest, family-friendly music and arts festival, Funktafest, returns for another installment in the year 2022.
Join Eye Guy, Eye Gal, & Funkle Sam as they turn The Ritter into a veritable Groove Wonderland with regional and home-grown acts across the spectrum of funk, jam, blues, soul, rock, hip-hop, EDM, and DJ music genres.
FUNKTAFEST 6 - SATURDAY, SEPTEMBER 17, 2022 - THE RITTER - HUNTINGTON, WV
Funktafest 6 Lineup:
| Litz
With DJ and Silent Disco performances by:
| Quortz
| Tripster
Funktafest 6 After Party Lineup (at The Loud, Huntington, WV) on 9/17/22
| Marbin
| BERTH
| Grown Ass Folks (on patio)
CHECK US OUT AT: WWW.FUNKTAFEST.COM
Funktafest is proud to be OPEN TO ALL!
SOCIAL MEDIA LINKS
Facebook: www.facebook.com/funktafest
Instagram: www.instagram.com/funktafest
Twitter: www.twitter.com/funktafest
TikTok: www.tiktok.com/@funktafest
Email: contact@funktafest.com