"FunkJazz Kafe: Diary of A Decade (The Story Of A Movement)" WSU Exclusive...
Description
Wayne State University's National Black Operations Business Association (N.B.O.B.A) presents an exclusive screening of the award winning documentary film, "FunkJazz Kafe: Diary of A Decade (The Story Of A Movement)" taking place on Wednesday, November 11, 2015 at Wayne State University (General Lectures 150 venue), 8 PM -11PM. A Q&A with the film's writer and director, Jason Orr, will follow the film. This promises to be a very exciting experience.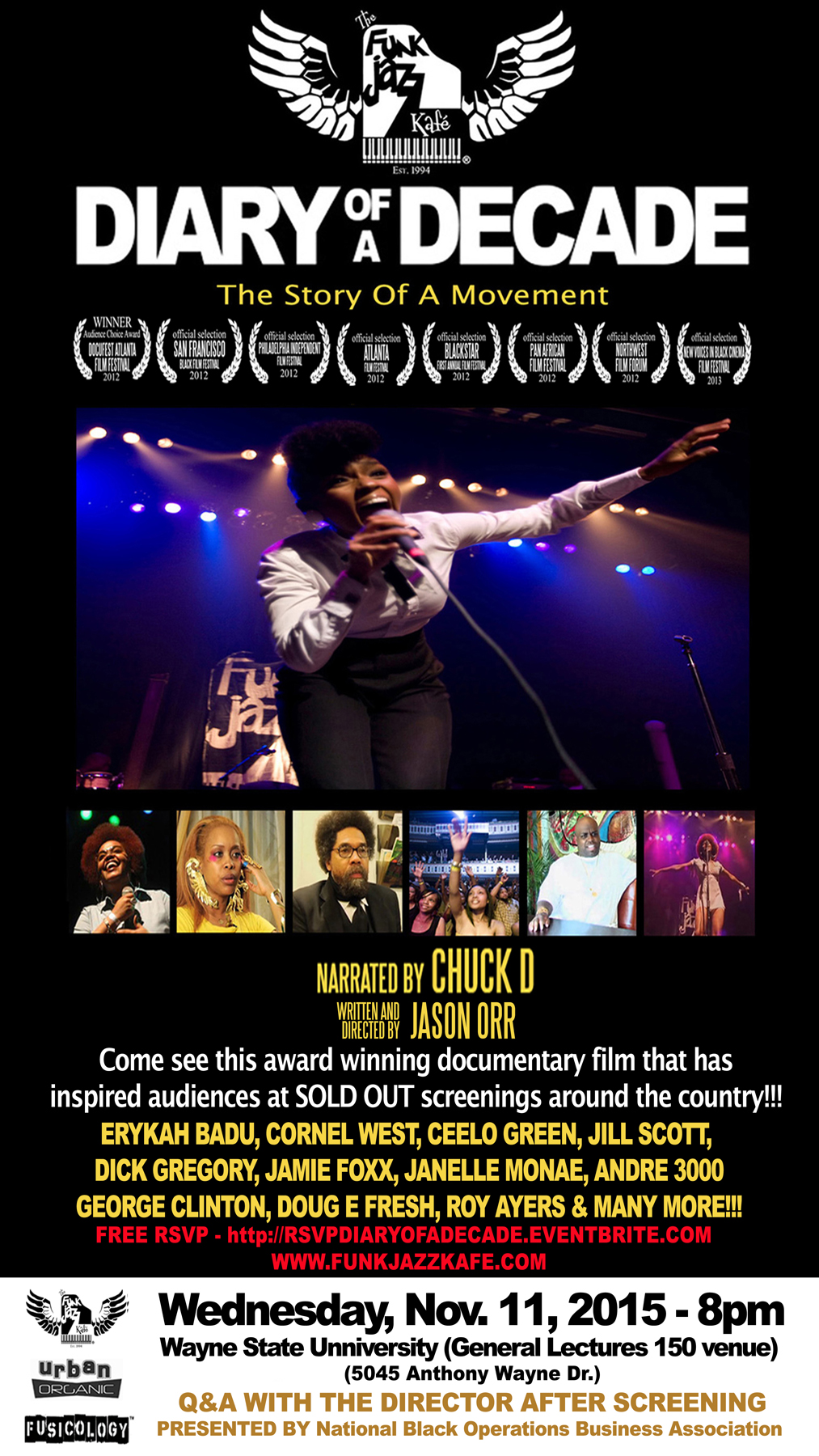 About the film:

Narrated by Chuck D (Public Enemy), this award-winning film is the story of a cultural legend as told by the innovators of an important, and in some cases overlooked, era in Black culture. Spanning the late 1980′s through to the early 2000′s, this story goes deep into the fabric of soul music, it's definitions, it's pioneers, it's offspring, it's movements, the challenges with the "mainstream" industry as well as the evolution of the FunkJazz Kafé Arts & Music Festival, a music and artistic renaissance movement born out of Atlanta's diverse musical and cultural arts heritage. The film covers the decade when Atlanta's underground music scene became established on the world stage and a new generation of soul singers and musicians emerged. FunkJazz Kafé:Diary Of A Decade (The Story Of A Movement) also explores the question of how we got to live soul bands being non-existing in the commercial music landscape of the 21st century when there once was a plethora of soul and R&B bands since the creation of recorded music. Appearances by: Cornel West, Dick Gregory, Dallas Austin, Erykah Badu, Caron Wheeler, Larry Mizell, Joi Gilliam, George Clinton, Cee Lo Green, Jill Scott, Roy Ayers, Jamie Foxx, Raphael Saadiq, Lil John Roberts, Goodie Mob, Doug E, Fresh, Janelle Monae, Meshell NdegeOcello, Omar Lye-Fook, MC Lyte, Talib Kweli, Common, Jamal Ahmad, Anthony David, Ray Murray, Andre 3000, N'Dea Davenport, Algebra Blessett, LeRonde Williams, Kevin Powell, Loose Ends, Bilal, Dionne Farris, Van Hunt, Eic Roberson, Donnie, Bone Crusher, Sticman of Dead Prez, DJ Kemit and Speech of Arrested Development.