After a SOLDOUT show last year, Funk You is coming back to Victory North. Support from Savannah local favorites, Squash.
About this event
FUNK YOU
FRIENDS, FUN AND LOVE COMPRISE THE ETHOS OF FUNK YOU, A NINE-PIECE MUSICAL JUGGERNAUT FROM AUGUSTA, GA. MOTIVATED BY A LOVE OF LIVE PERFORMANCE AND ARMED WITH A CAPTIVATING SONIC PRESENCE, THE BAND PLACES A HEALTHY HELPING OF SOUL ATOP A FUNKY BACKBEAT THAT CONTINUES TO EVOLVE AFTER A DECADE ON THE ROAD…
FUNK YOU IS:
GAVIN HAMILTON - LEAD VOX
EVAN MILLER - GUITAR
WILLIAM FOSTER - KEYS & VOX
WILL CLARK - DRUMS & VOX
PALMER OWENS - PERCUSSION
MARK 'EARL' DYKES - BASS & VOX
GNARLY G - SAXOPHONE
JOSH SPILLIARDS - TROMBONE & SOUSAPHONE
GEOFF WOOD - TRUMPET & GUITAR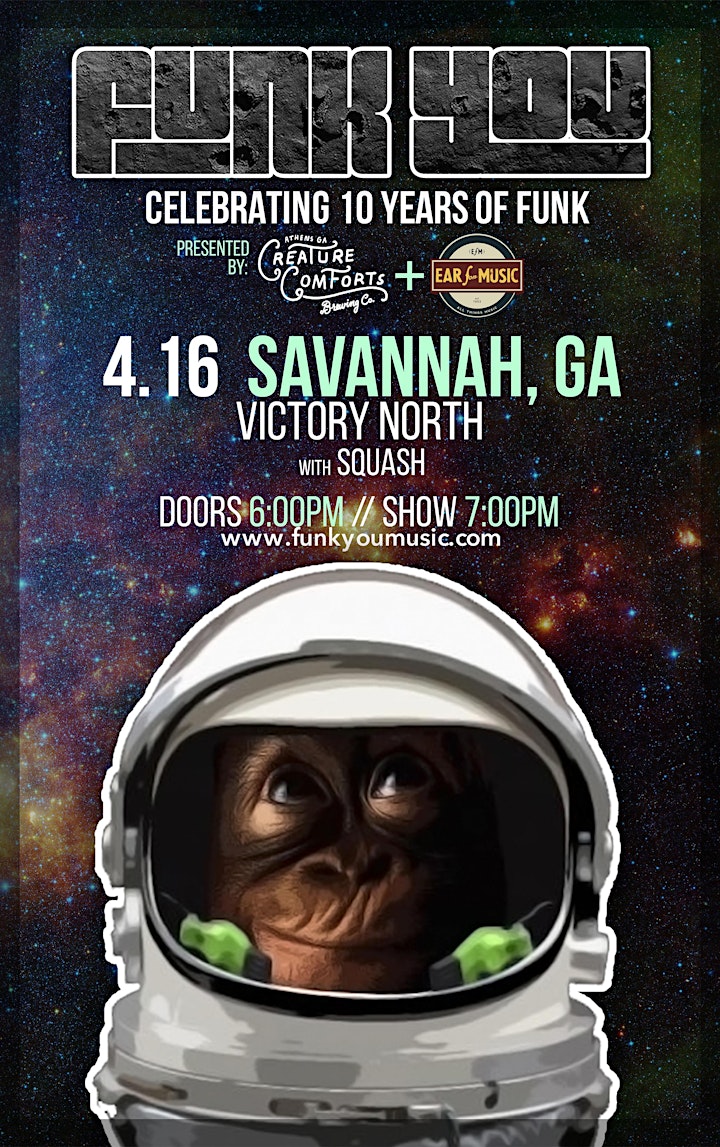 SQUASH
Squash is a 4 headed monster consisting of JeffShaffer (drums), Kevin Prusa (bass), Rhett Hutcheson(guitar), and Demetri Chrissos (keys). In 2020, thegroup re organized and drafted an array of newmaterial that speaks to the unique creativity that Squash permeates. Squash is a wild blend of psych rockand funk that dives into exploratory improv on a dime. To put one genre on Squash's diversified catalogue isnearly impossible.
This is a reduced capacity, socially distanced event.
Tables will be available and placed 6ft apart. The available tables will be on a first come first serve basis. Smaller tables will hold 2-4 people; larger tables will hold 4-6 people. Please practice social distancing of at least 6 feet from all persons outside of your respected party. 
There will be standing room available on the floor as well.
If you are a group of 3 or less, please only claim one of the smaller tables. If you are the sole person in your party, please utilize the standing room area. When all tables have been claimed, standing room will be available for remaining ticket holders. 
Again, please respect others around you and practice social distancing from those outside of your party. 
Masks are to be worn at all times when you are not at your table or designated standing area.