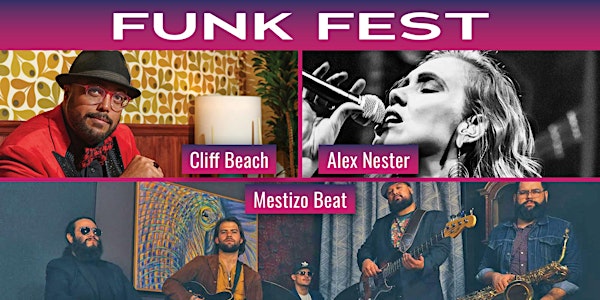 Funk Fest featuring Cliff Beach, Mestizo Beat, and Alex Nester
Concerts
By Valley Cultural Foundation
Date and time
Sunday, August 6 · 5:30 - 8:30pm PDT
Location
Warner Ranch Park 5800 Topanga Canyon Boulevard Los Angeles, CA 91367
About this event
Cliff Beach
Musician and Author Cliff Beach has been performing live for more than 20 years. His single "Confident" was featured on Spotify All Funked Up and Funk Drive playlists with over 875K+ streams. He is the host of the Deeper Grooves Podcast and Deeper Grooves on 885FM. Beach is the author of Side Hustle & Flow, which chronicles his musical journey while still working a day job. He has written previously for Beautytap, Pepperdine and Rock Star Life. He is the winner of the John Lennon Songwriting Contest Grand Prize, 2 World Songwriting Awards, 4 Global Music Awards, a California Music Video & Film Award and nominated for 4 LA Music Awards, 1 Hollywood Music & Media Award, and 1 Independent Music Award and more. His music has been recently featured on the CW, HBO MAX and in a BMW spot.
Mestizo Beat
An Aftro-Latin Soul instrumental group based out of Los Angeles, CA. The band's energetic sound is led by a mighty brass section and fiery guitar solos accompanied by soulful organ melodys and ground shaking bass lines, all which ride on the foundation of flavorful Aftro-Latin rhythms and rock-solid drum grooves. Their passion for music is a force that cannot be denied. It is their legacy to share their appreciation for this music with the world and to spread the message of unity through their art.
Alex Nester
Whether you're drawn to her soulful, powerhouse vocals, raw, heartfelt lyrics, or infectious grooves, one thing is for sure—Alex Nester is an artist you will remember. You can't help but be drawn to her when she sings from such a deep and genuine place. Her music doesn't just reach your ears, it reaches your heart. Channeling the retro artists of the 60's and 70's, Alex blends soul, funk, and r&b and delivers her songs with honesty and meaning.
About the organizer
The Valley Cultural Foundation embraces diversity of talent, community, business and education, by providing live entetainment programs and events in the arts.
Concerts, Movies and Shakespeare as well as our Emerging Artists Showcase, Children's Performance Series, NoHo Summer Nights and the July 4th Fireworks Extravaganza are not to be missed, all for FREE every summer!
Valley Cultural Foundation is a 501(c)(3) non-profit corporation, funded by our generous corporate sponsors, grants, and membership program.